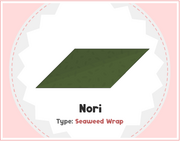 Nori is a standard seaweed sushi wrap available in Papa's Sushiria/To Go!. It is available at the start of both games.
Customers who order this
Sushiria
Sushiria To Go!
Specials that use this ingredient
Trivia
Nori is the Japanese name for dried edible seaweed sheets made from a species of red algae called Porphyra, including Porphyra yezoensis and Porphyra tenera.
Nori, Tortilla, and in Papa's Sushiria To Go!, Manicotti, are all ingredients in categories of their own, with Nori being in the "Seaweed Wrap" category.
Posters
Appears in
Picture
Bonus
Points
Cost
Theme
Papa's Sushiria/To Go!

Nori Bonus
20 points
$35.00
(Sushiria)

(Sushiria To Go!)