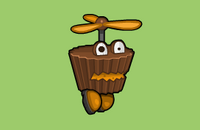 For other uses, see Nutty Buttercup (disambiguation). 
Nutty Butters are baddies that appear in Papa Louie 3: When Sundaes Attack!. They are first seen in Blue Moon Bay.
Appearance
Nutter Butters resemble the Nutty Butter Cups, except with two eyes with mismatched pupils and a jagged mouth. They have small brown feet and a brown propeller on top of their head.
Baddie Info
They hover up and down continuously in midair similar to Lettuce Larks, and pose no immediate threat unless they are run into. While they are flying, weapons will stun them, rather than defeating them in one hit like land enemies. While stunned, they are vulnerable to attack. Knocking them out of the air and into water will cause them to regain consciousness and start hovering again.
Community content is available under
CC-BY-SA
unless otherwise noted.