Papa's Burgeria returns on April 26, 2012, but on the iPa!. The game on the iPad was announced on April 24, 2012 on the Flipline Studios. Marty and Rita are available, like the Burgeria on Flipline Studios.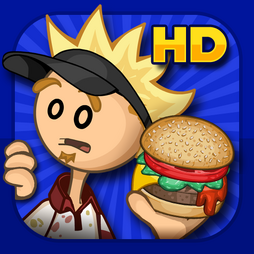 Papa's Burgeria HD on the iPad is available on Thursday, April 26, 2012. You'll enjoy all the burger-flipping fun from the original Papa's Burgeria but with all the most recent additions to the series:
New Unlockable Toppings
Challenging Closers
Jojo the food critic

Papa's Burgeria for the iPad

Weekly paychecks and level up raises
Achievements
Fully Customizable Lobby
The Great Foodini and his daily mini-games
The Parade with floats and customers
Also, this will be the first time that all the current customers will be in a single game!
Closers