Papa's Cupcakeria HD is the 4th HD game in the Papa Louie restaurant management game series. The app was first confirmed on October 7, 2015 and went live on Thursday, November 19, 2015. [1]
Announcement
Hey Everyone!
You heard it here first… Papa's Cupcakeria HD will be coming to iPad, Amazon Fire, and Android Tablets!!!!
We've been very busy here at Flipline Studios and can't wait to tell you all about. So stay tuned for more sneak peeks of Papa's Cupcakeria HD!
Previews
Game Features
Hands-on cupcake shop in the Papa Louie universe
Updated and remastered for tablets
Multi-tasking between batter, baking, frosting, and topping
12 separate holidays to unlock, each with their own unique ingredients
Custom chefs and servers
Tons of furniture and clothing items to decorate your shop and workers
Purchase shop upgrades with your earned tips
96 customers to serve with unique orders
Challenging Closers and Food Critic
90 Achievements with Game Center support
Customers
Closers
Holidays
New holidays are in bold.
Mini Games
Ingredients
Basic Liners

Liner A (Pink/White Vertical Stripes)
Liner B (Blue/ White Polka Dots)
Liner C (Yellow/White Swirls)
Liner D (Green/White Horizontal Stripes)
Cakes

Frostings

Shakers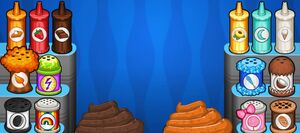 Drizzles
Toppings

Holiday Ingredients
Holiday Liners
Holiday
Rank
Liners
Picture
6
Liner A - Purple/Black Plaid
Liner B - Pink/Brown Vertical Stripes
Liner C - White/Red Hearts
Liner D - Red Cheetah Print
11
Liner A - Green, Dark Green Shamrocks
Liner B - Irish Flag
Liner C - Brown, Two Green Horizontal Lines
Liner D - Gold, Little White Dots
16
Liner A - Purple Wavy Lines, Yellow Dots
Liner B - Grass and Dirt
Liner C - Colorful Tulips
Liner D - Easter Bunny's Face
21
Liner A - Cherry Blossom in Japanese
Liner B - Blossoms
Liner C - Sakura Branch
Liner D - Foam Green/White Lines
26
Liner A - Yellow, White Diagonal Lines
Liner B - Water Pods
Liner C - Suns
Liner D - Waves/Sunshine
31
Liner A - White Stars, Blue Background
Liner B - Red/White Stripes
Liner C - Red/Blue Stars
Liner D - Red/Blue/White Stars
36
Liner A - Red, Sugarplex Filmfest
Liner B - Film Strip
Liner C - Cinema Decals
Liner D - Red/Black, Yellow Polka Dots
41
Liner A - Bacon
Liner B - Maple Leaves
Liner C - Sun
Liner D - Checkered
46
Liner A - Jack-O-Lantern
Liner B - BOO Sign
Liner C - Cat's Eyes
Liner D - Orange/Black Stripes
51
Liner A - Big Orange Diagonal Lines
Liner B - Turkey Feathers
Liner C - Orange Swirls
Liner D - Thanksgiving Dawn
56
Liner A - Candy Cane's Stripes
Liner B - Pine Trees
Liner C - Present's Tie
Liner D - Red/Green Dots
61
Liner A - White/Pink Fire
Liner B - Colorful Diamonds
Liner C - Colorful Tiger Fur
Liner D - Rainbow
Holiday Ingredients
Ranks
| Rank Number | Rank Name | Total XP (+1800 per Rank after Rank 11) | Payday increase (+$5 each rank) | Unlockables |
| --- | --- | --- | --- | --- |
| 1 | Newbie | Start/0 | $100 | — |
| 2 | Chocolatier | 300 | $105 | Rico, Sourballs |
| 3 | Sour Master | 750 | $110 | Perri, Frosted Flowers |
| 4 | Frosted Florist | 1,350 | $115 | Rudy, Blue Moon Drizzle |
| 5 | Blue Moon Master | 2,100 | $120 | Ivy, Blueberry Cake |
| 6 | Blueberry Buddy | 3,000 | $125 | Valentine's Day, Scarlett, Raspberry White Chocolate Cake, Creameo Bits, Chocolate Strawberry |
| 7 | Strawberry Dipper | 4,050 | $130 | Roy, Strawberry Cake, Watermelon Drizzle |
| 8 | Valentine Fan | 5,250 | $135 | Sue, Frosted Rose |
| 9 | Rose Wrangler | 6,600 | $140 | Hugo, Nutty Butter Cups |
| 10 | Peanut Buddy | 8,100 | $145 | Kayla, Strawberry Wafers |
| 11 | Wafer Fan | 9,750 | $150 | Spring, St. Paddy's Day, Georgito, Green Frosting, Mint Bar, Green Emerald Cake |
| 12 | Mint Master | 11,550 | $155 | Julep, Mint Shavings |
| 13 | Shamrock Champ | 13,350 | $160 | Skyler, Chocolate Coin |
| 14 | Coin Collector | 15,150 | $165 | Olivia, Rock Candy |
| 15 | Rock Star | 16,950 | $170 | Doan, Violet Frosting |
| 16 | Top Froster | 18,750 | $175 | Easter, Cletus, Bunny Ear Candy, Battenberg Cake |
| 17 | Bunny Buddy | 20,550 | $180 | Mandi, Jelly Beans |
| 18 | Cotton Candy Fan | 22,350 | $185 | Kingsley, Tulip Cookie |
| 19 | Egg Hunter | 24,150 | $190 | Mindy, Carrot Cake |
| 20 | Carrot Champ | 25,950 | $195 | Prudence, Lollipop Bits |
| 21 | Candy Crusher | 27,750 | $200 | Cherry Blossom Festival, Tohru, Botamochi Cake, Wasanbon Blossom |
| 22 | Blossom Buddy | 29,550 | $205 | Austin, Konpeito |
| 23 | Konpeito Pro | 31,350 | $210 | Zoe, Pogos |
| 24 | Pogo Provider | 33,150 | $215 | Hacky Zak, Apricot Drizzle |
| 25 | Apricot Pro | 34,950 | $220 | Cecilia, Lemon Cake |
| 26 | Lemon Zester | 36,750 | $225 | Summer, Summer Luau, Kahuna, Paper Umbrella, Seafoam Cake |
| 27 | Beach Buddy | 38,550 | $230 | Utah, Lemonade Drizzle |
| 28 | Lemon Squeezer | 40,350 | $235 | Trishna, Banana |
| 29 | Banana Fan | 42,150 | $240 | Nevada, Teal Frosting |
| 30 | Teal Hero | 43,950 | $245 | Chuck, Cloudberry |
| 31 | Cloud Topper | 45,750 | $250 | Starlight Jubilee, Boomer, Red Frosting, Candy Rocket, Powsicle Cake, |
| 32 | Rocketeer | 47,550 | $255 | Clair, Silver Star Sprinkles |
| 33 | Star Master | 49,350 | $260 | Alberto, White Chocolate Star |
| 34 | Flag Flier | 51,150 | $265 | Robby, Red Velvet Cake |
| 35 | Velvet Fan | 52,950 | $270 | Shannon, Dark Blue Frosting |
| 36 | Frosting Fan | 54,750 | $275 | Sugarplex Film Fest, Rita, Popcorn, Root Beer Float Cake |
| 37 | Popcorn Popper | 56,550 | $280 | Greg, Dr. Cherry Drizzle |
| 38 | Doctor Drizzler | 58,350 | $285 | Iggy, Blots |
| 39 | Blot Buddy | 60,150 | $290 | Clover, Black Frosting |
| 40 | Frosting Hero | 61,950 | $295 | Sarge Fan, Gummy Onions |
| 41 | Onion Wrangler | 63,750 | $300 | Autumn, Maple Mornings, Cooper, Mini Donuts, Cinnamon Roll Cake |
| 42 | Donut Dunker | 65,550 | $305 | Johnny, Frosted Sugar Crunch |
| 43 | Cereal Froster | 67,350 | $310 | Akari, Waffle Stick |
| 44 | Waffle Wrangler | 69,150 | $315 | Bruna Romano, Mocha Frosting |
| 45 | Mocha Master | 70950 | $320  | Big Pauly, Zebra Stripe Cake |
| 46 | Zebra Striper | 72750 | $325 | Halloween, Sasha, Candy Jack-O-Lantern, Tarantula Cake |
| 47 | Pumpkin Carver | 74550 | $330 | Ninjoy, Licorice Drizzle |
| 48 | Spooky Sprinkler | 76350 | $335 | Professor Fitz, Sugar Skull |
| 49 | Halloween Hero | 78150 | $340 | Ember, Orange Frosting |
| 50 | Orange Fan | 79950 | $345 | Lisa, Deep Purple Frosting |
| 51 | Purple Pro | 81750 | $350  | Thanksgiving, Hank, Chocolate Acorn, Butter Pecan Cake |
| 52 | Acorn Harvest | 83550 | $355 | Sienna, Autumn Leaves Sprinkles |
| 53 | Leaf Raker | 85350 | $360 | Yippy, Harvest Stripe Cookie |
| 54 | Cookie Striper | 87150 | $365 | Pinch Hitwell, Salted Caramel |
| 55 | Caramel Champ | 88950 | $370 | Timm, Sunglow Frosting |
| 56 | Sunglow Hero | 90750 | $375 | Winter, Christmas, Santa, Candy Present, Holly Jolly Cake |
| 57 | Gift Giver | 92550 | $380 | Olga, Candy Cane Drizzle |
| 58 | Candy Cane Pro | 94350 | $385 | Wendy, Tree Cookie |
| 59 | Tree Trimmer | 96150 | $390 | Chester, Forest Green Frosting |
| 60 | Forest Fan | 97950 | $395 | Gremmie, Kiwi Cake |
| 61 | Kiwi Juicer | 99750 | $400 | New Year, Xandra, New Year Topper, Confetti Cake |
| 62 | Celebrationist | 101550 | $405 | Franco, Stache Sprinkles |
| 63 | Mustache Master | 103350 | $410 | Papa Louie, Candle |
| 64+ | Better Than Papa! | 105150+ | $5+ every reaching new ranks | Holidays all over again. |
Trivia
Gallery