GTA: The Criminal Enterprises - The Loop
Play Sound
Papa's Taco Mia HD is the fifth HD game in the Papa Louie's restaurant management game series. The app was first announced on May 3, 2016 and was officially released on June 27, 2016.
Announcement
Hey Everyone!
You heard that right, Papa's Taco Mia HD is coming to iPad, Amazon Fire, and Android Tablets!!!
The original Papa's Taco Mia came out almost 5 years ago. It was only our third time making a Gameria, but it was ground breaking for it's time. We introduced unlockable toppings, closers, badges, and many other things. However, five years is five years, and many gameplay elements have evolved since then. So much has improved that Papa's Taco Mia HD feels like a brand new game. We're very excited to show off all the cool stuff we have been working on, so tune in next time for more Sneak Peeks of Papa's Taco Mia HD!
Description
Hooray!! You've just won Papa Louie's taco-eating contest, so grab your spatula because you're the proud owner of a brand new... JOB!?!
Get ready to build some tasty tacos unlike any you've made before! As the seasons change outside the taco shop, your customers will order brand-new holiday tacos with a huge amount of new seasonal ingredients. You'll unlock new taco shells, meats, toppings, and sauces for each holiday of the year, and your customers will love thinking outside the box and ordering a creative new take on tacos.
Customers will occasionally bring you unique Special Recipes, which you can serve as the Daily Special in the taco shop! Each Special also has a bonus you can earn for serving a prime example of that recipe. When you serve enough Specials to master that recipe, you'll also earn a special prize!
Papa's collection of Stickers are now arriving on your tablet! During the game, you'll be able to earn 90 colorful Stickers by completing a wide variety of tasks and achievements. Each customer in your shop also has a list of their three favorite Stickers: Earn all three of that customer's favorite stickers and you'll be rewarded with a brand-new outfit to give to that customer!
Play as Mitch or Maggie, or create your own custom character to work in the restaurant! You can also hire or create a Server to help with your shop's Dining Room, where customers can sit and enjoy their freshly-made tacos. Visit the Shop to find an extensive wardrobe of holiday clothing and accessories for your workers, which you can buy with your hard-earned tips. Earn even more clothing and other prizes by playing Foodini's Mini-Games after each workday!
The customizable lobby is back, with new themes of furniture and decorations for each holiday of the year! Decorate the restaurant with holiday decorations and your customers won't mind waiting even longer for their food. You can also change the wallpaper, flooring, countertop, and trim, which will change the decor in the Dining Room as well! 
Game Features
Hands-on taco shop in the Papa Louie universe
Updated and remastered for iPad & Tablets
Multi-task between cooking, building, and serving chips & dip
Earn and Master 40 unique Special Recipes
90 colorful Stickers to earn for completing tasks
12 separate holidays to unlock, each with more ingredients
Custom chefs and servers
Tons of furniture & clothing to decorate your shop & workers
Purchase shop upgrades with your earned tips
101 customers to serve with unique orders
Use stickers to unlock new outfits for your customers
Over 100 ingredients to unlock
7 exciting Mini-Games to play after each workday
Previews
 Workers
Stations
Customers
Closers
Holidays
Minigames
Ingredients
Meat

Taco Shells
Toppings
Bold for toppings also used as dips in the chip station.

Sauces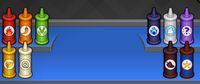 Bold for sauces also used as dips in the chip station.
Chips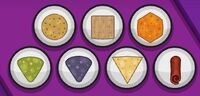 Dips and Salsas
Holiday Ingredients
Holiday ingredients consist of one taco shell, one meat, two toppings and one sauce.
Specials
Ranks
Rank
Name
Total XP (+1800 each Rank after Rank 10)
Payday increase (+$5 each rank)
Unlocks
1
Newbie
Start
$100
—
2
Chicken Champ
750
$105
Whiff, Blue Corns Chips
3
Blue Corn Buddy
1,350
$110
Yippy, White Rice
4
Rice Wrangler
2,100
$115
Dining Room, Timm, Soft Taco
5
Soft Taco Server
3,000
$120
Rita, Nacho Sauce
6
Nacho Fan
4,050
$125
Starlight BBQ, Boomer, Cornbread
7
Cornbread Buddy
5,250
$130
Matt, Fried Onion Strings
8
Onion Wrangler
6,600
$135
Lisa, Baked Beans
9
Bean Baker
8,100
$140
Ember, Jalapeños
10
Jalapeño Hero
9,750
$145
Nick, Pork
11
Pork Professional
11,550
$150
Portallini Feast, Olga, Garlic and Olive Oil Piada
12
Piada Pal
13,350
$155
Carlo Romano, Feta Cheese
13
Feta Fan
15,150
$160
Deano, Romaine Lettuce
14
Romaine Shredder
16,950
$165
Wendy, Multi-Grain Chips
15
Multigrain Master
18,750
$170
Big Pauly, Pita Bread
16
Pita Pro
20,550
$175
Maple Mornings, Johnny, Waffle Taco
17
Waffle Warior
22,350
$180
Hank, Hash Browns
18
Hash Brown Hero
24,150
$185
Ivy, Bacon
19
Bacon Buddy
25,950
$190
James, Peppers
20
Pepper Pro
27,750
$195
Cooper, Hot Sauce
21
Hot Sauce Hero
29,550
$200
Willow, Midnight Crunch Taco
22
Midnight Chuncher
31,350
$205
Ninjoy, Jack-o-Mole
23
Jack-O-Mole

Master

33,150
$210
Marty, Black Olives
24
Olive Expert
34,950
$215
Professor Fitz, Loco Mystery Sauce
25
Loco Saucer
36,750
$220
Olivia, Steak
26
Steak Server
38,550
$225
Thanksgiving, Sienna, Pumpkin Spice Tortilla
27
Pumpkin Pro
40,350
$230
Taylor, Southwest Stuffing
28
Stuffing Specialist
42,150
$235
Mary, Diced Sweet Potatoes
29
Sweet Potato Pro
43,950
$240
Steven, Roasted Chili-Corn Salsa
30
Chili Corn Champ
45,750
$245
Scooter, Ancho Chile Sauce
31

Ancho Chile Expert

47,550
$250
Christmas, Santa, Yule Spice Sizzler
32
Yule Spicer
49,350
$255
Cecilia, Cranberry Salsa
33
Cranberry Hero
51,150
$260
Chester, Pine Nuts
34
Pine Nut Pro
52,950
$265
Hope, Azul Ranch Taco
35
Ranch Wrangler
54,750
$270
Tony, Queso Blanco
36
Blanco Buddy
56,550
$275
New Year, Xolo, Lava Munchmelt
37
MunchMelt Master
58,350
$280
Franco, Fire Tortilla Strips
38
Tortilla Hero
60,150
$285
Peggy, Diced Habaneros
39
Habanero Helper
61,950
$290
Connor, Spicy Twists
40
Spicy Twister
63,750
$295
Iggy, Salsa Picante
41
Picante Pro
65,550
$300
Valentine's Day, Scarlett, Sundried Tomato Soft Taco
42
Sundried Tomato Fan
67,350
$305
Prudence, Red Rice
43
Red Rice Wrangler
69,150
$310
Sarge Fan, Salsa Criolla
44
Onion Pickler
70,950
$315
Clover, Verde Sauce
45
Verde Veteran
72,750
$320
Roy, Fiesta Chips
46
Fiesta Fan
74,550
$325
St Paddy's Day, Georgito, Cilantro Lime Soda Shell
47
Soda Shell Specialist
76,350
$330
Hugo, Avocado
48
Avocado Expert
78,150
$335
Julep, Diced Green Chiles
49
Green Chile Champ
79,950
$340
Shannon, Chile Serrano Salsa
50
Chile Serrano Pro
81,750
$345
Doan, Brown Rice
51
Brown Rice Buddy
83,550
$350
Easter, Cletus, Speckled Taco
52
Shell Speckler
85,350
$355
Mandi, Spring Coleslaw
53
Slaw Specialist
87,150
$360
Mindy, Blue Cheese Crumbles
54
Blue Cheese Crumbler
88,950
$365
Captain Cori, Garlic Chipotle Dip
55
Garlic Guru
90,750
$370
Rudy, Blazeberry Sauce
56
Blazeberry Buddy
92,550
$375
Cherry Blossom Festival, Tohru, Wonton Shell
57
Wonton Wrangler
94,350
$380
Radlynn, Beni Shoga
58
Beni Shoga Buddy
96,150
$385
Austin, Fried Crispy Noodles
59
Noodle Hero
97,950
$390
Foodini, Nacho Cheese Chips
60
Cheese Champ
99,750
$395
Sasha, Pico de Gallo
61
Pico Professional
101,550
$400
Summer Luau, Utah, Walking Taco Bag
62
Walking Taco Fan
103,350
$405
Chuck, Pineapple Salsa
63
Pinneaple Pro
105,150
$410
Kahuna, Diced Kalua Ham
64
Ham Champion
106,950
$415
Alberto, Black Beans
65
Bean Buddy
108,750
$420
Papa Louie, Pepperjack Rounds
66+
Better Than Papa!
110,550
$5+ every reaching new ranks
Holidays all over again!
Stickers
Trivia
This is the first app game that features many of the new game elements first introduced in Papa's Bakeria, including specials, stickers, and alternate outfits.
For holiday meats, instead of a letter, there is a star symbol.
Most holiday meats' time meters are the same as the Chicken's time meter; cut first and flip next. The exceptions are Beef Brisket (cut twice), Scrambled Eggs (flip twice), and Ahi Tuna (flip first and cut next; just like Pork).
This is the first HD game to have Starlight BBQ and Portallini Feast.
Nevada can be the last customer, as she is the last filler customer to be unlocked. This happens when players rank up quickly by using a special.
In every holiday, the sign is changed:
During Halloween, every closer is dressed with a different costume:
Pinch Hitwell is the only customer who orders all the holiday ingredients.
In the parade, the clock on the Just Quinn and Associates building displays the current time on the player's device. This marks the second time the games have had their built-in time, the first being Papa's Cupcakeria (excluding remakes).
No new holidays appear in this game, making this the first game with holidays to only use holidays that made their debut in a previous game.
Gallery
Customer Styles