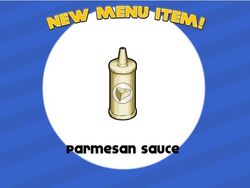 Parmesan Sauce is an ingredient used in various Papa Louie's restaurant time-management games.
Parmesan Sauce is a standard sauce available in Papa's Wingeria/HD/To Go!. It is unlocked with Kayla when the player reaches Rank 16 (Wingeria) or Rank 21 (Wingeria HD). In Papa's Wingeria To Go!, it is available from the start of the game. In Papa's Wingeria/HD, the "Creamy Parmesan" badge is earned when the player serves 30 orders with this.
In Papa's Cheeseria/To Go!, Parmesan Sauce is a holiday-exclusive sauce/fry topping available during New Year. It is unlocked on Day 4 of the holiday.
Customers who order this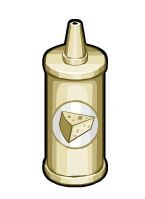 Wingeria
Wingeria HD
Cheeseria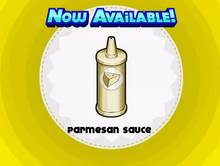 Wingeria To Go!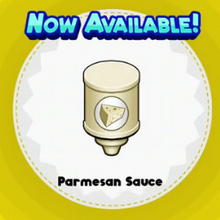 Cheeseria To Go!
Sauce
Fry Topping
Specials using this ingredient
Wingeria To Go!
Trivia
According to his Flipdeck, Gino Romano loves parmesan.
The picture used for the Premium Chicken badge awarded in Wingeria shows Parmesan strips, but no one orders them.
In Wingeria HD, Prudence is the only customer to order this on tofu skewers. No customers will order this on hog wings, and just like in the regular Wingeria, nobody will order this on strips.
In Papa's Wingeria To Go!, Hope is the only customer who orders Parmesan Chicken Strips.
Posters
Appears in
Picture
Bonus
Points
Cost
Theme
Papa's Wingeria/HD/To Go!

Parmesan Sauce
30 points
$45.00
(Wingeria HD)

(Wingeria To Go!)