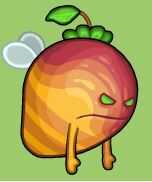 Peachbuzzies are baddies that first appear in Papa Louie 3: When Sundaes Attack!.
Appearance
They are large flying creatures with teardrop-shaped bodies. They have coloring similar to a yellow-fleshed peach, with dark pink on their heads fading to light orange on their abdomens. They have green eyes, a pair of small white wings, a green stem on top of their body, and two small orange arms. They have several dark orange stripes on their abdomen.
Community content is available under
CC-BY-SA
unless otherwise noted.