Petrona is a female customer who made her first appearance as a Closer in Papa's Mocharia To Go!.
Appearance
Petrona has dark skin and long black hair tied up in a pony-tail with a lime green and dark green band and wears round purple glasses. She wears a lime green shirt with purple buttons and a dark green inside, a turquoise skirt with purple swirl patters over black pants, and black moccasins with lime green laces, purple stitches, and brown soles. She also carries a black briefcase with her.
Styles
Style B
She wears a long-sleeve turquoise shirt with black buttons, purple swirl patterns, purple collar lining, a lime green inside and lime green sleeve ends. She also wears a lime green skirt with purple buttons and turquoise shoelaces.
Style H
She wears a purple pony-tail band, an off white plague doctor mask with white bead lining, black googles with forest green lenses, and a black top hat with a green-blue ring over the rim. She also wears a green-blue shirt under a black jacket with purple buttons and green-blue collar lining, a green-blue skirt with purple buttons, off white gloves with white buttons, and black moccasins with black laces, black soles, and purple stitches.
Orders
As a Closer, Petrona's orders change with the holidays.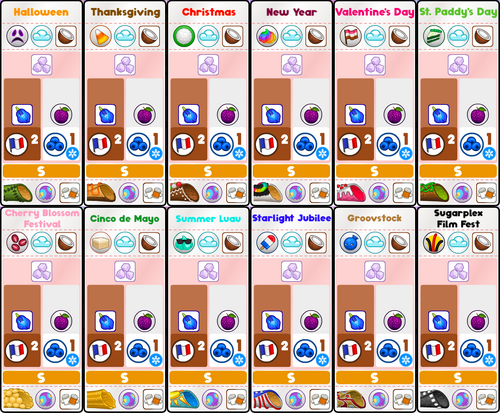 Stickers
| Number | Name | Achievement | Sticker Earned |
| --- | --- | --- | --- |
| 61 | Parisian Petrona | Serve a Purple Parisian Special to Petrona | |
| 48 | Recipe Collection | Earn 15 Special Recipes from customers | |
| 89 | Wasted Pastries | Throw away 5 completed cannoli in one day | |
Earn all three stickers to earn this outfit:
Trivia
Order Tickets
Gallery
Perfect Scores
Others
Promotional Images
Fan Arts