Poutine is a standard fry topping available in Papa's Cheeseria/To Go!. It is unlocked with Papa Louie when the player reaches Rank 65. In Papa's Cheeseria, the "Curds and Gravy" badge is earned when the player serves 30 orders with Poutine.
In Papa's Wingeria To Go!, Poutine Sauce is a holiday-exclusive sauce available during New Year. It is unlocked with Sasha when the player reaches Rank 47.
Customers who order this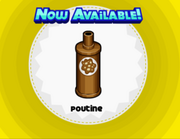 Cheeseria
Wingeria To Go!
Cheeseria To Go!

Trivia
Poutine is a Canadian dish made with fries, cheese curds, and gravy.
Posters
Appears in
Picture
Bonus
Points
Cost
Theme
Papa's Cheeseria/To Go!

Poutine Bonus
20 points (Cheeseria)

30 points (To Go!)

$45.00
Papa's Cook Book
Toastwood Poutine was the twenty-second recipe featured in Papa's Cook Book, a feature on the Flipline Studios Blog. It was featured along with Toastwood Gravy.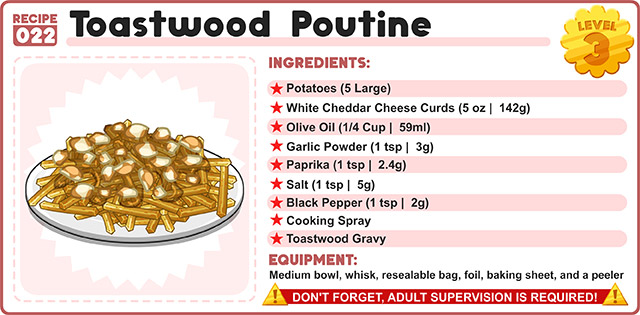 Instructions
The instructions could be found here.
1: Prep Work
We first introduced Poutine in Papa's Cheeseria! So here is a recipe for Toastwood's take on this classic Canadian dish! Preheat the oven to 425°F. Line your baking sheet with aluminum foil and evenly spray it with cooking spray. Then take your Cheese Curds and break them apart into smaller chunks.
2: Peeling Potatoes
Rinse off your 5 potatoes and carefully peel them. Then cut the potatoes into thick fries. Pat down the fries with a paper towel to remove some of the moisture.
3: Shake it!
Put the fries in a large resealable bag and add the olive oil, garlic powder, paprika, salt, and pepper into the bag. Seal up the bag and shake it until all the fries are fully coated with oil and seasoning.
4: Bake it!
Evenly spread out the fries on the baking sheet. Bake in the preheated oven for 15 minutes. Then take the sheet out of the oven and flip over all the fries. Continue baking for about 20 minutes more or until the fries are crisp and slightly browned.
5: Serve it!
Place the fully cooked fries on a large plate or bowl and top with the crumbled cheese curds. Then pour the gravy over top of the fries. Use as much gravy as you like, although you don't want them floating in it.
Gallery
Community content is available under
CC-BY-SA
unless otherwise noted.