Remnants of Skystone was the fourth Flipline game and the first and only MMO game produced by Flipline Studios. It was playable on Kongregate, but was shut down on May 30, 2014.
Game Description
Long ago the mysterious Skystone loomed over the land of Etherea, where it became central in the development of three surrounding societies. That was until the Skystone shattered, spreading noxious Haze across the land and leaving foul Mimic creatures in its wake. The survivors took refuge in a floating city in the sky while the land below was consumed, and remained there for 200 years. Today, the have united to return to the Ground, exterminate the Mimics, and reclaim the land.
In Remnants of Skystone, players can choose to play as one of three distinct classes — the jetpack-wearing Aeronauts, the agile Ferrics, or the rope-swinging Crags — and will explore areas on the Ground with 2D, side-scrolling, platforming gameplay. Main missions and quests are undertaken in single-player gameplay, and players can team up with others in Co-op Trailblazing missions that change weekly. Spoils from missions can be used to decorate the players' personal housing called Floats, where other players can also visit to socialize. Players can also visit the central floating city of Nidaria to meet up with other players, take on missions and quests, and shop for new clothing, furniture, or restoratives. [1]
Crags of Eastervale
As an April Fools joke for April 1, 2018, Flipline made a post about a fake Easter event in the game called Crags of Eastervale.
From the Blog
Hey Everyone!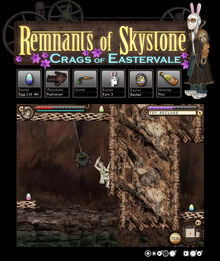 Just a friendly reminder that our holiday events for the Crags of Eastervale celebration will come to an end tomorrow at midnight. This is your last chance to earn some delicious Chocolate Pustossers!
Also as an Easter bonus for today only, Bandero Chert will be giving out a commemorative 218 AH egg to anyone who can bring him 3 bags of Jelled Gluco-Beans.
Don't forget Lana Westwood is still selling Holiday Bunny Ears at the low-low price of 3000 spores! [2]
Player Stats
Health
Health is a measure of how much damage a player or a Mimic can take before it dies.
Attack
Attack is a measure of the base amount of damage a player/Mimic can deal when they hit a Mimic/player. The actual amount of Health lost is the difference between the player's/Mimic's Attack and the Mimic's/player's Defense.
Defense
Defense is a measure of how much Attack a player/Mimic can take without any decrease in Health.
Luck
Luck is a measure of the frequency of Critical Hits, Dodges, random extra Experience Points, extra Spores and random reductions on damage taken that a player has.
Skill
Skill affects multiple other Stats. Skill increases the Critical Attack power and the amount of time that a player can use Special Attacks.
Stamina
Stamina is a measure of how quickly a special attack recharges and how quickly the skill bar refills.
Status Effects
Status Effects are changes to a player's stats that happen when certain Mimics hit a player. They all last 60 seconds.
Poisoned
Players lose 4 Health every 4 seconds, and their character blinks red.
Sprained
Players' Attack stat is halved, and their character blinks yellow.
Burned
Players' Defense stat is halved, and their character blinks orange.
Jinxed
Players' Luck stat is reduced to 10% and players cannot gain Experience Points, Circuit Points or Weapon Mastery Points. Their character will blink green.
Shocked
Players cannot access their Spectra Circtuit or Weapon Bonuses. Their character blinks white, and electricity surrounds them.
Drained
Players' Stamina and Skill are reduced to 1. Their character blinks blue.
Trivia
Links
Community content is available under
CC-BY-SA
unless otherwise noted.