m

(23 intermediate revisions by 14 users not shown)
Line 1:
Line 1:
 
+

{{Infobox

−

[[File:160x600_skystone.jpg|left]]'''{{Infobox

 
−

|image =File:RoS_Banner.jpg

+

|image =RoS_Banner.jpg

⚫
 
 

|Row 1 title = Release Date

 

|Row 1 title = Release Date

 

|Row 1 info = November 28, 2008

 

|Row 1 info = November 28, 2008

Line 9:
Line 8:
 

|Row 3 info = [[Rock Garden Deluxe]]

 

|Row 3 info = [[Rock Garden Deluxe]]

 

|Row 4 title = Next Game

 

|Row 4 title = Next Game

−

|Row 4 info = [[Steak and Jake]]}} '''Remnants of Skystone''' '''was the fourth Flipline game and the first and only MMO by [[Flipline Studios]] that started developing in 2007, and continued updating until 2010,''' '''when [[Matt]] and [[Tony]] considered the game finished. This''' '''game was found exclusively on Kongregate, but was shut down on May 30, 2014

+

|Row 4 info = [[Steak and Jake]]}}'''Remnants of Skystone'''was the fourth Flipline game and the first and only MMO by[[Flipline Studios]]. was on Kongregate, but was shut down on May 30, 2014

 
+
 
+

== Crags of Eastervale ==

 
+

As an April Fools joke for April 1, 2018, Flipline made a post about a fake Easter event in the game called Crags of Eastervale.

 
+
 
+

=== From the Blog: ===

 
+

Hey Everyone!

 
+

[[File:ROSIsBack.jpg|thumb|261x261px]]

 
+

Just a friendly reminder that our holiday events for the <strong>Crags of Eastervale</strong> celebration will come to an end tomorrow at midnight. This is your last chance to earn some delicious Chocolate Pustossers!

 
+
 
+

Also as an Easter bonus for today only, Bandero Chert will be giving out a commemorative 218 AH egg to anyone who can bring him 3 bags of Jelled Gluco-Beans.

 
+
 
+

Don't forget Lana Westwood is still selling Holiday Bunny Ears at the low-low price of 3000 spores! [http://www.flipline.com/blog/archives/10693]

 
 
−

'''[[Image:skystone_kong2.png|right]]'''

 
 

==Trivia==

 

==Trivia==

 

*Remnants of Skystone was the largest game developed by [[Flipline Studios]].

 

*Remnants of Skystone was the largest game developed by [[Flipline Studios]].

−

*This game is also the first [[Flipline Studios]] game to be discontinued and can no longer be played.

+

*This game is also the first [[Flipline Studios]] game discontinued and can no longer be played.

−

*This game is the first-ever MMO game by [[Flipline Studios]].

+

*This game is the first MMO game by [[Flipline Studios]].

 
+
 

==Links==

 

==Links==

 

*[http://www.kongregate.com/games/FliplineStudios/remnants-of-skystone Play the game on Kongregate]

 

*[http://www.kongregate.com/games/FliplineStudios/remnants-of-skystone Play the game on Kongregate]

Line 23:
Line 34:
 
 
 

{{FliplineGames}}

 

{{FliplineGames}}

 
+
−

[[Category:Flipline Studio Games]]

 
 
⚫
 
+

[[no:Remnants of Skystone]]

 
+

[[pl:Remnants of Skystone]]

 

[[Category:Games]]

 

[[Category:Games]]

 

[[Category:2008 Games]]

 

[[Category:2008 Games]]
---
Revision as of 13:19, 26 January 2020
Remnants of Skystone was the fourth Flipline game and the first and only MMO game produced by Flipline Studios. It was playable on Kongregate, but was shut down on May 30, 2014.
Crags of Eastervale
As an April Fools joke for April 1, 2018, Flipline made a post about a fake Easter event in the game called Crags of Eastervale.
From the Blog:
Hey Everyone!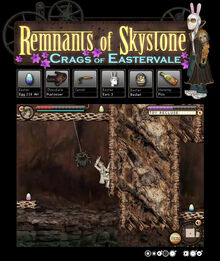 Just a friendly reminder that our holiday events for the Crags of Eastervale celebration will come to an end tomorrow at midnight. This is your last chance to earn some delicious Chocolate Pustossers!
Also as an Easter bonus for today only, Bandero Chert will be giving out a commemorative 218 AH egg to anyone who can bring him 3 bags of Jelled Gluco-Beans.
Don't forget Lana Westwood is still selling Holiday Bunny Ears at the low-low price of 3000 spores! [1]
Trivia
Links