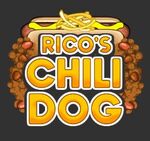 Rico's Chili Dog is a special recipe that can be selected by players to be the "Special of the Day" in Papa's Hot Doggeria HD/To Go!. Customers ordering the Rico's Chili Dog special will give the player 1.5x

. The special prizes for this recipe are the Tucked Polo (HD) and the Sm. Sugarplex Table (To Go!).
Recipe
Gallery
v • e Papa's Hot Doggeria HD/To Go! Specials
Special Hot Dogs
'Basa Nova • Ballpark Bratwurst • Chicago Dog • Chili con Queso • Chili Polka • Condiment Collider • Coney Dog • Double Dijon • El Completo • Fajita Hound • Franken Bacon • Golden Retriever • Hot Diggity Doge • Italian Tube Steak • Kielypso Dog • Michigan Dog • Peter Piper • Philly Phrank • Pickle Pup • Portallini Feast • Pretzel Paradox • Red Snapper • Rico's Chili Dog • Rustbelt Weenie • Sloppy Jojo • Sonoran Dog • Southwest Sausage • Spicy Sausage • Superkraut • Sweet Heat • Tastyville Griller • The Bavarian • The Classic • The Fakefurter • The Grabowski • The Green Monster • The Midwestern • Veggie Garden • Wild Zwiebelwurst • Woonsocket Dynamite

Papa's Cook Book

Rico's Chili Dogs was the seventh recipe featured in Papa's Cook Book, a feature on the Flipline Studios Blog.

Instructions

The instructions are posted here.

1: Cook the Beef

Break up the ground beef into a large saucepan. Cook over medium heat, stirring the beef frequently. Keep this up until the beef color changes from pink to a light brown.

2: Add Some Flavor

Once the beef is cooked, add the minced onions, chili powder, cinnamon, cumin, allspice, chocolate, bay leaf, beef broth, apple cider vinegar, tomato sauce, cayenne pepper, worcestershire sauce, and Kidney Beans.

Stir it all up, and bring the chili to a boil, stirring occasionally. Once boiling, let it boil for about one minute. Then, reduce the heat to low. Cover the saucepan and let the chili simmer for 1.5 hours. Don't forget to stir the chili occasionally while it's simmering.

3: Chill the Chili

After it is done cooking, let it cool down, then put it in the refrigerator for at least 8 hours. After that, remove the bay leaf and any excess grease that formed at the top

4: It's Chili Dog Time!

Get your hotdogs out and grill them up to your liking. Heat up the chili over medium heat, stirring occasionally. Put the cooked hotdogs into the buns and using a ladle, cover them with Rico's Chili. Next, add a line of mustard and pile up the cheddar cheese. Now you have some delicious, Rico's Chili Dogs!

Gallery
Community content is available under
CC-BY-SA
unless otherwise noted.