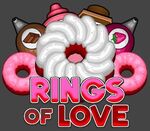 Rings of Love is a special recipe that can be selected by players to be the "Special of the Day" in Papa's Donuteria To Go!. Customers who order the Rings of Love special will give the player 180% of their regular points. The special prize for this recipe is the Fiery Polo.
Recipe
Trivia
Despite this Special not using chocolate chips as one of it's ingredients, the chocolate chip icon is present in the special's image, instead of the icon for raspberry bark.
The sticker "Onion Rings" can be earned by serving this special to Sarge Fan.
Gallery