Rollie (pronounced raw-lee) is a male customer who made his first appearance as a Closer in Papa's Sushiria To Go!.
From the Flipline Studios Blog
Hey Everyone!
This week we would like to introduce you all to one of the new customers who will be debuting in Papa's Sushiria To Go!
His name is Rollie (pronounced raw-lee) and he's a quirky closer with zero tolerance for sloppy sushi. [1]
Appearance
Rollie has tanned skin and dark brown hair. He wears a white and teal turtleneck sweater with purple stars on his sweater, purple pants, white gloves, white flip-flops with teal accents and round gray glasses.
Styles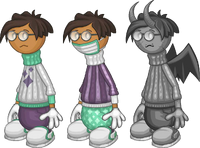 Style B
He wears a purple sweater with white cuffs and a white collar, teal pants with a lattice pattern, and a white face mask with a teal outline.
Style H
In games where he dresses up for Halloween, Rollie wears a stone gargoyle costume. He wears his Style A outfit in a stone gray color scheme. The stars on his turtleneck sweater are gone. He wears a pair of wings and curved horns, and has fangs.
Orders
As a Closer, Rollie's orders change with the holidays.
Al Dente Fettuccine
Garlic Basil
4 Onions
2 Shrimps
2 Fried Calamari
Poppyseed Roll
Holiday (Halloween)
Al Dente Fettuccine
Purple Pesto
4 Onions
2 Shrimps
2 Mussels
Poppyseed Roll
Ranks required to unlock him
Unlockables
Stickers
| Sticker Number | Name | Achievement | Sticker Earned |
| --- | --- | --- | --- |
| 79 | Daredevil | Serve Boomer while wearing a Stunt Helmet and Cape | |
| 31 | Piggy Bank | Don't spend any money in the Shop for 7 days | |
| 33 | Advertiser | Buy any 8 Posters from the Shop | |
| Sticker Number | Name | Achievement | Sticker Earned |
| --- | --- | --- | --- |
| 68 | Rollie Rossi | Serve a Macaroni Rossi Special to Rollie | |
| 53 | Pick your Pasta | Unlock all of the Standard Pastas | |
| 67 | Fernanda Farfalle | Serve a Mushroom Farfalle Special to Fernanda | |
Earn all three stickers in either game to earn this outfit: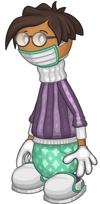 Papa's Next Chefs
Trivia
He and LePete are the only customers to debut as Closers exclusively in a mobile game.
When a member on the Flipline Forum posted, "I didn't know it was an actual name," Matt responded, "I think it's usually short for 'Roland', though that name isn't very common these days." [2]
In Papa's Sushiria To Go!, as he replaces Whiff, Rollie always orders the holiday soy paper.
Order Tickets
Gallery
Perfect Orders
Promotional Images
Others
Fan Art
Community content is available under
CC-BY-SA
unless otherwise noted.