New Pokemon Games - The Loop
Play Sound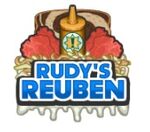 Rudy's Reuben
is a special recipe that can be selected by players to be the "Special of the Day" in
Papa's Cheeseria
/
To Go!
. Customers who order the Rudy's Reuben special will give the player +1

. The special prizes for this recipe are the Torn Overshirt (Cheeseria) and the Hockey Jersey (To Go!).
Recipe
Gallery
Rudy's Reuben was the fourth recipe featured in Papa's Cook Book, a feature on the Flipline Studios Blog.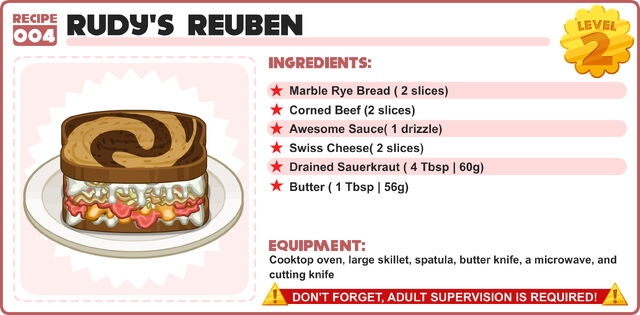 Instructions
The instructions are posted here.
1: Prep the Ingredients
Make sure you drain any juice from the sauerkraut or else you'll have a soggy sandwich. If you can, microwave the sauerkraut for 10-20 seconds on a microwave safe plate to get rid of the chill. If you don't have any, make some Awesome Sauce following the recipe HERE.
2: Build the Sandwich
Take a slice of Marble Rye bread, butter one side, and lay it on the plate butter-side down. Put a slice of Swiss Cheese on top of the bread followed by a slice of Corned Beef. Drizzle Awesome Sauce over the Corned Beef. Place another slice of Corned Beef over the Awesome Sauce and add some Sauerkraut. Place another slice of swiss cheese over the Sauerkraut. Take another slice of Marble Rye and butter one side, place it on top, butter-side up.
3: Grill It!
Preheat a large skillet on medium heat. Place the sandwich on the skillet. Keep the the heat at medium/low, you don't want to burn the bread. With a spatula, slowly move the sandwich around the skillet. Since stove top temperatures can vary at low/medium setting, simply keep this up until the bottom of the sandwich is golden brown, but not burnt. Once the color is right, gently press down on the sandwich with the spatula to flatten the sandwich out a bit, and then carefully flip it over. Keep things moving just the same until the other side becomes golden brown.
4: Eat it!
Turn off the heat, and transfer the sandwich from the skillet to a plate. Cut it in half, and enjoy this little taste of Papa's Cheeseria. Also, Rudy's Reuben goes great with fries!
Gallery
Trivia
Reuben is pronounced "Roo-ben".