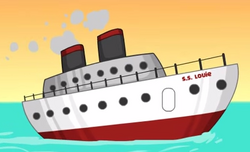 The S.S. Louie is a ship that appears in the introduction of Papa's Freezeria. It takes people from the mainland to Calypso Island. The captain of the ship is Captain Cori.
It also opened the Seaside Freezeria, with Alberto and Penny running the dessert shop.
Posters
A poster of the S.S. Louie can be purchased in the shop to decorate the Freezeria. In subsequent games, the poster can be won as a prize when playing one of Foodini's minigames.
Trivia
Gallery