Raise a Floppa - The Loop
Play Sound
Sasha is a female customer who made her first appearance in Papa's Pizzeria.
Flipdeck Info
Hometown: Frostfield
Loves: Cheese
Hates: Back to School Time
Occupation: Apprentice
Sasha lives in the town of Frostfield with her parents, Clair and Vincent. Sasha absolutely loves cheese, and has become obsessed with all the cheesy creatures of Munchmore. At Hazelnut High she joined the debate team and marching band, where she plays the trumpet. During the summers, Sasha has a side job as a cheesemaker apprentice at the Churnsmith Creamery.
Appearance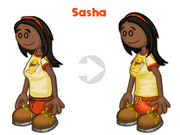 Sasha has black shoulder-length hair and dark toned skin. She wears a Cheddar Mack shirt with an orange collar and ringed sleeve edges, orange pants with a yellow side-stripe, and brown shoes with yellow laces and gray soles. She also wears a dark orange headband.
Before Papa's Next Chefs 2015, she wore a light yellow shirt with an image of a Pizza Monster printed on it.
Clean-Up
She got a minor tan and her chest got slightly flattened.
Styles
Style B
Her hair is tied in a ponytail and she wears a Swiss Zack shirt with yellow trims, yellow pants with a white side-stripe, and orange shoes with a white front, black soles, and yellow laces.
4th of July Outfit
She wears her Style B, but with a blue collar, sleeve ends, and pants. She also wears a red ponytail, red shoes with a white front, black soles, and blue laces.
Old Outfit
She wears her Style A, but with a banana yellow shirt with a Pizza Monster printed on it, no belt holders on her pants, and a yellow tie on her pants.
Style H
In games where she dresses up for Halloween, Sasha wears a Pizza Monster costume. She wears a vivid yellow mascot suit over her Style A. It has visible side stitches and a pair of large pale red buttons pinned atop her head for the Pizza Monster's "eyes".
Orders
4 Peppers (bottom right)
8 Olives (all)
30 minutes (1/2 of meter)
8 Slices
Bottom Bun
Onion
Pickle
Lettuce
Well-Done Patty
Ketchup
Cheese
Top Bun
Pita Bread with Chicken
Nacho Cheese
White Rice
Black Beans
Peppers
Small Cup
Yum n' Ms
Vanilla Syrup
Chunky Blend
Whipped Cream
Butterscotch Topping
Chocolate Chips
Cherry
3 Pancakes
Whipped Cream
Blueberries
Raspberries
Blueberry Syrup
Drink:

Small Cranberry Juice with Ice
Bottom Bun
Onion
Pickle
Lettuce
Well Done Patty
Ketchup
Swiss Cheese
Top Bun
4 Medium Chicken Wings (all)
8 Buffalo Boneless Wings (all)
Zesty Pesto Dip
Cheddarwurst on a Pretzel Bun
Cheese
Mustard
Mayo
Drink and Popcorn:

Medium Lemon Mist
Large Cheddar Corn
Liner A
Zebra Stripe Cake
Cupcake 1:

Black Frosting
Vanilla Drizzle
Rainbow Sprinkles
Cherry

Cupcake 2:

Black Frosting
Vanilla Drizzle
Creameo Bits
Cherry
Holiday (Halloween)
Liner A
Zebra Stripe Cake
Cupcake 1:

Black Frosting
Vanilla Drizzle
Spooky Sprinkles
Candy Corn, Candy Jack-O-Lantern, Candy Corn

Cupcake 2:

Black Frosting
Vanilla Drizzle
Creameo Bits
Candy Corn, Candy Jack-O-Lantern, Candy Corn
Medium Cup
Yum n' Ms
Powsicle Syrup
Chunky Blend
Whipped Cream
Blueberry Topping
Wildberry Derps
Cherry
Regular Gnocchi
Three Cheese Sauce
Parmesan Cheese
Grated Mozzarella
4 Chickens
Crescent Roll
Holiday (ChiliFest)
Regular Cellentani
Three Cheese Sauce
Cheddar Cheese
Grated Mozzarella
4 Chickens
5 Chili Peppers
Crescent Roll
Small Cup
Caramel Apple
Vanilla Syrup
Regular Blend
Whipped Cream
Chocolate Topping
Nuts
Cherry, Hazelnut Swizzle
Regular Ring Donut with Chocolate Mousse

Chocolate Icing
Vanilla Drizzle

Chocolate Roll with Boston Cream

Chocolate Icing
Chocolate Chips

Regular Ring Donut

Vanilla Icing
Dreamsicle Drizzle
Rainbow Sprinkles
Holiday (Thanksgiving)
Regular Ring Donut with Chocolate Mousse

Cocoa Powder
Vanilla Drizzle

Chocolate Acorn Donut with Boston Cream

Cocoa Powder
Chocolate Chips

Regular Ring Donut

Vanilla Icing
Candy Corn Drizzle
Autumn Leaves Sprinkles
4 Colby Jack Cheese (left)
6 Green Peppers (right)
8 Olives (all)
Light Bake
6 Slices
Three Cheese Bread with Marble Colby Cheese
Regular Grill
Sliced Turkey
Tomato
Mustard
Fries:

French Fries
Nacho Sauce
Cheddar Topping
Holiday (New Year)
Cheddar Swirl Bread with Marble Colby Cheese
Regular Grill
Sliced Turkey
Tomato
Mac n' Cheese
Parmesan Sauce
Fries:

French Fries
Nacho Sauce
Cheddar Topping
Liner A
Zebra Stripe Cake
Cupcake 1:

Black Frosting
Apricot Drizzle
Rainbow Sprinkles
Cherry

Cupcake 2:

Black Frosting
Vanilla Drizzle
Rainbow Sprinkles
Salted Caramel
Holiday (Halloween)
Liner A
Tarantula Cake
Cupcake 1:

Black Frosting
Apricot Drizzle
Spooky Sprinkles
Candy Corn
Candy Jack-O-Lantern

Cupcake 2:

Black Frosting
Vanilla Drizzle
Spooky Sprinkles
Salted Caramel
Candy Corn
Liner A
Zebra Stripe Cake
Cupcake 1:

Black Frosting
Apricot Drizzle
Rainbow Sprinkles
Cherry

Cupcake 2:

Black Frosting
Vanilla Drizzle
Rainbow Sprinkles
Cherry
Holiday (Halloween)
Liner A
Tarantula Cake
Cupcake 1:

Black Frosting
Apricot Drizzle
Spooky Sprinkles
Candy Corn, Candy Jack-O-Lantern, Candy Corn

Cupcake 2:

Black Frosting
Vanilla Drizzle
Spooky Sprinkles
Candy Corn, Cherry, Candy Corn
Peanut Butter Swirl Crust
Toffee Filling
Apple Filling
Apple Filling
Toffee Filling
Vented Crust
8 Whipped Cream Dollops (Outer Ring)
8 Cherries (Outer Ring)
9 Kumquats (Inner Ring and Center)
Holiday (Halloween)
Peanut Butter Swirl Crust
Toffee Filling
Apple Filling
Apple Filling
Toffee Filling
Spiderweb Crust
8 Whipped Cream Dollops (Outer Ring)
8 Candy Corns (Outer Ring)
9 Kumquats (Inner Ring and Center)
Pita Bread with Chicken
Nacho Cheese
White Rice
Black Beans
Peppers
Nacho Cheese
Chips:

Nacho Cheese Chips
Pico de Gallo
Holiday (Cherry Blossom Festival)
Wonton Shell with Chicken
Nacho Cheese
White Rice
Fried Crispy Noodles
Peppers
Nacho Cheese
Chips:

Nacho Cheese Chips
Pico de Gallo
Ukoniro Soy Paper with White Rice
Not Flipped
Duck Sauce
Sesame Seeds
Bubble Tea:

Chai Tea with Butterscotch Bubbles
Holiday (Cinco de Mayo)
Tortilla with White Rice
Not Flipped

Chipotle Cheddar
Crab Stick
Cream Cheese

Nacho Cheese
Sesame Seeds
Bubble Tea:

Chai Tea with Butterscotch Bubbles
Pita Bread with Chicken
Nacho Cheese
White Rice
Black Beans
Peppers
Nacho Cheese
Chips:

Nacho Cheese Chips
Pico de Gallo
Holiday (Big Top Carnival)
Pita Bread with Corn Dog
Nacho Cheese
White Rice
Black Beans
Peppers
Nacho Cheese
Chips:

Nacho Cheese Chips
Pico de Gallo
3 Pancakes
Whipped Cream
Blueberries
Raspberries
Blueberry Syrup
Drink:

Small Orange Juice with Ice
Holiday (Halloween)
3 Pancakes
Scream Cream
Shadowberry Derps
Raspberries
Blueberry Syrup
Drink:

Small Orange Juice with Ice
Thick Crust
Buffalo Sauce with Smoked Cheddar Cheese
4 Gorgonzola Cheese (left)
6 Green Peppers (right)
2 Pepperjack Cheese (top)
2 Asiago Cheese (bottom)
Light Bake
6 Slices
Holiday (Lucky Lucky Matsuri)
Thick Crust
Buffalo Sauce with Smoked Cheddar Cheese
4 Lotus Roots (left)
6 Green Peppers (right)
2 Pepperjack Cheese (top)
2 Asiago Cheese (bottom)
Light Bake
6 Slices
Cheddarwurst on a Pretzel Bun
Cheese
Mustard
Mayo
Drink and Popcorn:

Medium Lemon Mist
Large Cheddar Corn
Holiday (New Year)
Cheddarwurst on a Pretzel Bun
Cheese
Mustard
Cheezy Whip
Fruity Hoops
Drink and Popcorn:

Medium Lemon Mist
Large X Puffs
Fudge Cookie with Yum n' M's
Peanut Butter Cookie with Butterzinger Bits
Traditional Cookie with Yum n' M's
Whipped Cream
Rainbow Sprinkles
Cherry, Blueberry Swizzle, Cherry
Holiday (Halloween)
Fudge Cookie with Yum n' Ms
Peanut Butter Cookie with Butterzinger Bits
Traditional Cookie with Yum n' Ms
Whipped Cream
Rainbow Sprinkles
Shadowberry Derps
Cherry, Gummy Spider, Cherry
8 Buffalo Boneless Wings (All)
4 Medium Chicken Wings (Left)
4 Cheese Cubes (Right)
Zesty Pesto Dip
Holiday (New Year)
8 Poutine Boneless Wings (All)
4 Medium Chicken Wings (Left)
4 Cheese Cubes (Right)
Cheezy Whip
Regular Ring Donut

Chocolate Icing
Rainbow Sprinkles

Chocolate Round Donut with Boston Cream

Chocolate Icing
Dreamsicle Drizzle
Creameo Bits

Regular Roll

Vanilla Icing
Vanilla Drizzle
Holiday (Thanksgiving)
Regular Ring Donut

Chocolate Icing
Rainbow Sprinkles

Chocolate Acorn Donut with Boston Cream

Cocoa Powder
Candy Corn Drizzle
Autumn Leaves Sprinkles

Regular Roll

Cocoa Powder
Vanilla Drizzle
Three Cheese Bread with Marble Colby Cheese
Regular Grill
Sliced Turkey
Tomato
Mustard
Fries:

French Fries
Nacho Sauce
Cheddar Topping
Holiday (New Year)
Cheddar Swirl Bread with Marble Colby Cheese
Regular Grill
Sliced Turkey
Tomato
Mac n' Cheese
Parmesan Sauce
Fries:

French Fries
Parmesan Sauce
Cheese Cubes
Regular Gnocchi
Three Cheese Sauce
Parmesan Cheese
Grated Mozzarella
4 Chickens
Crescent Roll
Holiday (ChiliFest)
Regular Gnocchi
Three Cheese Sauce
Cheddar Cheese
Grated Mozzarella
4 Chickens
5 Chili Peppers
Crescent Roll
Medium Cup
2 shots of City Roast
3 shots of Hot Soy Milk
Butterscotch Cream
Salted Caramel Syrup
Rainbow Sprinkles
Cannoli:

Caramel Apple Shell
Butterscotch Cream
Cocoa Powder
Holiday (Halloween)
Medium Cup
2 shots of City Roast
3 shots of Hot Screamsicle Milk
Butterscotch Cream
Salted Caramel Syrup
Spooky Sprinkles
Cannoli:

Frankennoli
Butterscotch Cream
Cocoa Powder
Classic Bun
Cheddar Cheese
Mayo
Chicken Breast with Cheez Puff Breading
Cheddar Cheese
Buffalo Sauce
Watercress
Medium Slush

Lemonade Slush
Sweet Tea Slush
Holiday (Starlight BBQ)
Smoked Cheddar Bun
Cheddar Cheese
Mayo
Chicken Breast with Cheez Puff Breading
Mac n' Cheese
Buffalo Sauce
Watercress
Medium Slush

Lemonade Slush
Sweet Tea Slush
Ranks required to unlock her
Unlockables
Stickers
| Sticker Number | Name | Achievement | Sticker Earned |
| --- | --- | --- | --- |
| 54 | Flavorful Fillings | Unlock all of the Standard Fillings | |
| 15 | Thankful | Unlock all Thanksgiving toppings | |
| 16 | Holiday Pies | Unlock all Christmas toppings | |
| Sticker Number | Name | Achievement | Sticker Earned |
| --- | --- | --- | --- |
| 71 | Cheese Please | Add Shredded Cheese and Queso Blanco to Sasha's taco | |
| 8 | Trick or Treat | Unlock all Halloween toppings | |
| 90 | Fine Dining | Serve 50 customers in the Dining Room | |
| Sticker Number | Name | Achievement | Sticker Earned |
| --- | --- | --- | --- |
| 72 | Miso Sasha Shiso | Use Shiso Rice and Ginger Miso Sauce on Sasha's sushi | |
| 81 | Bubble Gum Bonanza | Have 10 different kinds of bubble gum in the lobby at once | |
| 87 | Coupon Clipper | Send 10 Customer Coupons to your customers | |
| Sticker Number | Name | Achievement | Sticker Earned |
| --- | --- | --- | --- |
| 42 | Costumed Closers | Serve all of the Costumed Closers during Halloween | |
| 82 | Bubble Gum Bonanza | Have 10 different kinds of bubble gum in the lobby at once | |
| 90 | Fine Dining | Serve 50 customers in the Dining Room | |
| Sticker Number | Name | Achievement | Sticker Earned |
| --- | --- | --- | --- |
| 28 | Perfect! | Get a Perfect Score on 30 orders | |
| 53 | Crust Collector | Unlock all of the Standard Crusts | |
| 10 | Easter Basket | Unlock all Easter toppings | |
| Sticker Number | Name | Achievement | Sticker Earned |
| --- | --- | --- | --- |
| 45 | Rare Reward | Win a Rare Bonus Prize in a Mini-Game by earning a Star Medal | |
| 76 | Spooktacular | Serve 20 customers during Halloween wearing any Halloween clothing | |
| 58 | Soda Jerk | Unlock all of the Standard Drinks | |
| Sticker Number | Name | Achievement | Sticker Earned |
| --- | --- | --- | --- |
| 4 | Winter Wonderland | Reach Winter | |
| 78 | Santa's Helper | Serve 20 customers during Christmas wearing a Christmas Hat and Fur Parka | |
| 13 | Thankful | Unlock all Thanksgiving toppings | |
| Sticker Number | Name | Achievement | Sticker Earned |
| --- | --- | --- | --- |
| 4 | Winter Wonderland | Reach Winter | |
| 79 | Santa's Little Helper | Serve 20 customers during Christmas wearing a Christmas Hat and Fur Parka | |
| 13 | Thankful | Unlock all Thanksgiving toppings | |
| Sticker Number | Name | Achievement | Sticker Earned |
| --- | --- | --- | --- |
| 9 | Trick or Treat | Unlock all Halloween toppings | |
| 7 | Old World Pancakes | Unlock all BavariaFest toppings | |
| 70 | Honey Zak | Add Honey to Hacky Zak's order | |
| Sticker Number | Name | Achievement | Sticker Earned |
| --- | --- | --- | --- |
| 75 | Wylan B-B-Q | Add BBQ Sauce to Wylan B's order | |
| 4 | Spring Has Sprung | Reach Spring | |
| 14 | Masquerade | Unlock all Mardi Gras toppings | |
| Sticker Number | Name | Achievement | Sticker Earned |
| --- | --- | --- | --- |
| 78 | Santa's Helper | Serve 20 customers during Christmas wearing a Christmas Hat and Fur Parka | |
| 87 | Stubborn Plumber | Try to click 20 red pipes in Rico's Chiliworks | |
| 38 | New Threads | Change your worker's shirt, pants, hat, jacket, and shoes | |
| Sticker Number | Name | Achievement | Sticker Earned |
| --- | --- | --- | --- |
| 59 | Cheese Lover | Serve a Cheesy BLT Special to Sasha | |
| 76 | Spooktacular | Serve 20 customers during Halloween wearing any Halloween clothing | |
| 89 | Wasteful Worker | Throw away 3 baskets of fully-cooked fries in the same day | |
| Sticker Number | Name | Achievement | Sticker Earned |
| --- | --- | --- | --- |
| 54 | Flavorful Fillings | Unlock all of the Standard Fillings | |
| 44 | Grand Prize Winner | Earn 5 Prizes or more in each of Foodini's Mini-Games | |
| 1 | Spring Has Sprung | Reach Spring | |
| Sticker Number | Name | Achievement | Sticker Earned |
| --- | --- | --- | --- |
| 72 | Miso Sasha Shiso | Use Shiso Rice and Ginger Miso Sauce on Sasha's sushi | |
| 66 | Xolo Kosho | Serve a Kiwi Kosho special to Xolo | |
| 34 | Interior Decorator | Buy any 8 Furniture items from the Shop | |
| Sticker Number | Name | Achievement | Sticker Earned |
| --- | --- | --- | --- |
| 70 | More Cheese Please | Replace Sasha's bread with Cheesy Bread | |
| 60 | Pauly Portobello | Serve a Creamy Portobello Special to Big Pauly | |
| 87 | Coupon Clipper | Send 10 Customer Coupons to your customers | |
| Sticker Number | Name | Achievement | Sticker Earned |
| --- | --- | --- | --- |
| 38 | New Threads | Change your worker's shirt, pants, hat, belt, jacket, and shoes | |
| 61 | Parisian Petrona | Serve a Purple Parisian Special to Petrona | |
| 44 | Game Show Contestant | Earn a Prize in each of Foodini's Mini-Games | |
| Sticker Number | Name | Achievement | Sticker Earned |
| --- | --- | --- | --- |
| 50 | Recipe Master | Master a Special Recipe by earning 5 Special Stars | |
| 31 | Piggy Bank | Don't spend any money in the Shop for 7 days | |
| 90 | Food Truck Fanatics | Lure 3 regular customers to the Food Truck by preparing their normal order | |
Earn all three stickers in any of the above games to unlock this outfit: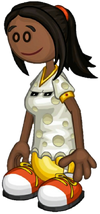 Papa's Next Chefs
| Rescued at | Needs | Special Skill | Weapon | Styles |
| --- | --- | --- | --- | --- |
| Level 2: Gummy Grotto | Wall Climb | None | Cheddar Mack Toy (Whip) | |
Trivia
Order Tickets
Gallery
Prepared Orders
Perfect Orders
Promotional Images
Holiday Pictures
Others
Fan Art