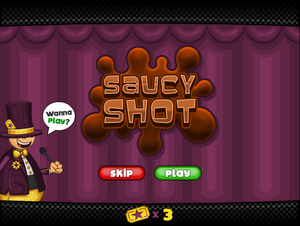 Saucy Shot is a minigame that is first introduced in Papa's Cupcakeria.
Gameplay
The player controls a bottle of BBQ Sauce. As the targets (baddies from Papa Louie 2: When Burgers Attack!) appear on the screen, the player must click/tap on the enemies in order to shoot BBQ sauce at them. The player must hit a certain number of enemies in order to earn a prize.
Rugby Shirt
Lime Stripe Wall
Bright Belt
Paddy's Poster
Golden Tile
Hanging Plant
Sizzlers Hat
Halloween Wall
Summer Skirt/Star Pants
Red Bag/Red Necktie
Snow Floor
Gondoliers Jacket
Yellow Laces
Poinsettia Box
Papa's Cupcakeria Prize Gallery
Jojo Beret
Burgeria Poster
Sandwich Wall

This section may be having some missing details or it is incomplete! You can help by adding the correct info to finish the list. Once the list is complete, remove this template box.
Papa's Freezeria HD Prize Gallery
Backpack
(Mardi Gras) Loaded Poster
Onion Gum
Short Rash Guard
Onionfest Poster
Green Shag Carpet
Backwards Cap
Teal Stripe Wall
Cargo Pants
Striped Belt
Belltower Ghost
Track Jacket
Fireplace
Bonus:
Papa's Wingeria To Go! Prize Gallery
See also
Community content is available under
CC-BY-SA
unless otherwise noted.