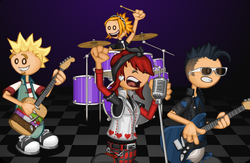 Scarlett and the Shakers is a ska-punk band consisting of lead singer Scarlett, guitarist Marty, Clover on drums, and Rudy on bass guitar. Janana is the band's manager.
In both Papa's Cupcakeria and Papa's Pastaria, there is a badge called Scarlett and the Shakers which must earn by serving Marty, Clover, and Scarlett.
After Rudy had made his debut, this badge could be earned in Papa's Pizzeria To Go! by serving all four members of the band.
From Papa's Bakeria onwards, the player can earn a sticker for serving every member of the band.
Trivia
If a player decides to use one or two custom workers when playing Papa's Cheeseria, the workers accompany the band during the concert. One worker will play the saxophone while the other (if a second custom worker is selected) shakes the maracas.
Their outfits incorporate the four suits from playing cards; Scarlett (hearts), Rudy (spades), Marty (diamonds), and Clover (clubs).
All of the members of Scarlett and the Shakers have become workers, with Marty being the first in Papa's Burgeria and Clover being the last in Papa's Sushiria.
All of the members work in gamerias that serve savory food.
Gallery
Fan Art
Community content is available under
CC-BY-SA
unless otherwise noted.