GTA: The Criminal Enterprises - The Loop
Play Sound
Shannon is a female customer who made her first appearance in Papa's Hot Doggeria.
Flipdeck Info
Hometown: Tacodale
Occupation: Investigative Reporter
Loves: Cheddar
Hates: A Fluff Piece
Shannon is an investigative reporter for Nowtime News. She went to Tastyville to track down the source of counterfeit tickets being sold near Griller Stadium. Shannon quickly refocused her attention on the disappearance of 28 people attending a Free Burger Day promotion at Papa's Burgeria. During the ordeal she interviewed several key witnesses who saw strange individuals lurking around town the night before.
Appearance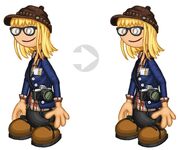 Shannon has loose blonde shoulder length hair with a fringe, fair skin, and blue eyeliner. She wears a brown hat, black-rimmed eyeglasses, and a blue coat over a red and white plaid shirt with cuffs at the ends. She carries a camera, a notepad, and a pencil in the pockets of her coat. She wears black pants and dark tan shoes with black soles and laces.
Clean-Up
Her hair has a lighter shade.
Styles
Style B
Shannon no longer wears her hat but wears a white, blue, and red plaid long-sleeved shirt underneath a brown coat with cuffs and brown buttons, blue pants, and black sneakers with white and brown accents.
Orders
Italian Sausage on a Chicago Bun
Relish
Onions
Papa's Ballpark Mustard
Drink and Popcorn:

Large Root Beer
Small Cheddar Corn
Liner D
Vanilla Cake
Dark Blue Frosting
Vanilla Drizzle
Rock Candy
Cupcake 1:

Cherry, Marshmallow, Cherry

Cupcake 2:

Marshmallow, Cherry, Marshmallow
Holiday (Starlight Jubilee)
Liner D
Vanilla Cake
Dark Blue Frosting
Powsicle Drizzle
Rock Candy
Cupcake 1:

White Chocolate Star, Cherry, White Chocolate Star

Cupcake 2:

Candy Rocket, Cherry, Candy Rocket
Medium Cup
Blackberries
Powsicle Syrup
Regular Blend
Whipped Cream
Strawberry Topping
Blueberry Topping
Wildberry Derps
Gummy Onion, Cherry, Gummy Onion
Regular Penne
Papa's Marinara Sauce
Crushida Pepper
3 Meatballs
3 Sausages
Garlic Breadstick
Holiday (ChiliFest)
Regular Cellentani
Rico's Chili
Cheddar Cheese
3 Meatballs
3 Sausages
Garlic Breadstick
Small Cup
Blackberries
Powsicle Syrup
Regular Blend
Strawberry Fluff
Blueberry Topping
Sprinkles
Cherry, Cotton Candy Creameo, Banana
Blueberry Roll Donut with Blueberry Custard

Powdered Sugar
Strawberry Drizzle

Regular Ring Donut
Blueberry Ring Donut with Blackberry Jelly

Sky Blue Icing
Mini Mallows
Rock Candy
Holiday (Starlight Jubilee)
Blueberry Roll Donut with Jubilee Jelly

Starlight Icing
Cherry Bomb Drizzle

Regular Ring Donut
Blueberry Star Donut with Blackberry Jelly

Sky Blue Icing
Powsicle Drizzle
Rock Candy
8 Buffalo Boneless Wings (right)
4 Teriyaki Shrimp (left)
4 Potato Skins (left)
Kung Pao Dip
Blue Cheese Dip
4 Colby Jack Cheese (bottom)
8 Sausages
4 Onions
6 Banana Peppers (top)
Regular Bake
6 Slices
Pretzel Bread with Marble Colby Cheese
Regular Grill
Sauerkraut
Corned Beef
Awesome Sauce
Corned Beef
Sauteed Onions
Fries:

Crinkle Cut Fries
Rico's Chili
Holiday (St. Paddy's Day)
Pretzel Bread with Marble Colby Cheese
Regular Grill
Sauerkraut
Corned Beef Hash
Awesome Sauce
Corned Beef
Sauteed Onions
Fries:

Crinkle Cut Fries
Rico's Chili
Liner D
Vanilla Cake
Dark Blue Frosting
Cupcake 1:

Vanilla Drizzle
Rock Candy
Marshmallow

Cupcake 2:

Blue Moon Drizzle
Rock Candy
Cherry
Marshmallow
Holiday (Starlight Jubilee)
Liner D
Powsicle Cake
Dark Blue Frosting
Cupcake 1:

Jubilee Jelly Drizzle
Rock Candy
White Chocolate Star

Cupcake 2:

Blue Moon Drizzle
Rock Candy
Cherry
Candy Rocket
Liner D
Vanilla Cake
Dark Blue Frosting
Cupcake 1:

Vanilla Drizzle
Rock Candy
Marshmallow

Cupcake 2:

Blue Moon Drizzle
Rock Candy
Marshmallow, Cherry, Marshmallow
Holiday (Starlight Jubilee)
Liner D
Powsicle Cake
Dark Blue Frosting
Cupcake 1:

Jubilee Jelly Drizzle
Rock Candy
White Chocolate Star

Cupcake 2:

Blue Moon Drizzle
Rock Candy
Candy Rocket, Cherry, Candy Rocket
Vanilla Crispies Crust
Blueberry Filling
Blueberry Filling
Lemon Filling
Lemon Filling
Blackberry Bark (All Over)
Whipped Cream (Outer Ring)
Blueberries (Outer Ring)
Holiday (Starlight Jubilee)
Vanilla Crispies Crust
Blueberry Filling
Blueberry Filling
Lemon Filling
Lemon Filling
Rocket Whip (Outer Ring)
Blueberries (Outer Ring)
8 Dipped Strawberries (Inner Ring)
Pita Bread with Beef
Brown Rice
Queso Blanco
Lettuce
Ancho Chile Sauce
Chips:

Blue Corn Chips
Chile Serrano Salsa
Holiday (St. Paddy's Day)
Pita Bread with Corned Beef Barbacoa
Brown Rice
Queso Blanco
Avocado
Lettuce
Ancho Chile Sauce
Chips:

Blue Corn Chips
Chile Serrano Salsa
Ukoniro Soy Paper with White Rice
Flipped
Avocado
Bonito Flakes
Teriyaki Sauce
Bubble Tea:

Blueberry Tea with Cherry Bubbles
Holiday (BavariaFest)
Ukoniro Soy Paper with White Rice
Flipped
Brezn
Sauerkraut
Marzen Mustard
Bubble Tea:

Blueberry Tea with Cherry Bubbles
Pita Bread with Beef
Brown Rice
Queso Blanco
Lettuce
Ancho Chile Sauce
Chips:

Chili Lime Tortillas
Chile Serrano Salsa
Holiday (St. Paddy's Day)
Pita Bread with Corned Beef Barbacoa
Brown Rice
Queso Blanco
Avocado
Lettuce
Ancho Chile Sauce
Chips:

Chili Lime Tortillas
Chile Serrano Salsa
Waffle
Whipped Cream
Blueberries
Raspberries
4 Strawberries
Drink:

Large Orange Juice with Ice
Holiday (Starlight Jubilee)
Waffle
Rocket Whip
Blueberries
Raspberries
4 Star Cookies
Drink:

Large Powsicle Punch with Ice
Garlic Knot Crust
Buffalo Sauce with Smoked Cheddar Cheese
6 Banana Peppers (top)
4 Onions (all)
8 Sausages (all)
Regular Bake
6 Slices
Holiday (Cinco de Mayo)
Garlic Knot Crust
Salsa with Smoked Cheddar Cheese
6 Avocados (Top)
4 Onions (All)
8 Sausages (All)
Regular Bake
6 Slices
Italian Sausage on a Chicago Bun
Relish
Onions
Papa's Ballpark Mustard
Drink and Popcorn:

Large Root Beer
Small Cheddar Corn
Holiday (St. Paddy's Day)
Italian Sausage on a Barmbrack Bun
Relish
Onions
Irish Parsley Sauce
Drink and Popcorn:

Large Root Beer
Small Cheddar Corn
Snickerdoodle Cookie with Blueberries
Oatmeal Cookie with Blackberry Bark
Traditional Cookie with Blueberries
Strawberry Syrup
Rock Candy
3 Cherries
Holiday (Starlight Jubilee)
Snickerdoodle Cookie with Blueberries
Oatmeal Cookie with Crackle Crumbs
Traditional Cookie with Blueberries
Cherrybomb Syrup
Rock Candy
Star Sprinkles
Cherry, Candy Rocket, Cherry
8 Alabama BBQ Shrimps (All)
4 Potato Skins (All)
Lemon Butter Dip
Blue Cheese Dip
Holiday (BavariaFest)
8 Würzig Shrimps (All)
4 Weisswursts (All)
Lemon Butter Dip
Blue Cheese Dip
Regular Ring Donut

Red Rose Icing
Cosmic Coconut

Blueberry Roll with Blueberry Custard

Powdered Sugar
Strawberry Drizzle
Raspberry Bark

Blueberry Ring Donut

Blue Nimbus Icing
Rock Candy
Holiday (Starlight Jubilee)
Regular Ring Donut

Red Rose Icing
Cosmic Coconut

Blueberry Roll with Jubilee Jelly

Powdered Sugar
Powsicle Drizzle
Raspberry Bark

Blueberry Ring Donut

Blue Nimbus Icing
Blue Star Sprinkles
Pretzel Bread with Marble Colby Cheese
Regular Grill
Sauerkraut
Corned Beef
Awesome Sauce
Corned Beef
Sauteed Onions
Fries:

Crinkle Cut Fries
Rico's Chili
Holiday (Holi)
Pretzel Bread with Paneer Cheese
Regular Grill
Sauerkraut
Pakoras
Awesome Sauce
Corned Beef
Sauteed Onions
Fries:

Crinkle Cut Fries
Curry Powder
Rico's Chili
Ukoniro Soy Paper with White Rice
Flipped
Avocado
Bonito Flakes
Teriyaki Sauce
Bubble Tea:

Blueberry Tea with Cherry Bubbles
Holiday (Portallini Feast)
Ukoniro Soy Paper with White Rice
Flipped
Capicola
Parmesan Cheese
Marinara Sauce
Bubble Tea:

Blueberry Tea with Cherry Bubbles
Medium Cup
3 shots of City Roast

Aprajita Powder
Blue Nimbus Syrup

1 shot of Cold Strawberry Milk
Ice Cubes
Moon Mist Cream
Blue Nimbus Syrup
Cannoli:

Battenberg Shell
Strawberry Cream
Cocoa Powder
Holiday (Starlight Jubilee)
Medium Cup
3 shots of City Roast

Aprajita Powder
Jubilee Jelly Syrup

1 shot of Cold Strawberry Milk
Ice Cubes
Powsicle Cream
Blue Nimbus Syrup
Cannoli:

Starlight Shell
Strawberry Cream
Crackle Crumbs
Sesame Bun
Chicken Patty with Pretzel Crust Breading
Onion
Teriyaki Sauce
Summer Crisp Lettuce
Banana Peppers
Large Slush

Root Beer Slush
Purple Burple Slush
Holiday (BavariaFest)
Sesame Bun
Chicken Patty with Pretzel Crust Breading
Bratwurst
Marzen Mustard
Sauerkraut
Banana Peppers
Large Slush

Blockmalz Slush
Purple Burple Slush
Ranks required to unlock her
Unlockables
Stickers
| Sticker Number | Name | Achievement | Sticker Earned |
| --- | --- | --- | --- |
| 11 | Patriotic | Unlock all Starlight Jubilee toppings | |
| 47 | Recipe Collection | Earn 15 Special Recipes from customers | |
| 3 | Fall Harvest | Reach Autumn | |
| Sticker Number | Name | Achievement | Sticker Earned |
| --- | --- | --- | --- |
| 63 | Carlo Caliente | Serve a Queso Caliente Special to Carlo Romano | |
| 56 | Sauce Specialist | Unlock all of the Standard Sauces | |
| 72 | Nacho Nick | Add Nacho Cheese Sauce to Nick's taco | |
| Sticker Number | Name | Achievement | Sticker Earned |
| --- | --- | --- | --- |
| 61 | Tuna Tuna Kahuna | Serve a Tuna Tuna Tempura Special to Kahuna | |
| 7 | Summer Fun | Unlock all Summer Luau toppings | |
| 27 | Tea Expert | Get a 100% Tea Score on 20 orders | |
| Sticker Number | Name | Achievement | Sticker Earned |
| --- | --- | --- | --- |
| 73 | Shannana | Add Bananas to Shannon's order | |
| 25 | Grill Expert | Get a 100% Grill Score on 20 orders | |
| 87 | Coupon Clipper | Send 10 Customer Coupons to customers | |
| Sticker Number | Name | Achievement | Sticker Earned |
| --- | --- | --- | --- |
| 47 | Recipe Collection | Earn 15 Special Recipes from customers | |
| 79 | Daredevil | Serve Boomer while wearing a Stunt Helmet and Cape | |
| 55 | Cheese Champion | Unlock all of the Cheeses | |
| Sticker Number | Name | Achievement | Sticker Earned |
| --- | --- | --- | --- |
| 36 | New Coat of Paint | Buy any 4 Flooring or Wallpaper from the Shop | |
| 31 | Piggy Bank | Don't spend any money in the Shop for 7 days | |
| 22 | Silver Medal | Earn 10 Silver Customer Awards | |
| Sticker Number | Name | Achievement | Sticker Earned |
| --- | --- | --- | --- |
| 64 | Moejito | Serve a Chocolate Mojito Special to Moe | |
| 45 | Rare Reward | Win a Rare Bonus Prize in a Mini-Game by earning a Star Medal | |
| 84 | Get the Tables! | Fill your lobby with any 12 large tables | |
| Sticker Number | Name | Achievement | Sticker Earned |
| --- | --- | --- | --- |
| 65 | Moejito | Serve a Chocolate Mojito Special to Moe | |
| 46 | Rare Reward | Win a Rare Bonus Prize in a Mini-Game by earning a Star Medal | |
| 85 | Get the Tables! | Fill your lobby with any 12 large tables | |
| Sticker Number | Name | Achievement | Sticker Earned |
| --- | --- | --- | --- |
| 73 | Shannana | Add Bananas to Shannon's order | |
| 9 | Trick or Treat | Unlock all Halloween toppings | |
| 19 | Quick Breakfast | Have Hank's order ready when he arrives and serve immediately | |
| Sticker Number | Name | Achievement | Sticker Earned |
| --- | --- | --- | --- |
| 76 | Spooktacular | Serve 20 customers during Halloween wearing any Halloween clothing | |
| 77 | Holiday Spirit | Serve 100 customers while wearing clothing that matches the season | |
| 22 | Silver Medal | Earn 10 Silver Customer Awards | |
| Sticker Number | Name | Achievement | Sticker Earned |
| --- | --- | --- | --- |
| 41 | The Gang's All Here | Serve all of the customers! | |
| 82 | Holiday Outfit | Wear a shirt, belt, jacket, pants, and hat to match the current holiday | |
| 7 | Donut Harvest | Unlock all Thanksgiving toppings | |
| Sticker Number | Name | Achievement | Sticker Earned |
| --- | --- | --- | --- |
| 57 | Side of Fries | Unlock all of the Fries | |
| 46 | Special Collector | Earn 5 Special Recipes from customers | |
| 6 | Summer Fun | Unlock all Summer Luau toppings | |
| Sticker Number | Name | Achievement | Sticker Earned |
| --- | --- | --- | --- |
| 63 | Neapolitony | Serve a Neapolitan Pie Special to Tony | |
| 10 | Summer Fun | Unlock all Summer Luau toppings | |
| 9 | Carnival Pies | Unlock all Big Top Carnival toppings | |
| Sticker Number | Name | Achievement | Sticker Earned |
| --- | --- | --- | --- |
| 59 | Philly Foodini | Serve a Philly Roll Special to Foodini | |
| 37 | Upgrade Master | Buy all of the Upgrades in the Shop | |
| 67 | State Swap | Serve a California Roll Special to Utah | |
| Sticker Number | Name | Achievement | Sticker Earned |
| --- | --- | --- | --- |
| 56 | Shake It | Unlock all of the Standard Shakers | |
| 49 | Successful Specials | Earn 3 Special Stars when serving Today's Special | |
| 27 | Bread Expert | Get a 100% Bread Score on 20 orders | |
| Sticker Number | Name | Achievement | Sticker Earned |
| --- | --- | --- | --- |
| 70 | Boopsy & Borgia | Serve a Café Borgia Special to Boopsy & Bill | |
| 5 | Trick or Treat | Unlock all Halloween toppings | |
| 45 | Grand Prize Winner | Earn 5 Prizes or more in each of Foodini's Mini-Games | |
| Sticker Number | Name | Achievement | Sticker Earned |
| --- | --- | --- | --- |
| 63 | Towering Taylor | Serve a Towering Teriyaki Special to Taylor | |
| 22 | Silver Medal | Earn 10 Silver Customer Awards | |
| 76 | Holiday Spirit | Serve 100 customers while wearing clothing that matches the season | |
Earn all three stickers in any of the above games to unlock this outfit: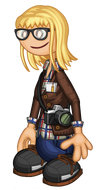 Papa's Next Chefs
Trivia
Order Tickets
Gallery
Prepared Orders
Perfect Orders
Promotional Images
Holiday Pictures
Others
Fan Art