Skip is a male customer who made his first appearance in Papa's Scooperia/HD/To Go!. He has a pet rat named Pastrami, who is with him in the game.
Appearance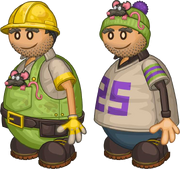 Skip has a fair skin tone and a large build. He has a noticeable amount of facial hair, as well as dark grey hair and thick lighter grey eyebrows. He wears a yellow construction helmet with some darker yellow stains on it. He wears a shirt with a khaki shade of brown with a yellow trim on the edge of the short sleeved shirt. He wears yellow and cement grey gloves. He wears a green overall with some noticeable stains on it. In the center of his overalls, is a pocket containing his pet rat, Pastrami. He wears a large belt with pockets and has big, brown shoes.
Style B
He wears a green and purple knit hat, which Pastrami is in, and wears a beige jersey with a purple "25" on it.
Orders
Snickerdoodle Cookie with Mint Bar Chunks

Mint Chocolate Chip Ice Cream

Lemon Crinkle Cookie with Dried Kiwi
Traditional Cookie with Sugar Crystals
Whipped Cream
Pistachios
Chocolate Mint, Waffle Cone, Chocolate Mint
Holiday (Onionfest)
Snickerdoodle Cookie with Mint Bar Chunks

Mint Chocolate Chip Ice Cream

Lemon Crinkle Cookie with Dried Kiwi
Traditional Cookie with Sourballs
Whipped Cream
Sugar Shallot Syrup
Pistachios
Chocolate Mint, Gummy Onion, Chocolate Mint
Pecan Pancake
Whipped Cream
Pecan Pancake
Whipped Cream
Honey
Drink:
Holiday (St. Paddy's Day)
Pecan Pancake
Mint Cream
Pecan Pancake
Mint Cream
Pistachios
Drink:

Large Irish Cream Coffee with Cream
8 Sriracha Chicken Wings (All)
2 Tikka Masala Chicken Strips (All)
2 French Fries (All)
4 Taquitos (All)
Guacamole
Holiday (New Year)
8 Sriracha Chicken Wings (All)
2 Tikka Masala Chicken Strips (All)
2 Pizza Poppers (All)
4 Taquitos (All)
Cheezy Whip
Ranks required to unlock him
Unlockables
Stickers
| Sticker Number | Name | Achievement | Sticker Earned |
| --- | --- | --- | --- |
| 44 | Grand Prize Winner | Earn 5 Prizes or more in each of Foodini's Mini-Games | |
| 7 | Onionfest Flavors | Unlock all Onionfest toppings | |
| 83 | Dance Party | Use lots of musical furniture so 3 or more customers are dancing in the lobby | |
| Sticker Number | Name | Achievement | Sticker Earned |
| --- | --- | --- | --- |
| 45 | Grand Prize Winner | Earn 5 Prizes or more in each of Foodini's Mini-Games | |
| 7 | Cinco Celebration | Unlock all Cinco de Mayo toppings | |
| 84 | Dance Party | Use lots of musical furniture so 3 or more customers are dancing in the lobby | |
| Sticker Number | Name | Achievement | Sticker Earned |
| --- | --- | --- | --- |
| 67 | Lumberjack Johnny | Serve a Lumberjack Toast Special to Johnny | |
| 58 | Drink Extras | Unlock all of the Drink Extras | |
| 44 | Grand Prize Winner | Earn 5 Prizes or more in each of Foodini's Mini-Games | |
Order Tickets
Gallery
Fan Art