Dead Cells Final DLC - The Loop
Play Sound
Skip is a male customer who made his first appearance in Papa's Scooperia/HD/To Go!.
From the Flipline Studios Blog
Hey Everyone!
Today we would like to introduce you to one of the new customers making his debut in Papa's Scooperia! Everyone give a big warm welcome to Skip! Joining him will be his blind, cuddly rat named Pastrami.
Stay tuned for more sneak peeks of Papa's Scooperia! [1]
Flipdeck Info
Skip is a construction worker from Oniontown. He is a huge fan of the local football team, the Oniontown Bulbdogs. Before every home game, Skip drives his purple and green RV to the Sourdome Stadium parking lot for some fun-filled tailgating with all his closest friends. Skip never goes anywhere without Pastrami, his little pet rat. Although Pastrami may be blind, he still loves listening to the roar of the crowd as it rumbles throughout the Stadium.
Appearance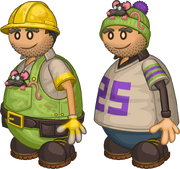 Skip has a fair skin tone and a large build. He has a noticeable amount of facial hair, as well as dark gray hair and thick lighter gray eyebrows. He wears a yellow construction helmet with some darker yellow stains on it. He wears a shirt with a khaki shade of brown with a yellow trim on the edge of the short sleeved shirt. He wears yellow and cement grey gloves. He wears a green overall with some noticeable stains on it. In the center of his overalls, is a pocket containing his pet rat, Pastrami. He wears a large belt with pockets and has big, brown shoes.
Style B
He wears a green and purple knit hat, which Pastrami is in, and wears a beige jersey with a purple "25" on it. He also wears blue pants and a black long-sleeved shirt.
Orders
Snickerdoodle Cookie with Mint Bar Chunks

Mint Chocolate Chip Ice Cream

Lemon Crinkle Cookie with Dried Kiwi
Traditional Cookie with Sugar Crystals
Whipped Cream
Pistachios
Chocolate Mint, Waffle Cone, Chocolate Mint
Holiday (OnionFest)
Snickerdoodle Cookie with Mint Bar Chunks

Mint Chocolate Chip Ice Cream

Lemon Crinkle Cookie with Dried Kiwi
Traditional Cookie with Sourballs
Whipped Cream
Sugar Shallot Syrup
Pistachios
Chocolate Mint, Gummy Onion, Chocolate Mint
Snickerdoodle Cookie with Mint Bar Chunks

Mint Chocolate Chip Ice Cream

Lemon Crinkle Cookie with Dried Kiwi
Traditional Cookie with Sugar Crystals
Whipped Cream
Pistachios
Chocolate Mint, Waffle Cone, Chocolate Mint
Holiday (Cinco de Mayo)
Snickerdoodle Cookie with Mint Bar Chunks

Mint Chocolate Chip Ice Cream

Lemon Crinkle Cookie with Dried Kiwi
Traditional Cookie with Capirotada Blend
Whipped Cream
Champurrado Syrup
Pistachios
Chocolate Mint, Waffle Cone, Chocolate Mint
Pecan Pancake
Whipped Cream
Pecan Pancake
Whipped Cream
Honey
Drink:
Holiday (St. Paddy's Day)
Pecan Pancake
Mint Cream
Pecan Pancake
Mint Cream
Pistachios
Drink:

Large Irish Cream Coffee with Cream
8 Sriracha Chicken Wings (All)
2 Tikka Masala Chicken Strips (All)
2 French Fries (All)
4 Taquitos (All)
Guacamole Dip
Holiday (New Year)
8 Sriracha Chicken Wings (All)
2 Tikka Masala Chicken Strips (All)
2 Pizza Poppers (All)
4 Taquitos (All)
Cheezy Whip Dip
Pumpkin Roll

Apricot Icing
Banana Drizzle

Chocolate Long John with Lemon Chiffon

Cinnamon Sugar
Caramel Drizzle
Pistachios

Pumpkin French Cruller
Holiday (Sky Ninja Returns)
Pumpkin Roll

Apricot Icing
Matcha Drizzle

Chocolate Pon de Ring Donut with Lemon Chiffon

Azuki Icing
Caramel Drizzle
Pistachios

Pumpkin French Cruller
Wheat Bread with Marble Colby Cheese
Regular Grill
Mustard
Grilled Chicken
Shredded Lettuce
Tomato
Ketchup
Fries:

Crinkle Cut Fries
Fry Seasoning
Ranch
Holiday (Cinco de Mayo)
Tortilla with Oaxaca Cheese
Regular Grill
Guacamole
Grilled Chicken
Chorizo Sausage
Tomato
Guacamole
Fries:

Crinkle Cut Fries
Fry Seasoning
Guacamole
Traditional Crust
Key Lime Filling
Key Lime Filling
Lemon Filling
Lemon Filling
Chocolate Meringue
Pistachios (Outer Ring)
9 Kiwi Slices (Inner Ring and Center)
Holiday (St. Paddy's Day)
Traditional Crust
Key Lime Filling
Key Lime Filling
Choco Mint Custard
Choco Mint Custard
Chocolate Meringue
Pistachios (Outer Ring)
9 Clover Cookies (Inner Ring and Center)
Nori with Brown Rice
Not Flipped
Tempura Crunch
Ginger Miso Sauce
Bubble Tea:

Matcha Tea with Tapioca Pearls
Holiday (Summer Luau)
Nori with Brown Rice
Not Flipped

Canned Ham
Lobster
Avocado

Lemon Herb
Ginger Miso Sauce
Bubble Tea:

Matcha Tea with Tapioca Pearls
Al Dente Spaghetti
Creamy Alfredo Sauce
Italian Seasoning
1 Clam
6 Chickens
Crescent Roll
Holiday (Summer Luau)
Al Dente Shells
Creamy Alfredo Sauce
Lemon Herb
1 Clam
6 Chickens
Crescent Roll
Large Cup
3 shots of New England Roast
2 shots of Cold Skim Milk
Ice Cubes
Lemon Chiffon
Crushed Pistachios
Cannoli:

Classic Cannoli Shell
Lemon Chiffon
Crushed Pistachios
Holiday (Thanksgiving)
Large Cup
3 shots of New England Roast
2 shots of Cold Pecan Milk
Ice Cubes
Lemon Chiffon
Crushed Pistachios
Cannoli:

Classic Cannoli Shell
Lemon Chiffon
Crushed Pistachios
Ranks required to unlock him
Unlockables
Stickers
| Sticker Number | Name | Achievement | Sticker Earned |
| --- | --- | --- | --- |
| 44 | Grand Prize Winner | Earn 5 Prizes or more in each of Foodini's Mini-Games | |
| 7 | Onionfest Flavors | Unlock all Onionfest toppings | |
| 83 | Dance Party | Use lots of musical furniture so 3 or more customers are dancing in the lobby | |
| Sticker Number | Name | Achievement | Sticker Earned |
| --- | --- | --- | --- |
| 45 | Grand Prize Winner | Earn 5 Prizes or more in each of Foodini's Mini-Games | |
| 7 | Cinco Celebration | Unlock all Cinco de Mayo toppings | |
| 84 | Dance Party | Use lots of musical furniture so 3 or more customers are dancing in the lobby | |
| Sticker Number | Name | Achievement | Sticker Earned |
| --- | --- | --- | --- |
| 67 | Lumberjack Johnny | Serve a Lumberjack Toast Special to Johnny | |
| 58 | Drink Extras | Unlock all of the Drink Extras | |
| 44 | Grand Prize Winner | Earn 5 Prizes or more in each of Foodini's Mini-Games | |
| Sticker Number | Name | Achievement | Sticker Earned |
| --- | --- | --- | --- |
| 54 | Side Sampler | Unlock all of the Standard Sides | |
| 83 | Color Coordinated | Dress your chef and server in the exact same outfit but with different colors | |
| 82 | Holiday Outfit | Wear a shirt, belt, jacket, pants, and hat to match the current holiday | |
| Sticker Number | Name | Achievement | Sticker Earned |
| --- | --- | --- | --- |
| 48 | Complete Cookbook | Earn 40 Special Recipes from customers | |
| 7 | Donut Harvest | Unlock all Thanksgiving toppings | |
| 85 | Dance Party | Use lots of musical furniture so 3 or more customers are dancing in the lobby | |
| Sticker Number | Name | Achievement | Sticker Earned |
| --- | --- | --- | --- |
| 82 | Holiday Outfit | Wear a shirt, belt, jacket, pants, and hat to match the current holiday. | |
| 49 | Successful Specials | Earn 3 Special Stars when serving Today's Special | |
| 43 | Game Show Contestant | Earn a Prize in each of Foodini's Mini-Games | |
| Sticker Number | Name | Achievement | Sticker Earned |
| --- | --- | --- | --- |
| 74 | Skip Crackle Pop | Use Vanilla Crispies Crust on Skip's Pie | |
| 63 | Neapolitony | Serve a Neapolitan Pie Special to Tony | |
| 82 | Holiday Outfit | Wear a shirt, belt, jacket, pants, and hat to match the current holiday | |
| Sticker Number | Name | Achievement | Sticker Earned |
| --- | --- | --- | --- |
| 69 | Go Green | Add Furikake and Wasabi Mayo to Professor Fitz's sushi | |
| 77 | Holiday Spirit | Serve 100 customers while wearing clothing that matches the season | |
| 38 | New Threads | Change your worker's shirt, pants, hat, and shoes | |
| Sticker Number | Name | Achievement | Sticker Earned |
| --- | --- | --- | --- |
| 14 | Masquerade | Unlock all Mardi Gras toppings | |
| 36 | New Coat of Paint | Buy any 4 Flooring or Wallpaper from the Shop | |
| 35 | Updated Wardrobe | Buy any 8 Clothing items from the Shop | |
| Sticker Number | Name | Achievement | Sticker Earned |
| --- | --- | --- | --- |
| 52 | Super Special | Master 10 Special Recipes by earning 5 Stars on each | |
| 62 | Pally Plumoncino | Serve a Berry Plumoncino Special to Pally | |
| 78 | Holiday Spirit | Serve 100 customers while wearing clothing that matches the season | |
Earn all three stickers to unlock this outfit:
Trivia
Order Tickets
Gallery
Prepared Orders
Perfect Orders
Promotional Images
Others
Fan Art