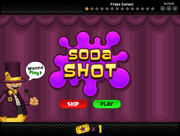 Soda Shot is a mini-game that is played after a day is completed in Papa's Sushiria, Papa's Hot Doggeria HD, and Papa's Pastaria To Go!.
Gameplay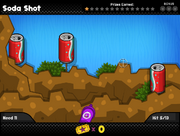 The player controls a bottle of Purple Burple Syrup. As the targets (sliders from Slider Scouts) appear on the screen, the player must click/tap on the enemies in order to shoot Purple Burple syrup at them. The player must hit a certain number of enemies in order to earn a prize.
Baddies
Papa's Sushiria Prizes
Fruit Tee
Luau Poster
Log Fence
Striped Shoes
Valentine Block Wall
Polka Dot Pants
Md. Harvest Table
Plain Jacket
Lumberjack Log
White Tile
Headphones
Poinsettia Box
Guest Pass
Rare Prizes:
Papa's Sushiria Prize Gallery
Camping Hat
Popcorn Cart
Cheesy Poster
Reglan Shirt
Lg. Easter Table
Chain Buckle Belt
Green Carpet
Buckle Bracelet
Coconut Poster
Striped Knit Hat
Multigrain Wall
Logo Cap
Strawberry Gum
Rare Prizes:
Papa's Hot Doggeria HD Prize Gallery
Parmesan Poster
Short Plaid Shirt
Luau Punch Table
ChiliFest Poster
Backpack
Lg. Gondola Table
Loose Necktie
Headphones
Check Trim Wall
Slim Blazer
Purple Planks
Stitched Shoes
Chandelier
Rare Prizes:
Papa's Pastaria To Go! Prize Gallery
See also
Community content is available under
CC-BY-SA
unless otherwise noted.