Dead Cells Final DLC - The Loop
Play Sound
Sprinks the Clown is a female customer who made her first appearance in Papa's Wingeria To Go!.
From Flipline Studios Blog
Hey Everyone,
As you know, with each new app comes a new customer! In Papa's Wingeria To Go, you will soon be able to meet our mystery customer, Sprinks! [1]
Appearance
Sprinks has green hair and wears rainbow sprinkles makeup on her whole body. She wears green and white shoes with red laces and soles, yellow gloves, and a yellow hat with a sun symbol and a pink trim. She also wears pink pants, a pink shirt with cotton buttons, a yellow collar, and a long white skirt with sprinkles beneath it.
Styles
Style B
Her hat, gloves, and collar are now purple. Her hat now has a moon symbol instead of a sun symbol and also has a blue trim. Her shirt is now blue and ripped, and her skirt became straighter. She also wears blue eyeshadow and her red makeup forms a sad expression.
Style H
Her hat is now black, blue, and yellow, and she also has a star symbol in her hat. Her shoes are now red and white with yellow laces and black soles. She also wears a red shirt with blue and yellow sleeves, blue pants, and a black skirt.
Orders
4 Carolina Hog Wings (all)
4 Sriracha Shrimps (right)
4 Potato Skins (left)
4 Carrots (all)
Blackberry Remoulade Dip
Holiday (Big Top Carnival)
4 Salted Caramel Hog Wings (all)
4 Sriracha Shrimps (right)
4 Potato Skins (left)
4 Corn Dogs (all)
PB&J Dip
Blueberry Roll with Blackberry Jelly

Blue Nimbus Icing
Rainbow Sprinkles

Chocolate Long John

Powdered Sugar
Strawberry Drizzle
Rainbow Sprinkles

Regular Roll with Lemon Chiffon

Strawberry Icing
Rainbow Sprinkles
Holiday (New Year)
Blueberry Roll with Tutti Frutti Jelly

Blue Nimbus Icing
Rainbow Sprinkles

Chocolate Long John

Midnight Powder
Flavor X Drizzle
Rainbow Sprinkles

Regular Infinity Loop with Lemon Chiffon

Strawberry Icing
Rainbow Sprinkles
Three Cheese Bread with Asiago Cheese
Well-Done Grill
Deep-Fried Pickles
Fajita Peppers
Shredded Lettuce
Tomato
Balsamic Dressing
Fries
Holiday (Easter)
Paska Bread with Asiago Cheese
Well-Done Grill
Deep-Fried Pickles
Pickled Eggs
Shredded Lettuce
Tomato
Balsamic Dressing
Fries

Waffle Fries
Hollandaise Sauce
Ladyfingers Crust
Lemon Filling
Lemon Filling
Lemon Filling
Pineapple Filling
Meringue Topping
Crushed Wafers (Inner Ring)
8 Blueberry Pie-Tarts (Outer Ring)
Holiday (Big Top Carnival)
Ladyfingers Crust
Lemon Filling
Lemon Filling
Lemon Filling
Circus Peanut Filling
Tent Top Crust
Crushed Wafers (Inner Ring)
8 Animal Crackers (Outer Ring)
Momoiro Soy Paper with White Rice
Not Flipped
Saba
Sesame Seeds
Bubble Tea:

Blueberry Tea with Watermelon Bubbles
Holiday (Cherry Blossom Festival)
Shiroi Soy Paper with White Rice
Not Flipped
Narutomaki
Sesame Seeds
Bubble Tea:

Blueberry Tea with Watermelon Bubbles
Al Dente Fettuccine
Three Cheese Sauce
Crushida Pepper
6 Prosciuttos
7 Chickens
Cheesy Bread
Holiday (Gondola 500)
Al Dente Fettuccine
Hurry Curry
Crushida Pepper
6 Fried Ravioli
7 Chickens
Cheesy Bread
Small Cup
Blue Nimbus Syrup
1 shot of New England Roast
3 shots of Hot Blueberry Milk
Moon Mist Cream
Blue Nimbus Syrup
Rainbow Sprinkles
Cannoli:

Pineapple Upside-Down Shell
Lemon Chiffon
Rainbow Sprinkles
Holiday (Sugarplex Film Fest)
Small Cup
Blue Nimbus Syrup
1 shot of New England Roast
3 shots of Hot Blueberry Milk
Moon Mist Cream
Golden Age Syrup
Rainbow Sprinkles
Cannoli:

Shell Noir
Lemon Chiffon
Rainbow Sprinkles
Ranks required to unlock her
Unlockables
Stickers
| Sticker Number | Name | Achievement | Sticker Earned |
| --- | --- | --- | --- |
| 54 | Side Sampler | Unlock all of the Standard Sides | |
| 68 | Hugo en Fuego | Add Atomic Sauce to Hugo's order | |
| 35 | Updated Wardrobe | Buy any 8 Clothing items from the Shop | |
| Sticker Number | Name | Achievement | Sticker Earned |
| --- | --- | --- | --- |
| 22 | Silver Medal | Earn 10 Silver Customer Awards | |
| 19 | Rapid Rudy | Have Rudy's order ready when he arrives and serve immediately | |
| 50 | Recipe Master | Master a Special Recipe by earning 5 Special Stars | |
| Sticker Number | Name | Achievement | Sticker Earned |
| --- | --- | --- | --- |
| 58 | Loaded Fries | Unlock all of the Standard Fry Toppings | |
| 51 | Super Special | Master 10 Special Recipes by earning 5 Stars on each | |
| 38 | New Threads | Change your worker's shirt, pants, hat, jacket, and shoes | |
| Sticker Number | Name | Achievement | Sticker Earned |
| --- | --- | --- | --- |
| 62 | Penny Coolada | Serve a Piña Coolada Special to Penny | |
| 37 | Upgrade Master | Buy all of the Upgrades in the Shop | |
| 44 | Grand Prize Winner | Earn 5 Prizes or more in each of Foodini's Mini-Games | |
| Sticker Number | Name | Achievement | Sticker Earned |
| --- | --- | --- | --- |
| 60 | Momo Mango | Serve a Momo Mango Special to Mayor Mallow | |
| 88 | Wasteful | Throw away 5 fully-sliced sushi rolls in one day | |
| 50 | Recipe Master | Master a Special Recipe by earning 5 Special Stars | |
| Sticker Number | Name | Achievement | Sticker Earned |
| --- | --- | --- | --- |
| 14 | Masquerade | Unlock all Mardi Gras toppings | |
| 62 | Maggie Mac | Serve a Cheesy Mac Special to Maggie | |
| 71 | Nick Gnocchi | Replace Nick's pasta with Gnocchi | |
| Sticker Number | Name | Achievement | Sticker Earned |
| --- | --- | --- | --- |
| 49 | Complete Cookbook | Earn 40 Special Recipes from customers | |
| 38 | New Threads | Change your worker's shirt, pants, hat, belt, jacket, and shoes | |
| 22 | Silver Medal | Earn 10 Silver Customer Awards | |
Earn all three stickers in either game to earn this outfit: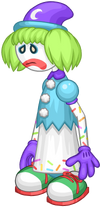 Trivia
Order Tickets
Gallery
Prepared Orders
Perfect Orders
Promotional Images
Holiday Pictures
Others
Fan Art