Strike Out! is a minigame that appears in Papa's Hot Doggeria/HD/To Go!, Papa's Cupcakeria, Papa's Bakeria, Papa's Taco Mia HD, Papa's Scooperia/HD/To Go!, Papa's Cheeseria To Go!, and Papa's Pastaria To Go!.
Gameplay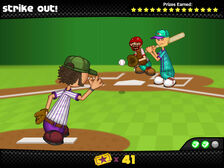 The player has to make the batter strike out three times. On the screen, a grid appears with a stationary bat and a moving ball. The player must click/tap the screen when the ball is not touching the bat, which will result in the batter missing the ball. The player must do this three times in a row in order to earn a prize.
Flapjacks Poster
Flapjacks Hat
Chicago Poster
Small Lumberjack Table
Log Cabin Wall
Flapjacks Jersey
Log Fence
Raccoon Cap
Small Pine Tree
Trenchcoat
Medium Lumberjack Table
Gray Floor
Flapjacks Bottoms
Large Lumberjack Table
Papa's Hot Doggeria Prize Gallery
Hot Doggeria Shirt
 Baseball Wall
Woollies Hat 
Choco Batter Poster
Hot Doggeria Pants
Turquoise Carpet
Peanut Barrel
White Belt
Messenger Bag
Spooky Tile
Round Window 
Woollies Jacket
Camping Pack
Gingerbread Poster
Papa's Cupcakeria Prize Gallery
Dark Backwards Cap
Tutti Frutti Poster
Stripe Scarf
Planter Box
Basketball Jersey
Cobblestone Floor
Long Armwarmers
Grōōvstock Poster
Wristwatch
Pink Zag Wall
Trenchcoat
Lg. Harvest Table
Viking Helmet
Bonus:
Papa's Bakeria Prize Gallery
Blue Plaid Floor
Crushers Hat
Log Fence
Paddy Bottoms
New Year Poster

This section may be having some missing details or it is incomplete! You can help by adding the correct info to finish the list. Once the list is complete, remove this template box.
Papa's Taco Mia HD Prizes Gallery
Md. Shamrock Table
Hawaiian Shirt
Fluffy Poster
White Tile
Sweatbands
Rainbow Gum
Trapped Hat
Sizzlers Poster
Retro Hockey Jersey
Hyper Sauce
Mosaic Wall
Hockey Helmet
Letter Jacket
Rare Prizes:
Papa's Hot Doggeria HD Prizes Gallery
Blue and Teal
Chili Poster
Lg. Waffle Table
Buffaloes Poster
Purple Burple Gum
Lg. Groov Truck
Newspaper Stand
Comics
Bonsai
Pumpkin Pie Gum
Lucky Lantern
Sakura Bubble Gum
McCoy Arcade
Bonus:
Papa's Hot Doggeria To Go! Prizes Gallery
Striped Polo
Planter Box
Dotted Bowtie
OnionFest Poster
Messenger Bag
Blue Flag
Multigrain Floor
Short Plaid Shirt
Banana Gum
Long Armwarmers
Md. Baseball Table
Wide Stripe Pants
Heart Wall
Rare Prizes:
Papa's Scooperia Prize Gallery
Striped Polo
Planter Box
Dotted Bowtie
OnionFest Poster
Messenger Bag
Blue Flag
Multigrain Floor
Short Plaid Shirt
Banana Gum
Long Armwarmers
Md. Baseball Table
Wide Stripe Pants
Heart Wall
Rare prize:
Papa's Scooperia HD Prize Gallery
Striped Polo
Planter Box
Dotted Bowtie
Cinco De Mayo Poster
Messenger Bag
Blue Flag
Multigrain Floor
Short Plaid Shirt
Banana Gum
Long Armwarmers
Md. Baseball Table
Wide Stripe Pants
Heart Wall
Rare Prizes
Papa's Scooperia To Go! Prize Gallery
Sneakers
Starlight Poster
Logo Cap
Cinco Fence
Long Buttondown
Valentine Balloons
Plain Jacket
Curtained Wall
Wide Stripe Pants
Chicken Poster
Sport Shades
Dark Wood Floor
Spindly Spider
Rare Prizes:
Papa's Cheeseria To Go! Prize Gallery
Suspenders and Tie
Breadstick Poster
Surfboard
Striped Bucket Hat
Starstripe Wall
Hawaiian Shirt
Sm. Starlight Table
Starlight Poster
Striped Shoes
Zigzag Belt
Md. Wedding Table
Wide Stripe Pants
Green Carpet
Rare Prizes:
Papa's Pastaria To Go! Prize Gallery
Trivia