GTA: The Criminal Enterprises - The Loop
Play Sound
Sue is a female customer who made her first appearance in Papa Louie: When Pizzas Attack!.
Flipdeck Info
Hometown: Tastyville
Loves: Red Velvet
Hates: Training New Hires
Occupation: Fluffmart Team Lead
Sue is a long-standing, albeit high-strung, customer of Papa's many restaurants. She is a hard-working team leader at the Tastyville Fluffmart. On a normal workday, Sue can be seen pacing the sales floor while frantically barking orders to her underlings. Unfortunately, for all the diligent work that she accomplishes, Sue rarely receives any praise from upper management, which only adds to her irritability.
Appearance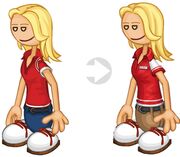 Sue has light tone skin and shoulder-length blonde hair. She wears a red shirt with white trims and rings underneath the sleeves, blue jeans with a black belt, and white shoes with red laces and brown soles.
Clean-Up
She got tanner. Her hair got remodeled as well and her shirt now includes a name tag. Her sleeves are white with red ends and her pants are beige.
Styles
Style B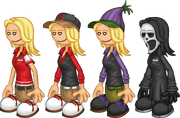 Sue wears a black, long-sleeved shirt with a red collar and sleeves. She wears beige pants held by a white belt, a black cap with a red Fluffmart logo printed on its front, a beige visor and beige trims.
OnionFest Outfit
Sue wears a purple onion hat with an army green visor and green leaves sprouting from its top. She wears a black quarter-zip shirt with purple sleeves and a purple collar. She wears olive-green pants held by an army green belt with a purple buckle and black shoes with purple laces and brown soles.
Orders
6 Pepperoni (top)
6 Mushrooms (bottom)
22.5 minutes (3/8 of meter)
6 Slices
Bottom Bun
Tomato
Medium Patty
Tomato
Medium Patty
Tomato
Top Bun
Hard Shell with Chicken
Lettuce
Cheese
Onions
Verde Sauce
Small Cup
Cookie Dough
Mint Syrup
Smooth Blend
Chocolate Whipped Cream
Chocolate Chips
Cookie
Bottom Bun
Medium Patty
Tomato
Medium Patty
Tomato
Onion Ring
Top Bun
4 BBQ Chicken Wings (left)
4 Honey Mustard Chicken Strips (all)
4 Celeries (right)
Awesome Sauce Dip
Kielbasa on a Hoagie Roll
Chili
Mushrooms
Mayo
3 Tomato Wedges
Drink and Popcorn:

Small Dr. Cherry
Small Buttered Popcorn
Liner D
Strawberry Cake
Cupcake 1:

Pink Frosting
Strawberry Drizzle
Shaved Coconut
3 Cherries

Cupcake 2:

Pink Frosting
Strawberry Drizzle
Rainbow Sprinkles
Marshmallow, Cherry, Marshmallow
Holiday (Valentine's Day)
Liner D
Strawberry Cake
Cupcake 1:

Pink Frosting
Watermelon Drizzle
Shaved Coconut
Candy Heart, Frosted Rose, Candy Heart

Cupcake 2:

Pink Frosting
Watermelon Drizzle
X and O Sprinkles
Candy Heart, Frosted Rose, Candy Heart
Medium Cup
Cookie Dough
Mint Syrup
Smooth Blend
Chocolate Whipped Cream
Shaved Coconut
Chocolate Chips
Cookie
Regular Ravioli
Three Cheese Sauce
Grated Mozzarella
7 Tomatoes
3 Chickens
3 Mushrooms
Garlic Breadstick
Holiday (Valentine's Day)
Regular Valentini
Three Cheese Sauce
Spiced Saffron
7 Tomatoes
3 Chickens
3 Mushrooms
Garlic Breadstick
Medium Cup
Birthday Cake
Red Velvet Syrup
Chunky Blend
Whipped Cream
Strawberry Topping
Lollipop Bits
Cherry, Cloudberry, Cherry
Red Velvet Ring Donut with Chocolate Mousse

Chocolate Icing
Rainbow Sprinkles

Regular Ring Donut

Red Icing
Vanilla Drizzle

Red Velvet French Cruller with Strawberry Jelly

Strawberry Icing
Chocolate Drizzle
Rainbow Sprinkles
Holiday (Christmas)
Red Velvet Tree Donut with Cherry Cordial Cream

Chocolate Icing
Snowflake Sprinkles

Regular Ring Donut

Red Icing
Candy Cane Drizzle

Red Velvet French Cruller with Strawberry Jelly

Strawberry Icing
Chocolate Drizzle
Snowflake Sprinkles
4 BBQ Hog Wings (left)
4 Honey Mustard Chicken Strips (all)
4 Celeries (right)
Awesome Sauce Dip
6 Pepperoni (top)
6 Mushrooms (bottom)
4 Tomatoes (all)
Regular Bake
8 Slices
Flatbread with Marble Colby Cheese
Regular Grill
Tomato
Mushrooms
Shredded Lettuce
Balsamic Dressing
Fries:

French Fries
Fry Seasoning
BBQ Sauce
Holiday (Valentine's Day)
Flatbread with Red Windsor Cheese
Regular Grill
Sun Dried Tomatoes
Mushrooms
Shredded Lettuce
Strawberry Vinaigrette
Fries:

French Fries
Fry Seasoning
BBQ Sauce
Liner D
Strawberry Cake
Cupcake 1:

Pink Frosting
Strawberry Drizzle
Shaved Coconut
Cherry

Cupcake 2:

Pink Frosting
Strawberry Drizzle
Rainbow Sprinkles
Marshmallow
Marshmallow
Holiday (Valentine's Day)
Liner D
Strawberry Cake
Cupcake 1:

Pink Frosting
Watermelon Drizzle
Shaved Coconut
Frosted Rose

Cupcake 2:

Pink Frosting
Watermelon Drizzle
X and O Sprinkles
Candy Heart
Candy Heart
Graham Cracker Crust
Rhubarb Filling
Rhubarb Filling
Cherry Filling
Cherry Filling
Vented Crust
White Chocolate Syrup (All Over)
Toasted Coconuts (All Over)
Holiday (Cherry Blossom Festival)
Graham Cracker Crust
Hakuto Jelly
Hakuto Jelly
Cherry Filling
Cherry Filling
Cherry Blossom Crust
White Chocolate Syrup (All Over)
Toasted Coconuts (All Over)
9 Sakuramochi (Inner Ring and Center)
Azul Ranch Taco with Chicken
Lettuce
Cheese
Onions
Verde Sauce
Chips:

Multigrain Chips
Queso Blanco Dip
Holiday (Valentine's Day)
Sundried Tomato Soft Taco with Chicken
Lettuce
Cheese
Salsa Criolla
Verde Sauce
Chips:

Multigrain Chips
Queso Blanco Dip
Nori with Black Rice
Not Flipped

Shiitake Mushrooms
Cream Cheese

Mango Slices
Hibachi Sauce
Bubble Tea:

Strawberry Tea with Watermelon Bubbles
Holiday (Valentine's Day)
Akai Soy Paper with Black Rice
Not Flipped

Shiitake Mushrooms
Cream Cheese

Strawberry Slices
Hibachi Sauce
Bubble Tea:

Raspberry Tea with Watermelon Bubbles
2 Waffles
Whipped Cream
Strawberry Syrup
3 Strawberries
Drink:
Holiday (Christmas)
2 Waffles
Whipped Cream
Strawberry Syrup
3 Christmas Jelly Cookies
Drink:
Crispy Crust
Creamy Garlic Sauce with Smoked Cheddar
4 Tomatoes (all around)
6 Pepperonis (top)
6 Mushrooms (bottom)
Regular Bake
8 Slices
Holiday (Maple Mornings)
Crispy Crust
Sausage Gravy with Smoked Cheddar
4 Home Fries (all around)
6 Pepperonis (top)
6 Mushrooms (bottom)
Regular Bake
8 Slices
Kielbasa on a Hoagie Roll
Chili
Mushrooms
Mayo
3 Tomatoes
Drink and Popcorn:

Small Dr. Cherry
Small Buttered Popcorn
Holiday (Halloween)
Kielbasa on a Hoagie Roll
Chili
Spooky Slaw
La Catrina Sauce
3 Tomatoes
Drink and Popcorn:

Small Black Mist
Small Tarantula Puffs
Kielbasa on a Hoagie Roll
Chili
Mushrooms
Mayo
3 Tomatoes
Drink and Popcorn:

Small Dr. Cherry
Small Buttered Popcorn
Holiday (Maple Mornings)
Kielbasa on a Hoagie Roll
Chili
Hash Browns
Sausage Gravy
3 Tomatoes
Drink and Popcorn:

Small Dr. Cherry
Small Bacon Jack
Traditional Cookie with Pomegranate
Red Velvet Cookie with White Chocolate Chips

Watermelon Chip Ice Cream

Traditional Cookie with Hot Rods

Raspberry Ripple Ice Cream

Strawberry Syrup
Mini Mallows
Cherry, Macaron, Cherry
Holiday (Valentine's Day)
Traditional Cookie with Candy Hearts
Red Velvet Cookie with Candy Hearts

Watermelon Chip Ice Cream

Traditional Cookie with Candy Hearts

Raspberry Ripple Ice Cream

Strawberry Syrup
Mini Mallows
Candy Hearts
Cherry, Macaron, Cherry
4 Honey Mustard Chicken Strips (All)
4 Nashville Hot Hog Wings (All)
4 Celeries (All)
4 Red Peppers (All)
Awesome Sauce Dip
Holiday (Lucky Lucky Matsuri)
4 Honey Mustard Chicken Strips (All)
4 Nashville Hot Hog Wings (All)
4 Kobumakis (All)
4 Red Peppers (All)
Karashi Mayo
Red Velvet Ring Donut

Red Rose Icing
Chocolate Drizzle

Regular French Cruller with Chocolate Mousse

Chocolate Icing
Vanilla Drizzle
Rainbow Sprinkles

Red Velvet Ring Donut

Strawberry Icing
Rainbow Sprinkles
Holiday (Christmas)
Red Velvet Ring Donut

Red Rose Icing
Chocolate Drizzle

Regular Tree Donut with Chocolate Mousse

Chocolate Icing
Candy Cane Drizzle
Rainbow Sprinkles

Red Velvet Ring Donut

Strawberry Icing
Snowflake Sprinkles
Flatbread with Marble Colby Cheese
Regular Grill
Tomato
Mushrooms
Shredded Lettuce
Balsamic Dressing
Fries:

French Fries
Fry Seasoning
BBQ Sauce
Holiday (Valentine's Day)
Flatbread with Red Windsor Cheese
Regular Grill
Sun Dried Tomatoes
Mushrooms
Shredded Lettuce
Strawberry Vinaigrette
Fries:

French Fries
Salsa Criolla
BBQ Sauce
Graham Cracker Crust
Rhubarb Filling
Rhubarb Filling
Cherry Filling
Cherry Filling
Vented Crust
White Chocolate Syrup (All Over)
Toasted Coconut (All Over)
Holiday (Grōōvstock)
Graham Cracker Crust
Mission Fig Jam
Mission Fig Jam
Cherry Filling
Cherry Filling
Lightning Crust
White Chocolate Syrup (All Over)
Toasted Coconut (All Over)
9 Marshmallow Drums (Inner Ring and Center)
Regular Ravioli
Three Cheese Sauce
Grated Mozzarella
7 Tomatoes
3 Chickens
3 Mushrooms
Garlic Breadstick
Holiday (Mardi Gras)
Regular Jambalaya Rice
Three Cheese Sauce
Creole Rub
7 Tomatoes
3 Chickens
3 Mushrooms
Garlic Breadstick
Small Cup
2 shots of Hot Strawberry Milk
2 shots of City Roast
Strawberry Cream
Marshmallow Syrup
Toasted Coconut
Cannoli:

Pizzelle Shell
Strawberry Cream
Ground Nutmeg
Holiday (Grōōvstock)
Small Cup
2 shots of Hot Strawberry Milk
2 shots of City Roast
Strawberry Cream
Marshmallow Syrup
Crimson and Clove
Cannoli:

Far Out Shell
Strawberry Cream
Ground Nutmeg
Classic Bun
Country Gravy
Chicken Breast with Beer Batter
Tomato
Grilled Portobello Cap
Creamy Cole Slaw
Large Slush

Watermelon Slush
Black Cherry Slush
Holiday (Maple Mornings)
Classic Bun
Country Gravy
Chicken Breast with Beer Batter
Hash Brown Patty
Grilled Portobello Cap
Creamy Cole Slaw
Large Slush

Watermelon Slush
Black Cherry Slush
Ranks required to unlock her
Unlockables
Stickers
| Number | Name | Achievement | Sticker Earned |
| --- | --- | --- | --- |
| 86 | Cookie Clickin' | Strike out in Mitch's Mess by clicking 3 different cookies | |
| 19 | Preferential Treatment | Have Whiff's order ready when he arrives and serve immediately | |
| 44 | Game Show Contestant | Earn a Prize in each of Foodini's Mini-Games | |
| Number | Name | Achievement | Sticker Earned |
| --- | --- | --- | --- |
| 53 | Shell Stocker | Unlock all of the Standard Shells | |
| 42 | Costumed Closers | Serve all of the Costumed Closers during Halloween | |
| 54 | Meat Master | Unlock all of the Standard Meats | |
| Number | Name | Achievement | Sticker Earned |
| --- | --- | --- | --- |
| 39 | Romano Family | Serve everyone in the Romano Family Quartet | |
| 41 | New Faces | Serve all of the new customers | |
| 55 | Sushi Toppers | Unlock all of the Standard Placeable Toppings | |
| Number | Name | Achievement | Sticker Earned |
| --- | --- | --- | --- |
| 12 | Happy New Year | Unlock all New Year toppings | |
| 74 | Strawberry Mary | Add Strawberries to Mary's order | |
| 11 | Holiday Hotcakes | Unlock all Christmas toppings | |
| Number | Name | Achievement | Sticker Earned |
| --- | --- | --- | --- |
| 35 | Updated Wardrobe | Buy 8 Clothing items from the Shop | |
| 68 | Mayor Meatball | Add Meatballs to Mayor Mallow's order | |
| 25 | Build Expert | Get a 100% Build Score on 20 orders | |
| Number | Name | Achievement | Sticker Earned |
| --- | --- | --- | --- |
| 2 | Fall Harvest | Reach Autumn | |
| 90 | Fine Dining | Serve 50 customers in the Dining Area | |
| 72 | Doctor Duke | Replace Duke Gotcha's drink with Dr. Cherry | |
| Number | Name | Achievement | Sticker Earned |
| --- | --- | --- | --- |
| 69 | Tiramisue | Serve a Tiramisu Special to Sue | |
| 88 | Wasteful Worker | Throw away 10 raw cookie dough balls in one day | |
| 41 | The Gang's All Here | Serve all of the customers! | |
| Sticker Number | Name | Achievement | Sticker Earned |
| --- | --- | --- | --- |
| 70 | Tiramisue | Serve a Tiramisu Special to Sue | |
| 89 | Wasteful Worker | Throw away 10 raw cookie dough balls in one day | |
| 41 | The Gang's All Here | Serve all of the customers! | |
| Number | Name | Achievement | Sticker Earned |
| --- | --- | --- | --- |
| 74 | Strawberry Mary | Add Strawberries to Mary's order | |
| 45 | Rare Reward | Win a Rare Bonus Prize in a Mini-Game by earning a Star Medal | |
| 28 | Perfect! | Get a Perfect Score on 30 orders | |
| Sticker Number | Name | Achievement | Sticker Earned |
| --- | --- | --- | --- |
| 16 | Carnival Food | Unlock all Big Top Carnival toppings | |
| 81 | Everyone's a Critic | Serve Jojo while wearing a Turtleneck and Beret | |
| 87 | Stubborn Plumber | Try to click 20 red pipes in Rico's Chiliworks | |
| Sticker Number | Name | Achievement | Sticker Earned |
| --- | --- | --- | --- |
| 74 | Blackberry Perri | Add Blackberry Jelly to one of Perri's donuts | |
| 23 | Restaurant Regulars | Earn 15 Gold Customer Awards | |
| 90 | Special Delivery | Serve 50 delivery orders to customers | |
| Sticker Number | Name | Achievement | Sticker Earned |
| --- | --- | --- | --- |
| 74 | Sauer Sue | Add Sauerkraut to Sue's Sandwich | |
| 67 | Radlynn's Revenge | Serve a Sarge's Revenge Special to Radlynn | |
| 36 | New Coat of Paint | Buy any 4 Flooring or Wallpaper from the Shop | |
| Sticker Number | Name | Achievement | Sticker Earned |
| --- | --- | --- | --- |
| 39 | Romano Family | Serve everyone in the Romano Family Quartet | |
| 20 | Bronze Beginning | Earn 5 Bronze Customer Awards | |
| 18 | Hot and Ready | Have Quinn's order ready when she arrives and serve immediately | |
| Sticker Number | Name | Achievement | Sticker Earned |
| --- | --- | --- | --- |
| 48 | Complete Cookbook | Earn 40 Special Recipes from customers | |
| 84 | Bubble Gum Bonanza | Have 10 different kinds of bubble gum in the lobby at once | |
| 90 | Special Delivery | Serve 50 delivery orders to customers | |
| Sticker Number | Name | Achievement | Sticker Earned |
| --- | --- | --- | --- |
| 33 | Advertiser | Buy any 8 Posters from the Shop | |
| 87 | Coupon Clipper | Send 10 Customer Coupons to your customers | |
| 20 | Bronze Beginning | Earn 5 Bronze Customer Awards | |
| Sticker Number | Name | Achievement | Sticker Earned |
| --- | --- | --- | --- |
| 42 | The Gang's All Here | Serve all of the customers! | |
| 90 | Special Delivery | Serve 50 delivery orders to customers | |
| 7 | Holiday Cheer | Unlock all Christmas toppings | |
| Sticker Number | Name | Achievement | Sticker Earned |
| --- | --- | --- | --- |
| 45 | Rare Reward | Win a Rare Bonus Prize in a Mini-Game by earning a Star Medal | |
| 30 | Month's Pay | Receive your wages on four Pay Days | |
| 81 | Color Coordinated | Dress your Chef and Driver in the exact same outfit but with different colors | |
Earn all three stickers in any of the above games to unlock this outfit: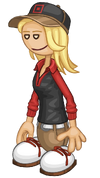 Papa's Next Chefs
Onionfest Crown Classic
Trivia
Order Tickets
Gallery
Prepared Orders
Perfect Orders
Promotional Images
Holiday Pictures
Others
Fan Art