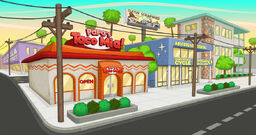 Tacodale is a fictional town where Papa's Taco Mia! is located. Tacodale is on the border of Toastwood. It has a baseball team that is called the Tacodale Hardshells, revealed in Papa's Hot Doggeria. Before Papa's Taco Mia opened, Papa Louie organized a contest called Taco Eating Contest, where the winner (Mitch or Maggie) received the restaurant itself as a prize. Nowadays, Maggie organizes the Taco Eating Contest.
The local high school is Tacodale High, and the sports teams that compete for the school are called the Churros.
With regard to time zones, Tacodale is one hour behind Burgerburgh and one hour ahead of Sakura Bay. [1]
Buildings
For Papa's Taco Mia HD, the opening sequence and parade will feature a number of Tacodale's newest businesses, including:
Townspeople
Gallery
Tacodale during holidays
Community content is available under
CC-BY-SA
unless otherwise noted.