The Dynamoe is a male character that makes his first appearance in Papa's Hot Doggeria HD. His secret identity is Moe, the owner of Moe's Lair, a comic and cards shop located in Tastyville.
Appearance
The Dynamoe wears a red mask that has a pair of demon ears sticking out of his hair and a black eye outline. He wears a dark blue collared shirt with light green buttons and a short red tie underneath crimson red jacket with black collar, pockets, and golden yellow polka dots. He also wears black and blue-colored pinstripe pants and crimson red sneakers with black soles and golden yellow laces. He also dons a black cape and a pair of short, white gloves.
Styles
Style B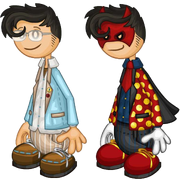 He turns into Moe. He has fair skin, thin eyebrows, and black hair styled into a hairstyle somewhat similar to a pompadour. He wears a clean, white long-sleeved shirt with light blue buttons, round collar, and a brown shirt underneath. He dons a light blue jacket with a pale brown collar, pockets, and badges of sorts pinned on the left side of the collar. He also wears white-rimmed eyeglasses, light brown pinstripe pants, and brown moccasins with sky blue stitches and white laces.
Orders
4 Teriyaki Wings (Left)
4 Atomic Boneless Wings (Right)
2 Blue Cheese Dips
Holiday (OnionFest)
4 Sarge's Revenge Wings (Left)
4 Atomic Boneless Wings (Right)
2 French Onion Dips
Graham Cracker Crust
Sugarplum Filling
Banana Filling
Banana Filling
Banana Filling
Polka Dot Crust
Blueberries (Outer Ring)
8 Cherries (Inner Ring)
Holiday (Big Top Carnival)
Graham Cracker Crust
Sugarplum Filling
Circus Peanut Filling
Circus Peanut Filling
Circus Peanut Filling
Polka Dot Crust
Cotton Candy Syrup (All Over)
Blueberries (Outer Ring)
8 Saltwater Taffies (Inner Ring)
Ranks required to unlock him
Unlockables
Stickers
| Sticker Number | Name | Achievement | Sticker Earned |
| --- | --- | --- | --- |
| 40 | Scarlett and the Shakers | Serve everyone in Scarlett and the Shakers | |
| 20 | Bronze Beginning | Earn 5 Bronze Customer Awards | |
| 31 | Piggy Bank | Don't spend any money in the Shop for 7 days | |
| Sticker Number | Name | Achievement | Sticker Earned |
| --- | --- | --- | --- |
| 41 | The Gang's All Here | Serve all of the customers! | |
| 60 | Rocky Rhonda | Serve a Rocky Road Special to Rhonda | |
| 51 | Super Special | Master 10 Special Recipes by earning 5 Stars on each | |
Earn all three stickers in either game to get this outfit:
Order Tickets
Gallery
Perfect Orders
Promotional Images
Holiday Pictures
Others
Fan Art