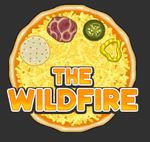 The Wildfire is a special recipe that can be selected by players to be the "Special of the Day" in Papa's Pizzeria HD. Customers who order this special will give the customer +1

. The special prize for mastering this recipe is the Earmuffs.
Recipe
Gallery
Trivia
The sticker "Wildfire Rhonda" is earned by serving The Wildfire special to Rhonda.