Timm is a male customer who made his first appearance in Papa Louie: When Pizzas Attack!. He is the male worker in Papa's Bakeria.
Flipdeck Info
Hometown: Tastyville
Loves: Pretzels
Hates: Smooth Jazz
Occupation: Competitive Dancer
Timm has been a loyal customer of Papa Louie since the very beginning. Always keeping up with the times, Timm has been evolving his look throughout the years. He finally quit his job at "Quinn, Timm, and Associates" to pursue his lifelong dream of becoming a world champion dancer.
Appearance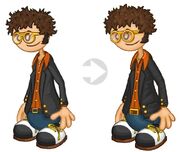 Timm has fair skin, messy brown hair, a curved neck, and chest hair. He wears an orange collared shirt with gold buttons, a black slim blazer with gold brass buttons over it, denim blue pants held by a brown buckled belt, and a gold necklace. He also sports gold-rimmed fancy sunglasses with brown to beige gradient-tinted lenses and black and white sneakers with yellow laces and mocha soles.
Clean-Up
His hair and outfit got remodeled.
Styles
Style B
Timm wears a golden yellow slim blazer over a white collared shirt studded by black buttons and orange pants held by a dark gray belt.
Halloween Outfit
Timm wears a white mask covering his right eye. He wears a white collared shirt with a brown vest with printed skulls and music notes. He wears light brown pants, brown shoes with white laces and black soles, a white tie and black gloves.
Orders
4 Green Peppers (left)
30 minutes (1/2 of meter)
6 Slices
Bottom Bun
Rare Patty
Bottom Bun
Cheese
Rare Patty
Pickle
Onion
Top Bun
Soft Taco with Beef
Cheese
Lettuce
Onions
Cheese
Mild Sauce
2 Pancakes
4 Bananas
Maple Syrup
Drink:
Bottom Bun
Medium Patty
Ketchup
Pickle
Onion
Top Bun
4 BBQ Chicken Wings (all)
4 Celeries (all)
4 Red Peppers (all)
Ranch Dip
Hot Dog on a Pretzel Bun
Sauerkraut
Onions
Ketchup
Mustard
Sport Pepper, Tomato, Sport Pepper
Drink and Popcorn:

Large Root Beer
Medium Cotton Puffs
Liner C
Chocolate Cake
Cupcake 1:

Mocha Frosting
Chocolate Drizzle
Chocolate Chips
Nutty Butter Cup

Cupcake 2:

Chocolate Frosting
Chocolate Drizzle
Nutty Butter Cup, Cherry, Nutty Butter Cup
Holiday (Thanksgiving)
Liner C
Chocolate Cake
Cupcake 1:

Mocha Frosting
Chocolate Drizzle
Chocolate Chips
Chocolate Acorn

Cupcake 2:

Chocolate Frosting
Pumpkin Pie Drizzle
Nutty Butter Cup, Harvest Stripe Cookie, Nutty Butter Cup
Large Cup
Cookie Dough
Vanilla Syrup
Chunky Blend
Chocolate Whipped Cream
Butterscotch Syrup
Chocolate Chips
Hazelnut Swizzle, Waffle Cone Wedge, Hazelnut Swizzle
Regular Spaghetti
Three Cheese Sauce
Grated Mozzarella
3 Meatballs
Cheesy Bread
Holiday (Gondola 500)
Regular Mafaldine
Three Cheese Sauce
Grated Mozzarella
Garlic Rush
5 Fried Ravioli
Cheesy Bread
Large Cup
Cookie Dough
Espresso Syrup
Smooth Blend
Chocolate Mousse
White Chocolate Syrup
3 Dipped Pretzels
Hazelnut Swizzle (left)
Pumpkin Long John with Cookie Dough Cream

Chocolate Icing
Rainbow Sprinkles

Chocolate Long John with Boston Cream

Vanilla Icing
Chocolate Drizzle
Chocolate Chips 

Pumpkin Long John with Chocolate Mousse

Chocolate Icing
Dreamsicle Drizzle
Holiday (Thanksgiving)
Pumpkin Long John with Pumpkin Pie Filling

Cocoa Powder
Autumn Leaves Sprinkles

Chocolate Long John with Boston Cream

Vanilla Icing
Fudge Swirl Drizzle
Chocolate Chips 

Pumpkin Long John with Chocolate Mousse

Cocoa Powder
Candy Corn Drizzle
4 Wild Onion Chicken Wings
4 Celery
4 Red Peppers
Ranch Dip
4 Green Peppers (all)
4 Red Peppers (all)
4 Banana Peppers (bottom)
Regular Bake
6 Slices
Pretzel Bread with Shredded Mozzarella
Regular Grill
Sauerkraut
Sliced Turkey
Southwest Sauce
Lettuce
Tomatoes
Fries:

Curly Fries
Rosemary
Ketchup
Holiday (Cinco de Mayo)
Tortilla with Shredded Mozzarella
Regular Grill
Sauerkraut
Sliced Turkey
Southwest Sauce
Lettuce
Tomatoes
Fries:

Curly Fries
Rosemary
Ketchup
Liner C
Chocolate Cake
Cupcake 1:

Mocha Frosting
Chocolate Drizzle
Chocolate Chips
Nutty Butter Cup

Cupcake 2:

Chocolate Frosting
Chocolate Chips
Nutty Butter Cup
Cherry
Holiday (Thanksgiving)
Liner C
Chocolate Cake
Cupcake 1:

Mocha Frosting
Chocolate Drizzle
Chocolate Chips
Chocolate Acorn

Cupcake 2:

Chocolate Frosting
Pumpkin Pie Drizzle
Nutty Butter Cup
Harvest Stripe Cookie
Liner C
Chocolate Cake
Cupcake 1:

Mocha Frosting
Chocolate Drizzle
Chocolate Chips
Nutty Butter Cup

Cupcake 2:

Sunglow Frosting
Apricot Drizzle
Nutty Butter Cup
Holiday (Thanksgiving)
Liner C
Chocolate Cake
Cupcake 1:

Mocha Frosting
Chocolate Drizzle
Chocolate Chips
Chocolate Acorn

Cupcake 2:

Chocolate Frosting
Pumpkin Pie Drizzle
Nutty Butter Cup, Harvest Stripe Cookie, Nutty Butter Cup
Soft Taco with Beef
Cheese
Lettuce
Onions
Cheese
Mild Sauce
Chips:
Holiday (Starlight BBQ)
Cornbread with Beef
Fried Onion Strings
Lettuce
Onions
Cheese
Mild Sauce
Chips:
Ukoniro Soy Paper with White Rice
Not Flipped
Hibachi Sauce
Bubble Tea:

Mocha Tea with Tapioca Pearls
Holiday (BavariaFest)
Ukoniro Soy Paper with White Rice
Not Flipped
Brezn
Sauerkraut
Hibachi Sauce
Bubble Tea:

Mocha Tea with Tapioca Pearls
Soft Taco with Beef
Cheese
Lettuce
Onions
Cheese
Mild Sauce
Chips:
Holiday (BavariaFest)
Pretzel Crisp with Beef
Cheese
Sauerkraut
Onions
Cheese
Mild Sauce
Chips:
2 Pancakes
4 Bananas
Maple Syrup
Drink:
Holiday (Thanksgiving)
2 Pancakes
4 Pecan Pralines
Pumpkin Pie Drizzle
Drink:

Small Pumpkin Spice Coffee with Cocoa
Thick Crust
Olive Oil with Smoked Cheddar Cheese
4 Artichoke Hearts (top)
4 Green Peppers (all)
4 Banana Peppers (bottom)
4 Red Peppers (all)
Regular Bake
6 Slices
Holiday (Halloween)
Ecto Stuffed Crust
Purple Pesto with Smoked Cheddar Cheese
4 Smoked Oysters (top)
4 Green Peppers (all)
4 Banana Peppers (bottom)
4 Red Peppers (all)
Regular Bake
6 Slices
Hot Dog on a Pretzel Bun
Sauerkraut
Onions
Ketchup
Mustard
Sport Pepper, Tomato, Sport Pepper
Drink and Popcorn:

Large Root Beer
Large Buttered Popcorn
Holiday (Thanksgiving)
Hot Dog on a Pumpernickel Roll
Stuffing
Onions
Gravy
Mustard
Sport Pepper, Tomato, Sport Pepper
Drink and Popcorn:

Large Dream Cream Soda
Large Pumpkin Spice Popcorn
Peanut Butter Cookie with Toffee Chunks
Fudge Cookie with Pretzel Bits

Mocha Chocolate Chunk Ice Cream
Traditional Cookie with Toffee Chunks
Whipped Cream
Butterscotch Syrup
Cookie Dough Bits
Cherry, Salted Caramel, Cherry
Holiday (Thanksgiving)
Peanut Butter Cookie with Pecans
Fudge Cookie with Pretzel Bits
Traditional Cookie with Toffee Chunks
Whipped Cream
Butterscotch Syrup
Cookie Dough Bits
Cherry, Buckeye, Cherry
4 Peri Peri Chicken Wings (Right)
8 Red Peppers (All)
4 Celeries (Left)
Artichoke Dip
Holiday (Halloween)
4 Ecto Chicken Wings (Right)
8 Red Peppers (All)
4 Celeries (Left)
Purple Pesto
Ranks required to unlock him
Unlockables
Stickers
| Sticker Number | Name | Achievement | Sticker Earned |
| --- | --- | --- | --- |
| 34 | Interior Decorator | Buy any 8 Furniture items from the Shop | |
| 38 | New Threads | Change your worker's shirt, pants, hat, and shoes | |
| 36 | New Coat of Paint | Buy any 4 Flooring or Wallpaper from the Shop | |
| Sticker Number | Name | Achievement | Sticker Earned |
| --- | --- | --- | --- |
| 70 | Timmpura | Add Shrimp Tempura and Tempura Crunch to Timm's sushi | |
| 23 | Restaurant Regulars | Earn 15 Gold Customer Awards | |
| 10 | Rise and Shine | Unlock all Maple Mornings toppings | |
| Sticker Number | Name | Achievement | Sticker Earned |
| --- | --- | --- | --- |
| 82 | Bubble Gum Bonanza | Have 10 different kinds of bubble gum in the lobby at once | |
| 76 | Spooktacular | Serve 20 customers during Halloween while wearing any Halloween clothing | |
| 45 | Rare Reward | Win a Rare Bonus Prize in a Mini-Game by earning a Star Medal | |
| Sticker Number | Name | Achievement | Sticker Earned |
| --- | --- | --- | --- |
| 5 | Thankful | Unlock all Thanksgiving toppings | |
| 86 | Coupon Clipper | Send 10 Customer Coupons to your customers | |
| 20 | Bronze Beginning | Earn 5 Bronze Customer Awards | |
| Sticker Number | Name | Achievement | Sticker Earned |
| --- | --- | --- | --- |
| 54 | Mix Master | Unlock all of the Standard Cookie Mixables | |
| 55 | Super Scooper | Unlock all of the Standard Ice Creams | |
| 15 | Happy New Year | Unlock all New Year toppings | |
| Sticker Number | Name | Achievement | Sticker Earned |
| --- | --- | --- | --- |
| 55 | Mix Master | Unlock all of the Standard Cookie Mixables | |
| 56 | Super Scooper | Unlock all of the Standard Ice Creams | |
| 15 | Happy New Year | Unlock all New Year toppings | |
| Sticker Number | Name | Achievement | Sticker Earned |
| --- | --- | --- | --- |
| 78 | Santa's Helper | Serve 20 during Christmas wearing Christmas Hat and Fur Parka | |
| 58 | Drink Extras | Unlock all of the Drink Extras | |
| 71 | Chocolate Chuck | Add Chocolate Chips on top of Chuck's order | |
Earn all three stickers in either game to get this outfit:
Papa's Next Chefs
| Rescued at | Needs | Special Skill | Weapon | Styles |
| --- | --- | --- | --- | --- |
| Level 7: Lake Chocodunk | None | Double Jump | Dance Moves (Melee) | |
Trivia
Order Tickets
Gallery
Fan Art