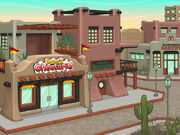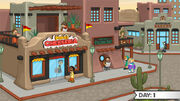 Toastwood is a fictional town located within the Flipverse. It is home to Papa's Cheeseria.
As a teenager, Boomer got her start jumping crates on her bike in the dusty streets of Toastwood.
Toastwood is represented in Griller Stadium by the Toastwood Turkeys baseball team and the Toastwood Veggie Dogz hockey team.
Locations
Businesses
Others
Townspeople
Toastwood during holidays
Trivia