If looking for the entry for the Toastwood Turkey, a special sandwich found in Papa's Cheeseria, please visit this page.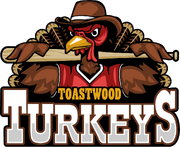 The Toastwood Turkeys are Toastwood's local baseball team, one of thirteen teams featured in Papa's Hot Doggeria/HD/To Go!. All of their games are played at Griller Stadium.
Their team colors are red and brown, and their logo features a turkey in a cowboy's hat holding a baseball bat on its shoulders behind its neck.
Gallery
v

• e

Sports Teams

Baseball Teams

Hockey Teams