Tohru is a female customer who made her first appearance in Papa's Pizzeria.
Flipdeck Info
Hometown: Tastyville
Loves: Bubble Tea
Hates: Server Lag
Occupation: LP Gamer
Tohru is a friendly student at Tastyville High. She is a member of Stage Crew which build the sets and props for the high school's many popular plays. Much to the dismay of her parents, Tohru loves spending her free time playing online games. She has even started uploading "Let's Play" videos of herself reviewing all the latest games in her own quirky style. Tohru's videos have quickly grown in popularity, earning her some extra spending money to buy more snacks and comic books.
Appearance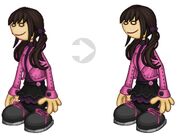 Tohru has pale skin, shoulder-length, dark brown hair tied in pigtails held by pink beads. A fuchsia pink leather jacket covers her dark purple shirt. She also wears a black and dark purple layered skirt, a pair of dark gray pants, and black sneakers with silver soles and pink laces.
Before Papa's Freezeria, she wore pink and black-striped pants, and her sneakers had dark purple laces and soles. She also wore orange eyeshadow.
From Papa's Cupcakeria HD onwards, her hair shows more curls. Her jacket now has dark stitches and buttons on the edges of the sleeves, pink buttons were pinned across her waist, and the pink beads on her hair were changed into purple buttons as well.
Styles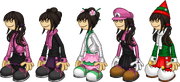 Style B
Tohru ties her hair in a bun. She dons a black sweater with purple cross stitches on the sleeves and pink buttons on the edges. She wears a pink scarf and plum skirt with pink buttons.
Cherry Blossom Festival Outfit
Tohru's Cherry Blossom Festival costume consists of her hair being tied in a bun similar to her Style B adorned with green sticks and cherry blossom hairclips. She dons a white jacket with light pink stitches and buttons, an sea green undershirt, layered rose and sea green skirt surrounded by white buttons, and a pair of sea green sneakers with white front and pink laces.
Halloween Outfit
Tohru dresses as a Super Mario Bros. character during Halloween in Papa's Pizzeria HD. She has hair reverted back to normal and wears a fuchsia pink turtleneck sweater underneath a black jumper dress with purple stitches running across the hem and top part and white buttons pinned to the top left and right sides of her dress. She also wears a fuchsia pink hat that resembles Super Mario's, with the exception of an upside down "T" printed in plum text, short white gloves with the same "T" printing, and brown sneakers with pink laces.
Christmas Outfit
Tohru wears a christmas outfit similar than her Style B, with some exceptions like she wears her habitual hairstyle with red beads on her pigtails. She wears a green sweater with red cross stitches on the sleeves and green buttons on the edges. She wears a white scarf and a red skirt with white buttons. She also wears a red cone elf hat with a green band wrapped around it with a white botton, and a pain of white elf shoes with red details, brown soles and a yellow bell on each shoe.
Orders
6 Mushrooms (left)
2 Peppers (top right)
8 Anchovies (all)
15 minutes (1/4 of meter)
8 Slices
Bottom Bun
Well Done Patty
Ketchup
Lettuce
Tomato
Mayonnaise
Top Bun
Soft Taco with Beef
Brown Rice
Cheese
Peppers
Onions
Mild Sauce
Small Cup
Nutty Butter Cups
Chocolate Syrup
Regular Blend
Whipped Cream
Butterscotch Topping
Nuts
Cookie
3 Blueberry Pancakes
2 Butters
Blueberry Syrup
Drink:
Bottom Bun
Medium Patty
Ketchup
Lettuce
Tomato
Mayo
Top Bun
2 Spicy Garlic Chicken Wings (all)
2 Wild Onion Chicken Wings (all)
4 Medium Boneless Wings (all)
8 Green Peppers (all)
Hot Dog on a Chicago Bun
Mustard
Cheese
Onions
Drink and Popcorn:

Medium Diet Fizzo
Small Buttered Popcorn
Bottom Bun
Medium Patty
Ketchup
Lettuce
Tomato
Mayo
Fried Egg
Top Bun
Liner B
Confetti Cake
Cupcake 1:

Red Frosting
Vanilla Drizzle
Lollipop Bits
Marshmallow

Cupcake 2:

Orange Frosting
Chocolate Chips
Nutty Butter Cup
Holiday (Thanksgiving)
Liner B
Confetti Cake
Cupcake 1:

Red Frosting
Pumpkin Pie Drizzle
Rainbow Sprinkles
Feather Cookie, Harvest Stripe Cookie, Feather Cookie

Cupcake 2:

Orange Frosting
Autumn Leaves Sprinkles
Chocolate Chips
Feather Cookie, Harvest Stripe Cookie, Feather Cookie
Small Cup
Cinnamon Roll
Chocolate Syrup
Regular Blend
Chocolate Whipped Cream
Butterscotch Topping
Nuts
Cookie
Al-Dente Spaghetti
Garlic Basil
Italian Seasoning
4 Clams
5 Mushrooms
Garlic Breadstick
Holiday (Neptune's Feast)
Al-Dente Spaghetti
Garlic Basil
Italian Seasoning
4 Anchovies
5 Mushrooms
Garlic Breadstick
Medium Cup
Cinnamon Roll
Chocolate Syrup
Chunky Blend
Chocolate Mousse
White Chocolate Topping
Nuts 
3 Cookies
Pumpkin Ring Donut

Clear Glaze
Caramel Drizzle

Chocolate Ring Donut

Powdered Sugar
Chocolate Drizzle
Rainbow Sprinkles

Pumpkin Round Donut with Chocolate Mousse

Chocolate Icing
Mini Mallows
Holiday (Maple Mornings)
Pumpkin Ring Donut

Clear Glaze
Butterscotch Drizzle

Chocolate Ring Donut

Powdered Sugar
Chocolate Drizzle
Rainbow Sprinkles

Pumpkin Round Donut with Mocha Cream

Maple Icing
Honey Drizzle
2 Spicy Garlic Wings
2 Wild Onion Wings
4 Medium Boneless Wings
8 Green Peppers
2 Green Peppers (top right)
6 Mushrooms (left)
8 Anchovies
Regular Bake
8 Slices
Ciabatta with Aged Gouda
Light Grill
Sliced Ham
Tomato
Fried Egg
Fries:

Sweet Potato Wedges
Ranch
Bacobites
Holiday (Maple Mornings)
Cinnamon Toast with Aged Gouda
Light Grill
Sliced Ham
Tomato
Fried Egg
Fries:

Sweet Potato Wedges
Ranch
Bacobites
Liner B
Vanilla Cake
Cupcake 1:

Red Frosting
Vanilla Drizzle
Lollipop Bits
Marshmallow

Cupcake 2:

Orange Frosting
Chocolate Chips
Nutty Butter Cup
Holiday (Thanksgiving)
Liner B
Butter Pecan Cake
Cupcake 1:

Red Frosting
Pumpkin Pie Drizzle
Rainbow Sprinkles
Harvest Stripe Cookie

Cupcake 2:

Forest Green Frosting
Autumn Leaves Sprinkles
Chocolate Chips
Feather Cookie
Harvest Stripe Cookie
Liner B
Strawberry Cake
Cupcake 1:

White Frosting
Lollipop Bits
Strawberry Wafer, Marshmallow, Strawberry Wafer

Cupcake 2:

Pink Frosting
Vanilla Drizzle
Lollipop Bits
Strawberry Wafer, Marshmallow, Strawberry Wafer
Holiday (Cherry Blossom Festival)
Liner B
Botamochi Cake
Cupcake 1:

White Frosting
Matcha Drizzle
Lollipop Bits
Pogo, Wasanbon Blossom, Pogo

Cupcake 2:

Pink Frosting
Vanilla Drizzle
Lollipop Bits
Strawberry Wafer, Marshmallow, Strawberry Wafer
Ladyfingers Crust
Strawberry Filling
Rhubarb Filling
Rhubarb Filling
Rhubarb Filling
Polka Dot Crust
Cherry Syrup (All Over)
Crushed Wafers (All Over)
Holiday (Cherry Blossom Festival)
Ladyfingers Crust
Hakuto Jelly
Hakuto Jelly
Hakuto Jelly
Hakuto Jelly
Cherry Blossom Crust
Matcha Syrup (All Over)
Crushed Wafers (All Over)
Soft Shell with Beef
Peppers
White Rice
Cheese
Onions
Mild Sauce
Chips:

Nacho Cheese Chips
Pico de Gallo
Holiday (Cherry Blossom Festival)
Wonton Shell with Tofu
Peppers
White Rice
Cheese
Onions
Yum Yum Sauce
Chips:

Nacho Cheese Chips
Pico de Gallo
Momoiro Soy Paper with Brown Rice
Not Flipped
Saba
Yum Yum Sauce
Bubble Tea:

Matcha Tea with Cotton Candy Bubbles
Holiday (Cherry Blossom Festival)
Shiroi Soy Paper with Brown Rice
Not Flipped
Narutomaki
Yum Yum Sauce
Bubble Tea:

Hakuto Tea with Cotton Candy Bubbles
Soft Taco with Beef
Peppers
White Rice
Cheese
Onions
Mild Sauce
Chips:

Nacho Cheese Chips
Pico de Gallo
Holiday (Starlight BBQ)
Soft Taco with Beef Brisket
Peppers
White Rice
Cheese
Fried Onion Strings
Mild Sauce
Chips:

Nacho Cheese Chips
Pico de Gallo
Pecan French Toast
Powdered Sugar
Pecan French Toast
Cinnamon
2 Butters
Blueberry Syrup
Drink:
Holiday (Thanksgiving)
Pecan French Toast
Powdered Sugar
Pecan French Toast
Cinnamon
2 Pecan Pralines
Pumpkin Pie Drizzle
Drink:
Thick Crust
Creamy Garlic Sauce
Smoked Cheddar Cheese
2 Green Peppers (top right)
8 Anchovies
6 Broccoli (left)
Regular Bake
8 Slices
Holiday (Halloween)
Thick Crust
Creamy Garlic Sauce
Smoked Cheddar Cheese
2 Gouda Ghosts (top right)
8 Smoked Oysters
6 Broccoli (left)
Regular Bake
8 Slices
Hot Dog on a Chicago Bun
Mustard
Cheese
Onions
Drink and Popcorn:

Medium Diet Fizzo
Small Buttered Popcorn
Holiday (Cherry Blossom Festival)
Hot Dog on a Melon Pan Bun
Radish Sprouts
Mustard
Cheese
Onions
Drink and Popcorn:

Medium Sakura Spritz
Small Yomogi Popcorn
Hot Dog on a Chicago Bun
Mustard
Cheese
Onions
Drink and Popcorn:

Medium Diet Fizzo
Small Buttered Popcorn
Holiday (Cinco de Mayo)
Hot Dog on a Bolillo Bun
Fire Tortilla Strips
Mustard
Cheese
Onions
Drink and Popcorn:

Medium Mango de Mayo
Small Cancha Corn
Traditional Cookie with White Chocolate Chips
Peanut Butter Cookie with Peanuts
Traditional Cookie with Chocolate Chips
Whipped Cream
Chocolate Syrup
Ladyfinger, Macaron, Ladyfinger
Holiday (Cherry Blossom Festival)
Traditional Cookie with White Chocolate Chips
Peanut Butter Cookie with Cucumber Bubbles
Traditional Cookie with Chocolate Chips
Whipped Cream
Matcha Syrup
Konpeito
Ladyfinger, Macaron, Ladyfinger
Traditional Cookie with White Chocolate Chips
Peanut Butter Cookie with Peanuts
Traditional Cookie with Chocolate Chips
Whipped Cream
Chocolate Syrup
Ladyfinger, Macaron, Ladyfinger
Holiday (Cinco de Mayo)
Traditional Cookie with White Chocolate Chips
Peanut Butter Cookie with Capirotada Blend
Traditional Cookie With Chocolate Chips
Whipped Cream
Champurrado Syrup
Cinco Swirls
Ladyfinger, Macaron, Ladyfinger
Pecan French Toast
Powdered Sugar
Pecan French Toast
Cinnamon
2 Butters
Blueberry Syrup
Drink:
Holiday (Cherry Blossom Festival)
Pecan French Toast
Powdered Sugar
Pecan French Toast
Cinnamon
4 Wasanbon Blosoms
Kuromitsu Drizzle
Drink:

Large Matcha Tea with Sugar
6 Spicy Garlic Tofu Skewers (All)
6 Medium Boneless Wings (All)
Zesty Pesto Dip
Holiday (Starlight BBQ)
6 Spicy Garlic Tofu Skewers (All)
6 Mambo Boneless Wings (All)
Coleslaw
Ranks required to unlock her
Unlockables
Stickers
| Sticker Name | Name | Achievement | Sticker Earned |
| --- | --- | --- | --- |
| 23 | Restaurant Regulars | Earn 15 Gold Customer Rewards | |
| 37 | Upgrade Master | Buy all of the Upgrades in the Shop | |
| 81 | Bubble Gum Bonanza | Have 10 different kinds of bubble gum in the lobby at once | |
| Sticker Name | Name | Achievement | Sticker Earned |
| --- | --- | --- | --- |
| 55 | Taco Topper | Unlock all of the Standard Toppings | |
| 16 | Summer Fun | Unlock all Summer Luau toppings | |
| 57 | Chip Champ | Unlock all of the Standard Chips | |
| Sticker Name | Name | Achievement | Sticker Earned |
| --- | --- | --- | --- |
| 24 | Order Expert | Get a 100% Waiting Score on 20 orders | |
| 78 | Holiday Outfit | Wear a shirt, belt, jacket, and hat to match the current holiday | |
| 79 | Color Coordinated | Dress your chef and server in the exact same outfit but with different colors | |
| Sticker Name | Name | Achievement | Sticker Earned |
| --- | --- | --- | --- |
| 7 | Movie Marathon | Unlock all Sugarplex Film Fest toppings | |
| 25 | Grill Expert | Get a 100% Grill Score on 20 orders | |
| 29 | Award-Winning Pancakes | Get 5 Blue Ribbons from Jojo the Food Critic | |
| Sticker Name | Name | Achievement | Sticker Earned |
| --- | --- | --- | --- |
| 67 | The B-L-Tohru | Serve the BLT Special to Tohru | |
| 37 | Upgrade Master | Buy all the Upgrades from the Shop | |
| 76 | Spooktacular | Serve 20 customers during Halloween wearing any Halloween clothing | |
| Sticker Name | Name | Achievement | Sticker Earned |
| --- | --- | --- | --- |
| 59 | Wildfire Rhonda | Serve a Wildfire Special to Rhonda | |
| 38 | New Threads | Change your worker's shirt, pants, jacket, and shoes | |
| 31 | Piggy Bank | Don't spend any money in the Shop for 7 days | |
| Sticker Name | Name | Achievement | Sticker Earned |
| --- | --- | --- | --- |
| 62 | Kiwana King | Serve a Kiwana Crunch Special to Kingsley | |
| 38 | New Threads | Change your worker's shirt, pants, jacket, and shoes | |
| 32 | One-Stop Shopping | Buy 50 items from the Shop | |
| Sticker Name | Name | Achievement | Sticker Earned |
| --- | --- | --- | --- |
| 63 | Kiwana King | Serve a Kiwana Crunch Special to Kingsley | |
| 38 | New Threads | Change your worker's shirt, pants, jacket, and shoes | |
| 32 | One-Stop Shopping | Buy 50 items from the Shop | |
| Sticker Name | Name | Achievement | Sticker Earned |
| --- | --- | --- | --- |
| 41 | The Gang's All Here | Serve all of the customers! | |
| 55 | Bread Winner | Unlock all of the Breads | |
| 24 | Order Expert | Get a 100% Waiting Score on 20 orders | |
Earn all three stickers in either game to get this outfit:
Papa's Next Chefs
Trivia
Order Tickets
Gallery
Fan Art