Raise a Floppa - The Loop
Play Sound
Trishna is a female customer who made her first appearance as a Closer in Papa's Cupcakeria.
Flipdeck Info
Hometown: Whiskview
Loves: Tangerine Pop
Hates: Leopard Print
Occupation: Sales Associate
Trishna is a sales associate at Fashion Flambé in Whiskview Mall. Thanks in part to her employee discount, Trishna has amassed a huge assortment of all the latest clothing and accessories. In her spare time, she runs her own fashion blog called The Trendiful Tangerine. There, she loves to post pictures of herself and friends modeling some of the latest trending styles from the streets of Tastyville. After high school, Trishna hopes to study Fashion Design. However, she's finding it difficult to save money for college while also keeping her wardrobe up to date.
Appearance
Trishna has tanned skin and brown hair with a small tangerine hair clip. She wears green eyeliner, a pair of big, blue-rimmed sunglasses, an orange t-shirt with a Tangerine Pop logo, a green scarf, a white belt with a green buckle, a blue skirt decorated with orange polka dots on it, and a pair of white shoes with green laces and brown soles. In Papa's Pastaria, ruffles were added to her shirt and were later removed in Papa's Donuteria.
Styles
Style B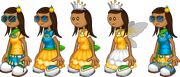 She wears a blue ruffled t-shirt with the Tangerine Pop logo printed on it. She wears an orange and yellow layered taffeta skirt, a green lace tied around her waist, and orange-rimmed sunglasses with blue lenses. She also wears white shoes with blue and yellow accents and silver soles.
Style H
In games where she dresses up for Halloween, Trishna wears a princess costume. She wears a yellow and orange-colored layered dress, a diamond necklace with green beads connecting to it, and a silver crown. She also wears this outfit in Papa Louie Pals with the exception that she wears white fancy shoes with green and yellow marks and gray soles.
Style H (Updated)
In Papa's Donuteria To Go!, her outfit was updated. White layers are now present under her dress and fairy wings.
Style C (Papa Louie 3)
She wears her Style A, but except for the orange on her hair, the blue and orange are swapped. She also wears blue shoes with white fronts, brown soles, and yellow laces.
Orders
As a Closer, Trishna's orders change with the holidays.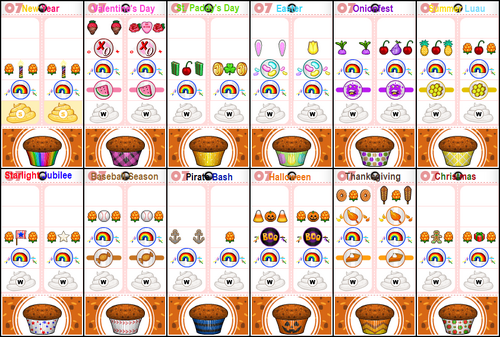 Small Cup
Peaches
Banana Syrup
Regular Blend
Whipped Cream
Strawberry Topping
Waffle Cone Wedge
3 Cloudberries
Al Dente Fettuccine
Garlic Basil
Parmesan Cheese
3 Mushrooms
3 Tomatoes
Focaccia
Holiday (Gondola 500)
Al Dente Fettuccine
Hurry Curry
Garlic Rush
3 Fried Ravioli
3 Tomatoes
Focaccia
Small Cup
Peaches
Banana Syrup
Regular Blend
Lemon Chiffon
Dreamsicle Topping
Blondie, Cherry, Blondie
Pumpkin Long John with Boston Cream

Powdered Sugar
Chocolate Chips

Regular Long John with Strawberry Jelly

Orange Icing
Dreamsicle Drizzle
Rainbow Sprinkles

Pumpkin Long John with Lemon Chiffon

Vanilla Icing
Dreamsicle Drizzle
Holiday (Halloween)
Pumpkin Long John with Boston Cream

Powdered Sugar
Peanut Butter Drizzle

Regular Long John with Strawberry Jelly

Orange Icing
Dreamsicle Drizzle
Rainbow Sprinkles

Pumpkin Long John

Vanilla Icing
Dreamsicle Drizzle
4 Buffalo Wings (all)
8 Thai Chili Chicken Strips (all)
4 Carrots (all)
Blue Cheese Dip
4 Spinaches (top left)
3 Onions (top right)
2 Tomatoes (bottom right)
4 Fresh Garlic (bottom left)
Regular Bake
8 Slices
Rosemary Foccacia with American Cheese
Regular Grill
Grilled Chicken
Fajita Peppers
Sauteed Onions
Fries:

Waffle Fries
Rosemary
Ranch
Holiday (Summer Luau)
Rosemary Foccacia with Mango Cream Cheese
Grilled Chicken
Fajita Peppers
Sauteed Onions
Fries:

Waffle Fries
Rosemary
Ranch
Liner C
Carrot Cake
Sunglow Frosting
Cupcake 1:

Blue Moon Drizzle
Rainbow Sprinkles
Cloudberry

Cupcake 2:

Apricot Drizzle
Rainbow Sprinkles
2 Cloudberries
Holiday (Thanksgiving)
Liner C
Carrot Cake
Sunglow Frosting
Cupcake 1:

Blue Moon Drizzle
Rainbow Sprinkles
Harvest Stripe Cookie
Cloudberry

Cupcake 2:

Pumpkin Pie Drizzle
Autumn Leaves Sprinkles
Harvest Stripe Cookie
Cloudberry
Liner C
Carrot Cake
Sunglow Frosting
Cupcake 1:

Blue Moon Drizzle
Rainbow Sprinkles
Cloudberry, Cherry, Cloudberry

Cupcake 2:

Apricot Drizzle
Rainbow Sprinkles
Cloudberry, Cherry, Cloudberry
Holiday (Summer Luau)
Liner C
Carrot Cake
Sunglow Frosting
Cupcake 1:

Blue Moon Drizzle
Rainbow Sprinkles
Banana, Cherry, Banana

Cupcake 2:

Apricot Drizzle
Rainbow Sprinkles
Cloudberry, Gummy Pineapple, Cloudberry
Ladyfingers Crust
Peach Filling
Peach Filling
Peach Filling
Pecan Filling
Vented Crust
8 Banana Slices (Outer Ring)
8 Kumquats (Outer Ring)
8 Raspberries (Inner Ring)
Holiday (Summer Luau)
Ladyfingers Crust
Peach Filling
Peach Filling
Peach Filling
Pecan Filling
Sunburst Crust
8 Banana Slices (Outer Ring)
8 Kumquats (Outer Ring)
8 Maui Meringue Dollops (Inner Ring)
Pita Bread with Chicken
Onions
Nacho Cheese
Lettuce
Peppers
Sour Cream
Chips:

Nacho Cheese Chips
Salsa Picante
Holiday (Cherry Blossom Festival)
Wonton Shell with Chicken
Onions
Yum Yum Sauce
Beni Shoga
Peppers
Sour Cream
Chips:

Nacho Cheese Chips
Salsa Picante
Ukoniro Soy Paper with Shiso Rice
Flipped
Mango Slices
Sriracha
Bubble Tea:

Tangerine Tea with Mango Bubbles
Holiday (Maple Mornings)
Ukoniro Soy Paper with Shiso Rice
Flipped

Tofu
Hashbrown Patties
Tamago

Mango Slices
Sriracha
Bubble Tea:

Tangerine Tea with Mango Bubbles
Pita Bread with Chicken
Onions
Nacho Cheese
Lettuce
Peppers
Sour Cream
Chips:

Nacho Cheese Chips
Salsa Picante
Holiday (Maple Mornings)
Waffle Taco with Scrambled Egg
Onions
Nacho Cheese
Sausage Crumbles
Peppers
Sour Cream
Chips:

Nacho Cheese Chips
Salsa Picante
2 Pancakes
Honey
4 Bananas
Raspberries
Drink:

Large Orange Juice with Ice
Holiday (Summer Luau)
2 Pancakes
Passionfruit Drizzle
4 Bananas
Raspberries
Drink:

Large Luau Punch with Ice
Garlic Knot Crust
Buffalo Sauce with Grated Parmesan Cheese
4 Fresh Garlics (Bottom Left)
3 Onions ( Top Right)
4 Spinaches (Top Left)
2 Tomatoes (Bottom Right)
Regular Bake
8 Slices
Holiday (Easter)
Garlic Knot Crust
Buffalo Sauce with Grated Parmesan Cheese
4 Carrot Sticks (Bottom Left)
3 Onions (Top Right)
4 Spinaches (Top Left)
2 Tomatoes (Bottom Right)
Regular Bake
8 Slices
Veggie Dog on a Pretzel Bun
Salsa
Mayo
Onions
Pickle
Drink and Popcorn:

Medium Tangerine Pop
Small Candy Jack
Holiday (Comet Con)
Veggie Dog on a Lunar Loaf Bun
Salsa
Mayo
Onions
Pickle
Drink and Popcorn:

Medium Hyper Green
Small Pluto Puffs
Veggie Dog on a Pretzel Bun
Salsa
Mayo
Onions
Pickle
Drink and Popcorn:

Medium Tangerine Pop
Small Candy Jack
Holiday (Grōōvstock)
Veggie Dog on a Pretzel Bun
Salsa
Karmic Korma Sauce
Onions
Pickle
Drink and Popcorn:

Medium Ginger Haze
Small Artisanal Truffle Corn
Gingerbread Cookie with Coconut
Oatmeal Cookie with Citrus Zest
Gingerbread Cookie with Coconut
Strawberry Syrup
Pistachios
Banana
Cherry, Ladyfinger, Cherry
Holiday (Holi)
Gingerbread Cookie with Coconut
Oatmeal Cookie with Dried Jackfruit
Gingerbread Cookie with Coconut
Kanji Syrup
Pistachios
Banana
Kaju Katli, Ladyfinger, Kaju Katli
Gingerbread Cookie with Coconut
Oatmeal Cookie with Citrus Zest
Gingerbread Cookie with Coconut
Strawberry Syrup
Pistachios
Banana
Cherry, Ladyfinger, Cherry
Holiday (Holi)
Gingerbread Cookie with Coconut
Oatmeal Cookie with Dried Jackfruit
Gingerbread Cookie with Coconut
Kanji Syrup
Pistachios
Banana
3 Kaju Katlis
4 Buffalo Chicken Wings (All)
4 Spicy Garlic Chicken Strips (All)
4 Carrots (All)
Blue Cheese Dip
Holiday (Lucky Lucky Matsuri)
4 Gochujang Chicken Wings (All)
4 Ginger Miso Chicken Strips (All)
4 Carrots (All)
Karashi Mayo Dip
Pumpkin Long John

Apricot Icing
Chocolate Chips

Pumpkin Long John with Boston Cream

Powdered Sugar
Dreamsicle Drizzle
Rainbow Sprinkles

Regular Long John

Vanilla Icing
Dreamsicle Drizzle
Holiday (Halloween)
Pumpkin Long John

Apricot Icing
Chocolate Chips

Pumpkin Long John with Boston Cream

Full Moon Icing
Dreamsicle Drizzle
Spooky Sprinkles

Regular Long John

Vanilla Icing
Tiger Tail Drizzle
Rosemary Foccacia with American Cheese
Regular Grill
Grilled Chicken
Fajita Peppers
Sauteed Onions
Fries:

Waffle Fries
Rosemary
Ranch
Holiday (Summer Luau)
Rosemary Foccacia with Mango Cream Cheese
Regular Grill
Grilled Chicken
Fajita Peppers
Sauteed Onions
Fries:

Waffle Fries
Lemon Herb Seasoning
Ranch
Ukoniro Soy Paper with Shiso Rice
Flipped
Mango Slices
Sriracha
Bubble Tea:

Tangerine Tea with Mango Bubbles
Holiday (Comet Con)
Ukoniro Soy Paper with Shiso Rice
Flipped
Mango Slices
Sriracha
Bubble Tea:

Tangerine Tea with Mango Bubbles
Small Cup
Orange Mocha Syrup
2 shots of Hot Soy Milk
2 shots of Decaf Roast
Orange Mocha Syrup
Lemon Chiffon
Toasted Coconut
Cannoli:

Pineapple Upside-Down Shell
Peach Cream
Toasted Coconut
Holiday (Halloween)
Small Cup
Orange Mocha Syrup
2 shots of Hot Screamsicle Milk
2 shots of Decaf Roast
Orange Mocha Syrup
Lemon Chiffon
Toasted Coconut
Cannoli:

Pineapple Upside-Down Shell
Peach Cream
Toasted Coconut
Bagel
Mayo
Tomato
Veggie Patty with Spicy Cajun Batter
Peri Peri Sauce
Grilled Portobello Cap
Medium Slush

Dragonfruit Slush
Tangerine Slush
Holiday (Lucky Lucky Matsuri)
Bagel
Karashi Mayo
Tomato
Veggie Patty with Spicy Cajun Batter
Gochujang Sauce
Grilled Portobello Cap
Medium Slush

Iyokan Slush
Tangerine Slush
Ranks required to unlock her
Unlockables
Stickers
| Sticker Number | Name | Achievement | Sticker Earned |
| --- | --- | --- | --- |
| 83 | Get the Tables! | Fill your lobby with 12 large tables | |
| 22 | Silver Medal | Earn 10 Silver Customer Awards | |
| 71 | Greenery | Use Key Lime Filling and Pistachios on Julep's pie | |
| Sticker Number | Name | Achievement | Sticker Earned |
| --- | --- | --- | --- |
| 73 | Vicky Verde | Add Verde Sauce to Vicky's taco | |
| 40 | Scarlett and the Shakers | Serve everyone from Scarlett and the Shakers | |
| 14 | Easter Basket | Unlock all Easter toppings | |
| Sticker Number | Name | Achievement | Sticker Earned |
| --- | --- | --- | --- |
| 12 | Thankful | Unlock all Thanksgiving toppings | |
| 77 | Team Player | Serve Pinch Hitwell while wearing a Logo Cap and Baseball Jersey | |
| 71 | Iggy Unagi | Add Unagi to Iggy's sushi | |
| Sticker Number | Name | Achievement | Sticker Earned |
| --- | --- | --- | --- |
| 24 | Order Expert | Get a 100% Waiting Score in 20 orders | |
| 20 | Bronze Beginning | Earn 5 Bronze Customer Awards | |
| 38 | New Threads | Change your worker's shirt, pants, hat, and shoes | |
| Sticker Number | Name | Achievement | Sticker Earned |
| --- | --- | --- | --- |
| 59 | Wildfire Rhonda | Serve The Wildfire Special to Rhonda | |
| 54 | Sauce Sampler | Unlocked all of the Standard Sauces | |
| 12 | Summer Fun | Unlock all Summer Luau toppings | |
| Sticker Number | Name | Achievement | Sticker Earned |
| --- | --- | --- | --- |
| 21 | Repeat Customers | Earn 15 Bronze Customer Awards | |
| 32 | One-Stop Shopping | Buy any 50 items from the Shop | |
| 62 | Luau LePete | Serve a Kielypso Dog Special to LePete | |
| Sticker Number | Name | Achievement | Sticker Earned |
| --- | --- | --- | --- |
| 80 | Holiday Outfit | Wear a shirt, belt, jacket, pants, and hat to match the current holiday | |
| 22 | Silver Medal | Earn 10 Silver Customer Awards | |
| 26 | Build Expert | Get a 100% Build Score on 20 orders | |
| Sticker Number | Name | Achievement | Sticker Earned |
| --- | --- | --- | --- |
| 81 | Holiday Outfit | Wear a shirt, belt, jacket, pants, and hat to match the current holiday | |
| 22 | Silver Medal | Earn 10 Silver Customer Awards | |
| 26 | Build Expert | Get a 100% Build Score on 20 orders | |
| Sticker Number | Name | Achievement | Sticker Earned |
| --- | --- | --- | --- |
| 68 | Maple Mallow | Add Maple Syrup to Mayor Mallow's order | |
| 49 | Successful Specials | Earn 3 Special Stars when serving Today's Special | |
| 17 | Make 'Em Wait | Serve the first customer last | |
| Sticker Number | Name | Achievement | Sticker Earned |
| --- | --- | --- | --- |
| 46 | Special Collector | Earn 5 Special Recipes from customers | |
| 18 | Hot and Ready | Have Quinn's order ready when she arrives and serve immediately | |
| 57 | Wing Warmup | Serve 10 orders with Wings | |
| Sticker Number | Name | Achievement | Sticker Earned |
| --- | --- | --- | --- |
| 79 | Daredevil | Serve Boomer while wearing a Stunt Helmet and Cape | |
| 83 | Color Coordinated | Dress your chef and server in the exact same outfit but with different colors | |
| 82 | Holiday Outfit | Wear a shirt, belt, jacket, pants, and hat to match the current holiday. | |
| Sticker Number | Name | Achievement | Sticker Earned |
| --- | --- | --- | --- |
| 84 | Bubble Gum Bonanza | Have 10 different kinds of bubble gum in the lobby at once | |
| 22 | Silver Medal | Earn 10 Silver Customer Awards | |
| 38 | New Threads | Change your worker's shirt, pants, hat, jacket, and shoes. | |
| Sticker Number | Name | Achievement | Sticker Earned |
| --- | --- | --- | --- |
| 75 | Banana For Fernanda | Use Banana Filling and Banana Slices on Fernanda's pie | |
| 8 | Easter Basket | Unlock all Easter toppings | |
| 86 | Get the Tables! | Fill your lobby with 8 large tables | |
| Sticker Number | Name | Achievement | Sticker Earned |
| --- | --- | --- | --- |
| 60 | Momo Mallow | Serve a Momo Mango Special to Mayor Mallow | |
| 28 | Perfect! | Get a Perfect Score on 30 orders | |
| 9 | Taste of Portallini | Unlock all Portallini Feast toppings | |
| Sticker Number | Name | Achievement | Sticker Earned |
| --- | --- | --- | --- |
| 4 | Spring Has Sprung | Reach Spring | |
| 65 | Xolo al Formaggio | Serve a Fettuccine al Formaggio Special to Xolo | |
| 66 | Peggy Piccanti | Serve a Linguine Piccanti Special to Peggy | |
| Sticker Number | Name | Achievement | Sticker Earned |
| --- | --- | --- | --- |
| 55 | Pump Up the Flavor | Unlock all of the Standard Syrups | |
| 33 | Advertiser | Buy any 8 Posters from the Shop | |
| 5 | Trick or Treat | Unlock all Halloween toppings | |
| Sticker Number | Name | Achievement | Sticker Earned |
| --- | --- | --- | --- |
| 73 | Belgian Biscuit | Substitute Sweet Belgian Batter in Cooper's sandwich | |
| 14 | Springtime Sandwiches | Unlock all Easter toppings | |
| 13 | Lots of Luck | Unlock all Lucky Lucky Matsuri toppings | |
Earn all three stickers in any of the above games to unlock this outfit:
Papa's Next Chefs
OnionFest Crown Classic
| Rescued at | Needs | Special Skill | Weapon | Styles |
| --- | --- | --- | --- | --- |
| Level 5: Wintergreen Way | Ground Pound | Gliding | Scarf Whip (Whip) | |
Trivia
Order Tickets
Gallery
Prepared Orders
Perfect Orders
Promotional Images
Holiday Pictures
Others
Fan Art