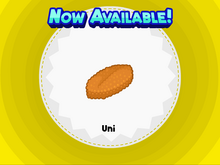 Uni is a holiday-exclusive sushi filling and topping available during Halloween in Papa's Sushiria/Papa's Sushiria To Go!. It is unlocked with Willow when the player reaches Rank 36.
Customers who order this
Sushiria/To Go!
Filling
Topping
Trivia
Uni is a type of sea urchin with a gold or yellow color used in sushi.