I'm the meme man on this wiki, the head admin on the Hermitcraft Wiki, and an admin on the Flipline Fan Characters-pedia Wiki. Feel free to correct my spelling and grammar. If I undo your edit, that means I don't want it.
Links
How I Saw Flipline
When I was looking on Kizi, my friend found this game called Papa's Hot Doggeria. I liked it and I played all the Flipline games on Kizi. Unfortunately, my dad banned me from Flipline Games for 3 years because I was too obsessive with Flipline's Games, but once those 3 years were over, I played Papa's Bakeria on A10. When I couldn't play Papa's Cheeseria on A10, I decided to try on the official Flipline website and it worked. Then, I found out about the blog and now, I'm an official Flipline fan. That's my intro to the Flipverse.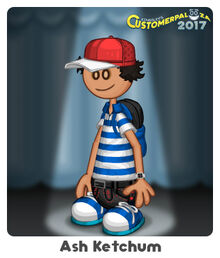 Trivia
I'm left handed
Comfortaa is my favorite font.
I have poor manual dexterity

I can't play shooter games and similar because of that.
Despite attempts to teach me at a normal age, I learned how to tie my shoes only when I was 12 (2 months before joining this wiki).

I love to scroll around Google Maps.
English is my native language, but I know basic Spanish from school (Sé español básico.), and basic Hebrew (Yiddish is a different language) from my parents, [.אַנִי יוֹדֶאַה קצָת עִבְרִית(ani yodeah ktsat ívrit.)].

I've been to Israel about every year

My entire extended family lives there.
My parents work as flight attendants for United.
Lucky Edits
Statistics
Rank 79 (132,372 Stars)
86 Coins
58/80 Sliders
126/240 Stars
24/24 Badges
Day 127 (Starlight BBQ)
Rank 78 (131,664 points)
$1,216.31
40/40 Specials Earned
38/40 Specials Mastered
78/90 Stickers Earned
124/124 Customers Unlocked
55/124 Customers with Bronze Medals
9/124 Customers with Silver Medals
21/124 Customers with Gold Medals
Day 34 (St. Paddy's Day)
Rank 19 (25,236 Points)
$225.65
10/40 Specials Earned
6/40 Specials Mastered
28/90 Stickers Earned
47/126 Customers Unlocked
18/126 Customers with Bronze Medals
2/126 Customers with Silver Medals
0/126 Customers with Gold Medals
Day 10 (Chilifest)
Rank 7 (4,439 Points)
$10.48
3/40 Specials Earned
1/40 Specials Mastered
7/90 Stickers Earned
23/130 Customers Unlocked
1/130 Customers with Bronze Medals
0/130 Customers with Silver Medals
0/130 Customers with Gold Medals
Pokéflip
I've lost interest in Pokémon, so don't expect any new volumes.
Prologue: Dec. 7, 2017
Volume 1: Dec. 10, 2017
Volume 2: Dec. 11, 2017
Volume 3: Dec. 16, 2017
Volume 4: Dec. 20, 2017
Volume 5: Dec. 25, 2017
Orders
Veggie Dog on a Regular Bun

Tomato, Tomato, Tomato
Pickle
Sauerkraut
Marinara Sauce
Mushrooms
Large Tangerine Pop
Large Cinnamon Popcorn
Can't order because gluten allergy.
To be revealed
To be revealed
To be revealed
Memes