Helloooooooooooooooooooooooo <insert name here> I'm gay that's all bye
My orders (copied from another wiki)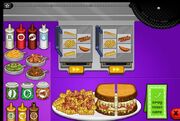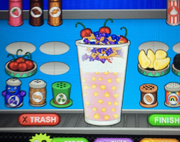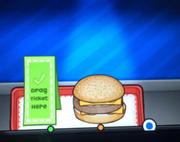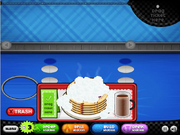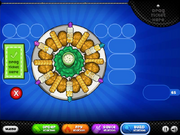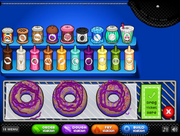 Wingeria
12 Honey Mustard Boneless Wings
6 French Fries
6 Cheese Cubes
Ranch Dip
Hot Doggeria
Pretzel Bun
Cheddarwurst
Cheese
Mustard
Papa's Ballpark Mustard
Bacon

Large Dr. Cherry
Large Cinnamon Swirl
Cupcakeria
 Cupcake 1

Liner C
Lemon Cake
Mocha Frosting (Black Frosting)
Shaved Coconut (Canonball Gum)
Vanilla Drizzle
Rainbow Sprinkles
3 Cherries (Gummy Kraken, Pirate Flag, Gummy Kraken)

Cupcake 2

Liner C
Lemon Cake
Sunglow Frosting (Dark Blue Frosting)
Rock Candy
Vanilla Drizzle (Blueberry Wave Drizzle)
Rainbow Sprinkles
3 Cloudberries (Gummy Kraken, Anchor, Gummy Kraken)
Pastaria
Fettucine (Vermicelli)
Regular
Creamy Alfredo Sauce
5x Chicken
5x Meatballs
Black Pepper (Cauldron Powder)
Grated Mozzarella
Garlic Breadstick
Donuteria
Donut 1/2/3 (all same)

Blueberry Dough
Ring (Skull)
Cinnamon Sugar (Full Moon Icing)
Lemon Chiffon (Brownie Batter)
Raspberry Bark
Cosmic Coconut
Sugarplum Drizzle
Wingeria (HD)
12 Boneless Wings

6 Honey Mustard
6 Blazeberry

6 French Fries
6 Cheese Cubes
2 Ranch Dip
Cheeseria
Pretzel Bread (Hawaiian Roll)
Provolone Cheese (Mango Cream Cheese)
Sliced Ham 
Sliced Turkey (Pineapple Chunks)
Bacon
Chicken
Mustard
Honey Mustard
Well Done
Bakeria
Vanilla Crispies
1/4 Dragonfruit, 1/4 Rhubarb, 1/4 Sugarplum, 1/4 Lemon (1/4 Starfruit, replacing Dragonfruit)
Meringue Top
Huckleberry Syrup, Whole Pie (Hyper Green)
Blackberry Bark, Whole Pie (Astronaut Ice Cream)
Rasperries (8, inner ring), Cherry (middle) (Planet Cookies replace raspberries)
Freezeria HD/To Go!
Medium Cup
Pineapple
Rainbow Sherbet/Wild Berry
Smooth
Whipped Cream
Tropical Charms
Blueberry Syrup
Rainbow Sprinkles
Cherry, Cherry, Cherry
Cupcakeria To Go!
Liner D
Lemon Cake
Mocha Frosting/Sunglow Frosting (Black Frosting/Green Frosting)
Shaved Coconut/Rock Candy
Apricot Drizzle (Hyper Green)
Cloudberry (Astronaut Ice Cream)
Cupcakeria HD
Liner B
Lemon Cake (Tarantula Cake)
Mocha Frosting/Sunglow (Black/Orange)
Shaved Coconut/Rock Candy (Spooky Sprinkles)
Apricot Drizzle
Cloudberry, Cloudberry, Cherry (Sugar Skull, Sugar Skull, Candy Corn)
Pizzeria To Go!
8x Pepperoni, Right Half
4x Ham, Left Half
4x Pineapple, Left Half
Well Done
Cut in sixths
Taco Mia HD
Hard Shell (Waffle)
Chicken (Scrambled Eggs)
Cheese
Sour Cream (Hashbrowns)
Blazeberry Sauce (Maple Syrup)
Nacho Cheese (Bacon)

Multigrain Chips
Nacho Cheese
Sushiria
White Rice
Seaweed

Cucumber 
Salmon (Canned Ham)
Cream Cheese 

Mango (Pineapple)
Yum Yum Sauce (Calypso Sauce)
Furikake (Lemon Herb)

Pina Colada Tea (Luau Punch)
Cucumber Bubbles
Dragons!
Community content is available under
CC-BY-SA
unless otherwise noted.