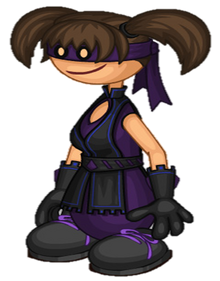 Loves: Cinnamon rolls
Hates: Mosquitos
I remember when I got introduced to this game. I was playing a video game on my Playstation. I was waiting for my game to load and I ran into the computer room where my sister was playing. l remember asking "What are you doing". She showed me and I played it the next day. Ever since I have been a big fan.
My favorite specials
Papa's Cheeseria
Sauce pocket
Meat Lover's
Portallini panini
Papa's Bakeria
French silk
Creamo cheesecake
Tiramasu
Papa's Taco mia HD
Cheesy beef and beans
Pollo qeuso loco
Smothered chicken
My favorite games
I Love Papa's Cheeseria. It actually was the first game I ever beat. I loved how the specials worked and am looking forward to seeing them in Papa's Bakeria
Favorite Customers
My favorite customer is Ninjoy. I like how she looks like a ninja.
Community content is available under
CC-BY-SA
unless otherwise noted.