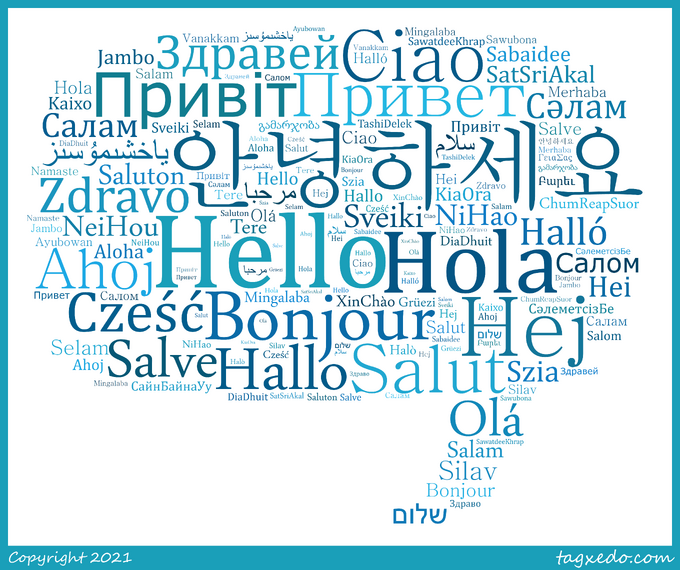 Welcome to my profile! (*If you want to suggest a better translation in your language, or you want your language to be added, don't be afraid to tell me on my Message Wall or on my Discord DM!)

I actually first played the Papa Louie games in the summer of 2012, when I still played a lot of Flash games. My first Flipline game was Papa's Freezeria, in which I remember reaching Rank 23 or 24. Soon enough I discovered all the other Gamerias in existence at the time, as well as Papa Louie: When Pizzas Attack!. Unfortunately this was on an old MacBook so my original data are no more. In 2020, during the lockdown, I once again played the games I had first played eight years back, as well as the games that I missed during the said time frame, before Flash was put down in January 2021.
I am mostly on the Discord Server although I will try to help out on this Wiki, such as by replacing low-quality images or by fixing erroneous syntax or formatting. I am also the founder of the French Wiki.
By the way I love Simon and Garfunkel, and these two are some of their best songs in my opinion.
UPDATE 12 JAN 2021: So, yeah. Flash is officially gone from Chrome, and my interest in Flipline has been exponentially diminishing for the past couple of months. Moreover, I am now once again inactive on FANDOM and I might as well leave most if not all Flipline Discord servers, as well as the Forum. Regardless, I just wanted to say it's been a pleasure to have been part of this community during a year where I hardly ever saw most my friends. At this point who knows if I will ever return full-time to FANDOM or to Flipline?
My Favourite Games
Top 4 in no particular order:
Progress in each Game
Last updated 12 January 2021.
Gamerias
Papa's Pizzeria - Rank 17, 2/36 Gold (PROGRESS LOST)
Papa's Burgeria - Rank 17 (PROGRESS LOST)
Papa's Taco Mia! - Rank 9 (PROGRESS LOST)
Papa's Freezeria - Rank 53, 80/80 Badges, 54/54 Gold (Completed 21 July 2020, played an extra day a few months after to try getting missing Perfect orders)
Papa's Pancakeria - Rank 9
Papa's Wingeria - Rank 13
Papa's Hot Doggeria - Rank 59, 96/100 Badges, 18/76 Gold
Papa's Cupcakeria - Rank 4 (this game does not interest me as much, probably the least)
Papa's Pastaria - Rank 7
Papa's Donuteria - Rank 10
Papa's Cheeseria - Rank 8
Papa's Bakeria - Rank 8
Papa's Sushiria - Rank 9
Papa's Scooperia - Rank 23, 41/90 Stickers
Papa's Pastaria To Go! - Rank 70, 88/90 Stickers, 12/130 Gold
Other Flipline Games
Papa Louie: When Pizzas Attack! - Finished (most likely on an older device)
Papa Louie 2: When Burgers Attack! - 27/50 Warp Coins, 15/28 Customers
Papa Louie 3: When Sundaes Attack! - 5/50 Warp Coins, 3/28 Customers
Jacksmith (Game) - Rank 18, 22% Designs unlocked, 38/80 Badges
Favourite Customers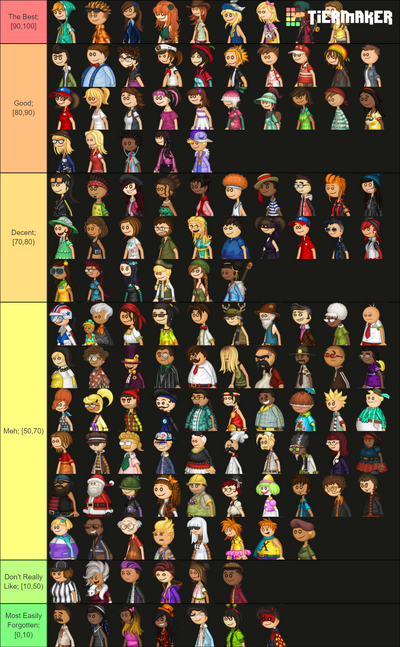 Orders
This section is incomplete; furthermore some orders may not be finalised.
8 Green Peppers (all)
6 Mushrooms (left)
6 Onions (right)
4 Sausages (bottom)
7.5 minutes (1/8 of meter)
8 Slices
Bottom Bun
Lettuce
Well-Done Patty
Cheese
Onion
Tomato
Pickle
Mayonnaise
Top Bun
Soft Taco with Pork
Lettuce
Tomatoes
Jalapeños
Hot Sauce
Sour Cream
Small Cup
Vanilla Syrup
Strawberries
Regular Blend
Whipped Cream
Nuts
Banana
(As you can tell I am not a big fan of sweets)
2 Pecan Pancakes
Butter
3 Strawberries
Blueberries
Maple Syrup
Drink:
4 Buffalo Chicken Wings (all)
4 Spicy Garlic Chicken Wings (all)
4 Celeries (right)
4 Carrots (left)
Blue Cheese Dip
Ranch Dip
where's my Korean fried chicken sauce
Kiełbasa on a Chicago Bun
Mustard
Onions
Sauerkraut
3 Sport Peppers
Drink and Popcorn:

Medium Tangerine Pop
Small Red Hot Popcorn
No ginger ale?? до свидания comrade
Regular Round Donut with Boston Cream
Regular Ring Donut

Strawberry Icing
Rainbow Sprinkles

Regular Round Donut with Strawberry Jelly

Powdered Sugar
Chocolate Chips
Holiday (Maple Mornings)
Regular Waffle Donut with Boston Cream

Maple Glaze
Honey Drizzle

Regular Ring Donut

Strawberry Icing
Rainbow Sprinkles

Regular Round Donut with Strawberry Jelly

Powdered Sugar
Chocolate Chips
Sourdough with Swiss Cheese
Regular Grill
Sliced Turkey
Sliced Ham
Shredded Lettuce
Tomato
Jalapeños
Fries:
(Most times I would probably order the Special. Also that is not how poutine works.)
Graham Cracker Crust
Apple Filling
Apple Filling
Apple Filling
Pecan Filling
Streusel Topping
Whipped Cream (Outer Ring)
Nori with White Rice
Not Flipped
Sesame Seeds
Matcha Tea with Tapioca Pearls
Traditional Cookie with White Chocolate Chips

Mint Chocolate Chip Ice Cream

Peanut Butter Cookie with Peanuts

Cookies and Cream Ice Cream

Oatmeal Cookie with Raisins
Strawberry Syrup
Peanuts
Cherry, Macaron, Cherry
Holiday (Cherry Blossom Festival)
Traditional Cookie with White Chocolate Chips

Mint Chocolate Chip Ice Cream

Peanut Butter Cookie with Peanuts

Cookies and Cream Ice Cream

Oatmeal Cookie with Raisins
Matcha Syrup
Peanuts
Cherry, Macaron, Sakuramochi
Projects
In this section I am listing the projects on this Wiki I am working on or have worked on.
Current
Adding missing Perfect orders, from any game I have (ongoing)
Finished
Holiday foods from the To Go! games, excluding Cupcakeria To Go! (collaboration with ChurroSalesman25 from the Forum), Sep-Dec 2020.
Twelve Fun Facts/Trivia about Me
While I did not really have any favourite customers playing the Flipline games for the first time, I remember I kind of liked Mandi (and obviously at the time I did not know she was the wife of one of the creators), as well as Big Pauly.
My Rubik's Cube personal best is 18.23 seconds (6 September 2020).
Never have I ever met a single person in real life who has heard of Battle for Dream Island (at least not to my knowledge), save for my sister who watched it because of me.
I used to be a Brony from when I was 15 until I was 18. I still occasionally listen to MLP songs or revisit some of my favourite fanart or fan animations.
In 2016 I thought of joining DeviantArt to upload Countryballs artwork and flag maps, and to comment on MLP art. I ultimately decided against this due to time constraints (Wikia was already enough of a distraction for me!).
I am allergic to cats. Within five minutes in a room full of cats I start sneezing.
I may be Korean but I personally do not like K-pop, so I had a hard time dealing with my sister during the first year and bit when she liked K-pop (I have, however, now grown more tolerant).
My very first Pokemon game ever was LeafGreen.
In high school I took International Baccalaureate (IB) courses. Looking back they were useless for the most part but I think Higher Level Maths and French were worth it.
Although my favourite NHL team is and will forever be the Montreal Canadiens, I had mad respect for the Detroit Red Wings when I was eight until I was ten, all because of one Stanley Cup victory (coincidentally the Red Wings happened to be a dynasty in its final years of glory at the time, which I did not know yet), and because the Canadiens did not really go too far in the playoffs.
I know how to play two instruments: piano since I was 4 (almost 5), guitar since I was 13.
I have never gone south of the Equator; Singapore is the closest I have ever been.
Personal Gallery
A gallery of either the shenanigans I encounter while playing the games or of my very few fan 'art.'
Picrew
Since August I have been making some of the customers in Picrew. I decided to share my best ones here.
Community content is available under
CC-BY-SA
unless otherwise noted.