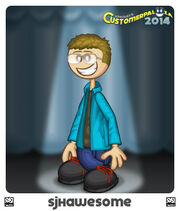 Sjhawesome talk 

00:41, June 1, 2014 (UTC)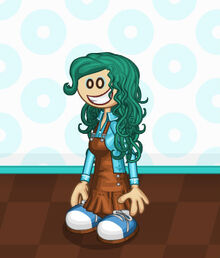 Hey! I am Sjhawesome and you are awesome. (Betcha didn't see that one coming, did you?)
My signature above is a shrine to Akari. I don't know why, but it is. So, yeah.
Stuff About Me
I have not been on this wiki in years
I am currently a college student (I created this in 7th grade)
I have no idea where my life is headed
Ranks on the Gamerias I am currently playing
I got a new computer, thus all my other ranks have become not accessible. The old ranks will stay thee for a bit and then I will record my ones that I have now.
Pancakeria: 1
Wingeria: 12
Hot Doggeria: 36
Cupcakeria: 3
Pastaria: 2
Donuteria: 26 (New Year)
Cheeseria: 32 (Halloween)
The custom worker above with the teal hair is my creation. Her name is Aquaria.
Other Games I like
Plants vs. Zombies 2
Subway Surfers
Minecraft (I wish I had it.)
My Singing Monsters
My Singing Monsters 2
Eliminated Characters on Total Drama Papa Louie (my show on my blog)
Season 1
Quinn Episode 1
Cooper Episode 2
Crystal Episode 3
Alberto Episode 4
Sienna and Brown the bear Episode 5
Kahuna Episode 6
Nick Episode 7
Bertha Episode 8
Rudy and Scarlett Episode 9
Quinn again Episode 10
Johnny Episode 11
Scooter Episode 12
Ninjoy Episode 13
Jojo Episode 14
Akari Episode 15
James is the winner of Season 1!
Season 2
Marty Episode 1
Iggy Episode 2
Cecilia Episode 3
Trishna Episode 4
Skyler Episode 5
Kenji Episode 6
Radlynn Episode 7
Greg Episode 8
Willow Episode 9
Sarge Fan Episode 10
Iggy again Episode 11
Deano Episode 12
Xolo and Xandra Episode 13
Olivia Episode 14
Robby Episode 15
Clover is the winner of Season 2!
Favorite and Least Favorite Customers
My favorite customers are:
My least favorite customers are:
My Orders
Pizzeria: 8 Pepperoni, 8 slices
Pizzeria To Go: 8 Pepperoni, 8 Ham, 8 slices
Burgeria: Bun, BBQ, Burger, Onion, Lettuce, Bun
Burgeria HD and To Go: Bun, Burger, BBQ, Bacon, Onion, Lettuce, Bun
Taco Mia: Pork in a Pita with Lettuce
Freezeria: Medium Creameo and Vanilla, with Whipped Cream, Chocolate Chips, Nuts, and a Cookie
Freezeria HD: Medium Fudge Brownie and Pumpkin Pie, with Whipped Cream, Chocolate Chips, Coconut Shavings, and a Creameo
Freezeria To Go: Medium Creameo Bits and Pumpkin Pie, with Whipped Cream, White Chocolate Topping, Nuts, and Creameo
Pancakeria: 2 Chocolate Chip French Toasts, with Maple Syrup, Powdered Sugar, and Chocolate Chips, and 3 Bananas. Drink: Small Cranberry Juice with Ice
Wingeria and Wingeria HD: 6 BBQ Boneless, 2 Wild Onion Boneless, with Celery, and Awesome Sauce Dip
Hot Doggeria: Pretzel Bun and Veggie Dog, with Onions, Chili, and Marinara Sauce with a Large Lemon Mist and a Medium Cinnamon Swirl
Community content is available under
CC-BY-SA
unless otherwise noted.