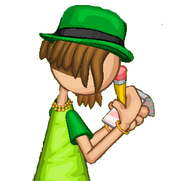 T
his blog lists all of customers' missing order text, you can quickly to search it and add it to customer's article page. Make sure to follow the formatting!
(Note: This blog doesn't include order text which needs to be corrected).
Pizzeria HD
Allan
Austin
Boomer
Captain Cori
Carlo Romano (Holiday)
Cecilia
Chuck (Holiday)
Clair (Holiday)
Cletus
Clover
Doan
Edna
Edoardo Romano
Emmlette (Holiday)
Franco (Holiday)
Georgito (Holiday)
Gino Romano (Holiday)
Hugo (Holiday)
Johnny (Holiday)
Lisa (Holiday)
Maggie
Mandi (Holiday)
Marty (Holiday)
Mary
Matt
Mayor Mallow
Nevada
Nick
Olga (Holiday)
Olivia (Holiday)
Penny
Perri
Professor Fitz
Rhonda
Rico
Rita (Holiday)
Santa (Regular)
Scooter (Holiday)
Shannon
Sue
Taylor
Trishna
Utah
Vicky
Wendy
Willow (Regular)
Wylan B
Zoe
Community content is available under
CC-BY-SA
unless otherwise noted.