Roblox: DeepWoken - The Loop
Play Sound
Valentine's Day
Preceding Holiday
New Year
Following Holiday
St. Paddy's Day (all except Sushiria/To Go!, Pizzeria HD, Scooperia/HD/To Go!, and Cheeseria To Go!)
Lucky Lucky Matsuri (Sushiria/To Go!, Pizzeria HD)
Holi (Scooperia/HD/To Go!, Cheeseria To Go!)
Unlocked with
Scarlett (all except Cheeseria/To Go!)
Greg (Cheeseria/To Go!)

Valentine's Day is a holiday celebrated in many of Papa Louie's restaurant-time management games starting with Papa's Cupcakeria. When a player reaches this holiday in any of the games below, the following characters make their first appearance as well:
The "Playing Cupid" achievement is earned when all of the Valentine's Day exclusive ingredients are unlocked.
Customers bring in roses, while Scarlett brings in a bow from Jacksmith to celebrate the holiday.
Customers who favor this holiday
Valentine's Day Cupcake Liners

Liner A (Pink/Black Plaid)
Liner B (Pink/Brown Stripes)
Liner C (White/Red Hearts)
Liner D (Cheetah Print)
Valentine's Day-Exclusive Ingredients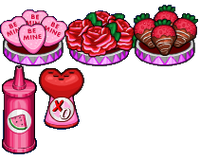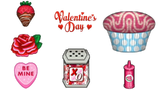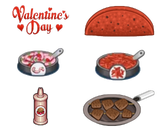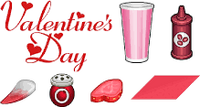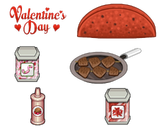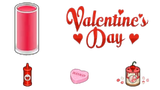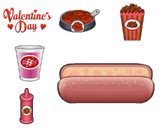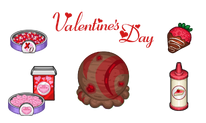 Trivia
Gallery
Holiday Pictures
Locations during Valentine's Day
Posters
Appears in
Picture
Bonus
Points
Theme
Cost
Papa's Cupcakeria To Go!/HD

Papa's Pancakeria To Go!

Papa's Scooperia HD/To Go!

Papa's Bakeria To Go!

Papa's Sushiria To Go!


Papa's Mocharia To Go!

Waiting Bonus
20 points
Won in Pizza Pachinko (Cupcakeria)

Won in Mitch's Mess (Papa's Donuteria/Pancakeria to Go!)

Won in Slider Escape (Scooperia HD/To Go!)

$45.00 (Bakeria To Go!/Mocharia To Go!)

Won in Rico's Chiliworks (Sushiria To Go!)
Papa's Cupcakeria

Papa's Pastaria

Papa's Donuteria

Papa's Cheeseria

Papa's Pancakeria HD

Papa's Taco Mia HD/To Go!

Papa's Hot Doggeria HD

Papa's Scooperia

Waiting Bonus
20 points
Won in Mitch's Mess (Cupcakeria HD/Donuteria)

Won in Grab-a-Roni Gondola (Pastaria)

Won in Hallway Hunt (Taco Mia HD/Pancakeria HD)

Won in Home Run Derby (Hot Doggeria HD)

Won in Rico's Chiliworks (Taco Mia To Go!)

$45.00 (Cheeseria)

Won in Slider Escape (Scooperia)
v • e

Holidays

Valentine's Day • St. Paddy's Day • Easter • OnionFest • Summer Luau • Starlight Jubilee • Baseball Season • Pirate Bash • Halloween • Thanksgiving • Christmas • New Year
Chilifest • Summer Luau • Starlight Jubilee • Neptune's Feast • Gondola 500 • Halloween • Thanksgiving • Christmas • New Year • Valentine's Day • St. Paddy's Day • Romano Wedding
Maple Mornings • Halloween • Thanksgiving • Christmas • New Year • Valentine's Day • St. Paddy's Day • Easter • Big Top Carnival • Summer Luau • Starlight Jubilee • Sky Ninja Returns
Cinco de Mayo • Summer Luau • Starlight BBQ • Portallini Feast • Maple Mornings • Halloween • Thanksgiving • Christmas • New Year • Valentine's Day • St. Paddy's Day • Easter
Valentine's Day • St. Paddy's Day • Easter • Cinco de Mayo • Summer Luau • Starlight Jubilee • Big Top Carnival • Comet Con • Halloween • Thanksgiving • Christmas • New Year
Valentine's Day • St. Paddy's Day • Easter • Cherry Blossom Festival • Summer Luau • Starlight Jubilee • Sugarplex Film Fest • Maple Mornings • Halloween • Thanksgiving • Christmas • New Year
New Year • Valentine's Day • St. Paddy's Day • Easter • Cherry Blossom Festival • Summer Luau • Starlight Jubilee • Comet Con • Grōōvstock • Halloween • Thanksgiving • Christmas
Starlight BBQ • Portallini Feast • Maple Mornings • Halloween • Thanksgiving • Christmas • New Year • Valentine's Day • St. Paddy's Day • Easter • Cherry Blossom Festival • Summer Luau
Cherry Blossom Festival • Cinco de Mayo • Summer Luau • Starlight BBQ • BavariaFest • Maple Mornings • Halloween • Thanksgiving • Christmas • New Year • Valentine's Day • Lucky Lucky Matsuri
Starlight BBQ • BavariaFest • Maple Mornings • Halloween • Thanksgiving • Christmas • New Year • Valentine's Day • St. Paddy's Day • Easter • Big Top Carnival • Summer Luau
Summer Luau • Starlight Jubilee • Sugarplex Film Fest • Grōōvstock • Halloween • Thanksgiving • Christmas • New Year • Valentine's Day • St. Paddy's Day • Easter • Cinco de Mayo
Thanksgiving • Christmas • New Year • Valentine's Day • Lucky Lucky Matsuri • Easter • Cinco de Mayo • Summer Luau • Starlight BBQ • BavariaFest • Maple Mornings • Halloween
Cherry Blossom Festival • Summer Luau • Starlight BBQ • Comet Con • Sugarplex Film Fest • Halloween • Thanksgiving • Christmas • New Year • Valentine's Day • St. Paddy's Day • Easter
Cinco de Mayo • Summer Luau • Starlight BBQ • Grōōvstock • Maple Mornings • Halloween • Thanksgiving • Christmas • New Year • Valentine's Day • St. Paddy's Day • Easter
Holi • Cherry Blossom Festival • OnionFest • Summer Luau • Starlight Jubilee • Baseball Season • Big Top Carnival • Halloween • Thanksgiving • Christmas • New Year • Valentine's Day
Holi • Cherry Blossom Festival • OnionFest • Summer Luau • Starlight Jubilee • Baseball Season • Big Top Carnival • Halloween • Thanksgiving • Christmas • New Year • Valentine's Day
Holi • Easter • Cinco de Mayo • Summer Luau • Starlight Jubilee • Baseball Season • Big Top Carnival • Halloween • Thanksgiving • Christmas • New Year • Valentine's Day
Summer Luau • Starlight Jubilee • BavariaFest • Pirate Bash • Halloween • Thanksgiving • Christmas • New Year • Valentine's Day • St. Paddy's Day • Cherry Blossom Festival • Cinco de Mayo
OnionFest • Summer Luau • Starlight BBQ • BavariaFest • Maple Mornings • Halloween • Thanksgiving • Christmas • New Year • Mardi Gras • Lucky Lucky Matsuri • Big Top Carnival
Maple Mornings • Halloween • Thanksgiving • Christmas • New Year • Mardi Gras • St. Paddy's Day • Easter • Sugarplex Film Fest • Summer Luau • Starlight Jubilee • Sky Ninja Returns
Cinco de Mayo • Summer Luau • Starlight BBQ • Portallini Feast • Pirate Bash • Halloween • Thanksgiving • Christmas • New Year • Valentine's Day • Holi • Easter
New Year • Valentine's Day • St. Paddy's Day • Easter • Big Top Carnival • Summer Luau • Starlight Jubilee • Sugarplex Film Fest • Grōōvstock • Halloween • Thanksgiving • Christmas
Cherry Blossom Festival • Cinco de Mayo • Summer Luau • Starlight BBQ • Portallini Feast • Comet Con • Halloween • Thanksgiving • Christmas • New Year • Valentine's Day • Lucky Lucky Matsuri
Chilifest • Summer Luau • Starlight Jubilee • Neptune's Feast • Gondola 500 • Halloween • Thanksgiving • Christmas • Lunar New Year • Mardi Gras • St. Paddy's Day • Romano Wedding
Halloween • Thanksgiving • Christmas • New Year • Valentine's Day • St. Paddy's Day • Cherry Blossom Festival • Cinco de Mayo • Summer Luau • Starlight Jubilee • Grōōvstock • Sugarplex Film Fest
Papa's Cluckeria To Go!
Day of the Dead