Dead Cells Final DLC - The Loop
Play Sound
Vicky is a female customer who made her first appearance in Papa's Burgeria.
Flipdeck Info
Hometown: Tastyville
Loves: Cloudberries
Hates: Rainy Days
Occupation: Beautician
Vicky is the co-owner of Cloudberry Beauty Salon in Tastyville. Most of her time is spent performing a wide variety of beauty treatments on her clients. Vicky receives rave reviews for her perfect pedicures and fantastic facials. However, her true passion is makeup and beauty tips; an area of the salon that is still, for some reason, struggling to build a large client base.
Appearance
Vicky has fair skin, large build, short blonde hair, rosy cheeks, and light blue eyeshadow. She wears a purple collared, long-sleeved shirt with side pockets, and sky blue and white trims, light blue pants with purple side-stripe, white shoes with purple laces and black soles, and a purple headband adorned by a small, sky blue bow.
Clean-Up
Her hair and clothing are more detailed.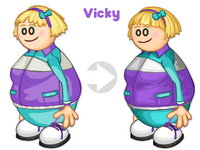 Styles
Style B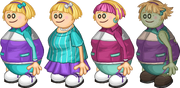 Vicky wears a sky blue shirt with white, thin vertical stripes, a bright purple skirt, a white beaded necklace, and a purple headband adorned by a small white bow.
Style C (Papa Louie 3)
Vicky dyed her bangs in hot pink, and she now has thunder highlights in her hair. She wears a magenta shirt with cyan pockets and a white trim, cyan pants with a magenta stripe, and cyan earrings.
Zombie Outfit
Vicky has zombie-green skin and messy hair. She wears her Style A, but with tattered clothing: her sleeves are ripped off and the bow on her headband fell, darker shading, and black moccasins with zombie-green laces and black soles.
Orders
Bottom Bun
Lettuce
Tomato
Cheese
Medium Patty
Cheese
Mayo
Lettuce
Top Bun
Soft Taco with Beef
Sour Cream
Pinto Beans
Onions
Lettuce
Medium Cup
Pineapple
Rainbow Sherbet Syrup
Smooth Blend
Whipped Cream
Blueberry Topping
Tropical Charms
Cherry, 2 Bananas
Blueberry Pancake
4 Strawberries
Blueberry Pancake
4 Bananas
Blueberry Pancake
Blueberry Syrup
Drink:
Bottom Bun
Lettuce
Tomato
American Cheese
Medium Patty
American Cheese
Mayo
Top Bun
4 Parmesan Chicken Wings (all)
2 Calypso Boneless Wings (left)
4 Red Peppers (left)
4 Cheese Cubes (right)
Mango Chili Dip
Ranch Dip
Mango Chili Dip
Cheddarwurst on a Pumpernickel Bun
Onions
Salsa
Wild Onion Sauce
Ketchup
Bacon
Drink and Popcorn:

Medium Purple Burple
Medium Cotton Puffs
Bottom Bun
Fried Egg
Tomato
American Cheese
Medium Patty
American Cheese
Mayo
Top Bun
Liner A
Blueberry Cake
Cupcake 1:

Pink Frosting
Vanilla Drizzle
Rainbow Sprinkles
Lollipop Bits
Cloudberry, Cherry, Cloudberry

Cupcake 2:

Teal Frosting
Vanilla Drizzle
Rainbow Sprinkles
Rock Candy
Cloudberry, Cherry, Cloudberry
Holiday (Easter)
Liner A
Blueberry Cake
Cupcake 1:

Pink Frosting
Vanilla Drizzle
Rainbow Sprinkles
Lollipop Bits
Bunny Ear Candy, Cherry, Bunny Ear Candy

Cupcake 2:

Teal Frosting
Cotton Candy Drizzle
Rainbow Sprinkles
Rock Candy
Candy Egg, Cherry, Candy Egg
Medium Cup
Cotton Puffs
Blue Moon Syrup
Smooth Blend
Whipped Cream
Blueberry Syrup
Tropical Charms
Cloudberry, Cherry, Cloudberry
Al Dente Radiatori
Beefy Bolognese
Grated Mozerella
5 Tomatoes
4 Chickens
Focaccia
Holiday (Valentine's Day)
Al Dente Radiatori
Heartbeet Arrabbiata
Grated Mozzarella
5 Cherry Tomatoes
4 Chickens
Focaccia
Large Cup
Pineapple
Cotton Candy Syrup
Regular Blend
Strawberry Fluff
White Chocolate Syrup
Cloudberry, Cherry, Cloudberry
Regular Ring Donut with Whipped Cream

Powdered Sugar
Chocolate Drizzle

Regular French Cruller with Whipped Cream

Cinnamon Sugar
Mini Mallows

Regular Round Donut with Strawberry Jelly

Vanilla Icing
Cosmic Coconut
Rock Candy
Holiday (Valentine's Day)
Regular Ring Donut with Whipped Cream

Powdered Sugar
Neapolitan Drizzle

Regular French Cruller with Whipped Cream

Cinnamon Sugar
Red Cinnamon Drizzle
Mini Mallows

Regular Heart Donut with Bubblegum Cream

Valentine Powder
Cupidberry Derps
4 Parmesan Wings (all)
2 Calypso Boneless Wings (left)
4 Red Peppers (left)
4 Potato Skins (right)
2 Mango Chili Dips
Ranch Dip
8 Prosciutto (all)
4 Onions (left)
6 Banana Peppers (right)
Regular Bake
6 Slices
Pumpernickel with Havarti Cheese
Regular Grill
Sliced Salami
Sliced Ham
Corned Beef
Tomatoes
Wild Onion Sauce
Fries:

Sweet Potato Wedges
Nacho Sauce
Bacobites
Holiday (Easter)
Paska Bread with Sirecz Cheese
Regular Grill
Sliced Salami
Sliced Ham
Corned Beef
Tomatoes
Wild Onion Sauce
Fries:

Sweet Potato Wedges
Nacho Sauce
Bacobites
Liner A
Blueberry Cake
Cupcake 1:

Pink Frosting
Apricot Drizzle
Rainbow Sprinkles
Lollipop Bites
Cloudberry

Cupcake 2:

Teal Frosting
Blue Moon Drizzle
Rainbow Sprinkles
Rock Candy
Cloudberry
Holiday (Easter)
Liner A
Blueberry Cake
Cupcake 1:

Pink Frosting
Wildberry Shake Drizzle
Rainbow Sprinkles
2 Bunny Ear Candies

Cupcake 2:

Teal Frosting
Blue Moon Drizzle
Rainbow Sprinkles
Rock Candy
Candy Egg
Liner A
Blueberry Cake
Cupcake 1:

Pink Frosting
Strawberry Drizzle
Rainbow Sprinkles
2 Cloudberries

Cupcake 2:

Teal Frosting
Blue Moon Drizzle
Rainbow Sprinkles
Rock Candy
Cherry
Holiday (Easter)
Liner A
Blueberry Cake
Cupcake 1:

Pink Frosting
Cotton Candy Drizzle
Rainbow Sprinkles
2 Bunny Ear Candies

Cupcake 2:

Teal Frosting
Blue Moon Drizzle
Rainbow Sprinkles
Rock Candy
Candy Egg
Graham Cracker Crust
Banana Filling
Pineapple Filling
Cheesecake Filling
Cheesecake Filling
Meringue Topping
Crushed Wafers (All Over)
Crushed Peanuts (All Over)
Citrus Zest (All Over)
Holiday (Easter)
Graham Cracker Crust
Banana Filling
Jellybean Jam
Cheesecake Filling
Cheesecake Filling
Meringue Topping
Crushed Wafers (All Over)
Crushed Peanuts (All Over)
Citrus Zest (All Over)
Soft Taco with Beef
Sour Cream
Refried Beans
Onions
Lettuce
Chips:

Nacho Cheese Chips
Roasted Chili-Corn Salsa
Holiday (Easter)
Speckled Taco with Beef
Blackberry Remoulade
Spring Coleslaw
Onions
Lettuce
Chips:

Nacho Cheese Chips
Roasted Chili-Corn Salsa
Momoiro Soy Paper with Black Rice
Not Flipped
Yum Yum Sauce
Bubble Tea:

Taro Tea with Cotton Candy Bubbles
Holiday (Cinco de Mayo)
Tortilla with Black Rice
Not Flipped
Nacho Cheese
Bubble Tea:

Taro Tea with Cotton Candy Bubbles
Blueberry Pancake
4 Strawberries
Blueberry Pancake
4 Bananas
Blueberry Pancake
Blueberry Syrup
Drink:
Holiday (Easter)
Blueberry Pancake
4 Strawberries
Blueberry Pancake
4 Bananas
Blueberry Pancake
Cotton Candy Drizzle
Drink:
Thick Crust
Rustic Romana with Papa's Cheese Blend
8 Prosciutto (All)
4 Onions (Left)
6 Pimento Olives (Right)
Regular Bake
6 Slices
Holiday (BavariaFest)
Thick Crust
Rustic Romana with Papa's Cheese Blend
8 Schnitzels (All)
4 Onions (Left)
6 Pimento Olives (Right)
Regular Bake
6 Slices
Cheddarwurst on a Hoagie Roll
Onions
Salsa
Wild Onion Sauce
Ketchup
Bacon
Drink and Popcorn:

Medium Purple Burple
Medium Candy Jack
Holiday (Easter)
Cheddarwurst on a Paska Bun
Onions
Salsa
Wild Onion Sauce
Blackberry Remoulade
Bacon
Drink and Popcorn:

Medium Purple Burple
Medium Cotton Puffs
Snickerdoodle Cookie with Pomegranate
Lemon Crinkle Cookie with Citrus Zest

Watermelon Chip Ice Cream

Snickerdoodle Cookie with Blueberries
Whipped Cream
Rock Candy
Strawberry Syrup
Banana
Cherry, Ladyfinger, Cherry
Holiday (Big Top Carnival)
Snickerdoodle Cookie with Pomegranate
Lemon Crinkle Cookie with Lollipop Bits

Watermelon Chip Ice Cream

Snickerdoodle Cookie with Blueberries
Whipped Cream
Rock Candy
Cotton Candy Syrup
Banana
Cherry, Ladyfinger, Cherry
Blueberry Pancake
4 Strawberries
Blueberry Pancake
4 Bananas
Blueberry Pancake
Blueberry Syrup
Drink:
Holiday (Cherry Blossom Festival)
Blueberry Pancake
4 Strawberries
Blueberry Pancake
4 Wasanbon Blossoms
Blueberry Pancake
Kuromitsu Drizzle
Drink:
2 Parmesan Chicken Wings (All)
2 Calypso Boneless Wings (All)
2 Red Peppers (All)
Blackberry Remoulade
Holiday (Big Top Carnival)
2 Parmesan Chicken Wings (All)
2 Salted Caramel Boneless Wings (All)
2 Red Peppers (All)
Blackberry Remoulade
Regular Round Donut

Powdered Sugar
Chocolate Drzzle

Regular French Cruller with Boston Cream

Cinnamon Sugar
Sugarplum Drizzle
Mini Mallows

Regular Ring Donut
Holiday (Mardi Gras)
Regular Round Donut

Powdered Sugar
Chocolate Drzzle

Regular French Cruller with Praline Sauce

Cinnamon Sugar
Purple Burple Drizzle
Fleur De Lis Sprinkles

Regular King Cake Donut
Pumpernickel with Havarti Cheese
Regular Grill
Sliced Salami
Sliced Ham
Corned Beef
Tomato
Wild Onion Sauce
Fries

Sweet Potato Fries
Nacho Cheese
Bacobites
Holiday (Easter)
Paska Bread with Sirecz Cheese
Regular Grill
Sliced Salami
Sliced Ham
Corned Beef
Tomato
Wild Onion Sauce
Fries

Sweet Potato Fries
Hollandaise Sauce
Bacobites
Al Dente Radiatori
Beefy Bolognese
Grated Mozerella
5 Tomatoes
4 Chickens
Focaccia
Holiday (Mardi Gras)
Al Dente Radiatori
Zydeco Gumbo
Grated Mozzarella
5 Tomatoes
4 Gator Bites
Focaccia
Large Cup
2 shots of Cold Blueberry Milk
3 shots of City Roast
Ice Cubes
Moon Mist Cream
Cinnamon Sugar
Citrus Zest
Cannoli:

Classic Cannoli Shell
Moon Mist Cream
Toasted Coconut
Holiday (Valentine's Day)
Large Cup
2 shots of Cold Lollipop Milk
3 shots of City Roast
Ice Cubes
Neapolitan Cream
Cinnamon Sugar
X and O Sprinkles
Cannoli:

Cupid Cannoli Shell
Neapolitan Cream
Toasted Coconut
Ranks required to unlock her
Unlockables
Stickers
| Sticker Number | Name | Achievement | Sticker Earned |
| --- | --- | --- | --- |
| 30 | Month's Pay | Receive your wages on four Pay Days | |
| 85 | Stubborn Plumber | Try to click 20 different red pipes in Rico's Chiliworks | |
| 6 | Playing Cupid | Unlock all Valentine's Day toppings | |
| Sticker Number | Name | Achievement | Sticker Earned |
| --- | --- | --- | --- |
| 73 | Vicky Verde | Add Verde Sauce to Vicky's taco | |
| 3 | Spring has Sprung | Reach Spring | |
| 13 | Go Green | Unlock all St. Paddy's Day toppings | |
| Sticker Number | Name | Achievement | Sticker Earned |
| --- | --- | --- | --- |
| 1 | Summer Vacation | Reach Summer | |
| 22 | Silver Medal | Earn 10 Silver Customer Awards | |
| 85 | Stubborn Plumber | Try to click 20 different red pipes in Rico's Chiliworks | |
| Sticker Number | Name | Achievement | Sticker Earned |
| --- | --- | --- | --- |
| 50 | Recipe Master | Master a Special Recipe by earning 5 Special Stars | |
| 16 | Desayuno de Mayo | Unlock all Cinco de Mayo toppings | |
| 67 | Lumberjack Johnny | Serve a Lumberjack Toast Special to Johnny | |
| Sticker Number | Name | Achievement | Sticker Earned |
| --- | --- | --- | --- |
| 67 | The B-L-Tohru | Serve the BLT Special to Tohru | |
| 56 | Meat Master | Unlock all of the Standard Meat toppings | |
| 16 | Trick or Treat | Unlock all Halloween toppings | |
| Sticker Number | Name | Achievement | Sticker Earned |
| --- | --- | --- | --- |
| 51 | Super Special | Master 10 Special Recipes by earning 5 Stars on each | |
| 15 | Go Green | Unlock all St. Paddy's Day toppings | |
| 71 | South of the Border | Add Southwest Sauce to Timm's order | |
| Sticker Number | Name | Achievement | Sticker Earned |
| --- | --- | --- | --- |
| 46 | Special Collector | Earn 5 Special Recipes from customers | |
| 20 | Bronze Beginning | Earn 5 Bronze Customer Awards | |
| 42 | Costumed Closers | Serve all of the Costumed Closers during Halloween | |
| Sticker Number | Name | Achievement | Sticker Earned |
| --- | --- | --- | --- |
| 47 | Special Collector | Earn 5 Special Recipes from customers | |
| 20 | Bronze Beginning | Earn 5 Bronze Customer Awards | |
| 42 | Costumed Closers | Serve all of the Costumed Closers during Halloween | |
| Sticker Number | Name | Achievement | Sticker Earned |
| --- | --- | --- | --- |
| 41 | The Gang's All Here | Serve all of the customers! | |
| 76 | Spooktacular | Serve 20 customers during Halloween wearing any Halloween clothing | |
| 8 | Breakfast Ahoy | Unlock all Pirate Bash toppings | |
| Sticker Number | Name | Achievement | Sticker Earned |
| --- | --- | --- | --- |
| 16 | Carnival Food | Unlock all Big Top Carnival toppings | |
| 58 | No Bones About It | Serve 30 orders with Boneless Wings | |
| 5 | Onion Wrangler | Unlock all Onionfest toppings | |
| Sticker Number | Name | Achievement | Sticker Earned |
| --- | --- | --- | --- |
| 3 | Spring Has Sprung | Reach Spring | |
| 80 | Wrong Restaurant | Serve Roy while wearing a Pizzeria Polo and Pizzeria Cap | |
| 71 | Rosey Roy | Use Red Rose Icing on one of Roy's donuts | |
| Sticker Number | Name | Achievement | Sticker Earned |
| --- | --- | --- | --- |
| 16 | Easter Basket | Unlock all Easter toppings | |
| 1 | Summer Vacation | Reach Summer | |
| 61 | Hacky Hamwich | Serve a Hot Hamwich Special to Hacky Zak | |
| Sticker Number | Name | Achievement | Sticker Earned |
| --- | --- | --- | --- |
| 75 | Banana For Fernanda | Use Banana Filling and Banana Slices on Fernanda's pie | |
| 50 | Recipe Master | Master a Special Recipe by earning 5 Special Stars | |
| 5 | New Year Baking | Unlock all New Year toppings | |
| Sticker Number | Name | Achievement | Sticker Earned |
| --- | --- | --- | --- |
| 70 | Timmpura | Add Shrimp Tempura and Tempura Crunch to Timm's Sushi | |
| 36 | New Coat of Paint | Buy any 4 Flooring or Wallpaper from the Shop | |
| 5 | Springime Sushi | Unlock all Cherry Blossom Festival toppings | |
| Sticker Number | Name | Achievement | Sticker Earned |
| --- | --- | --- | --- |
| 16 | Wedding Reception | Unlock all Romano Wedding toppings | |
| 44 | Grand Prize Winner | Earn 5 Prizes or more in each of Foodini's Mini-Games | |
| 61 | Boomer Bianca | Serve a Beefy Bianca Special to Boomer | |
| Sticker Number | Name | Achievement | Sticker Earned |
| --- | --- | --- | --- |
| 54 | Best Barista | Unlock all of the Standard Espressos and Dairy | |
| 46 | Rare Reward | Win a Rare Bonus Prize in a Mini-Game by earning a Star Medal | |
| 8 | Happy New Year | Unlock all New Year toppings | |
Earn all three stickers in either game to get this outfit: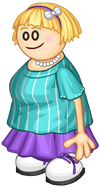 Papa's Next Chefs
| Rescued at | Needs | Special Skill | Weapon | Styles |
| --- | --- | --- | --- | --- |
| Level 6: Mintley Meadow | None | Ground Pound | Perfume Bombs (Thrown) | |
Trivia
Order Tickets
Gallery
Prepared Orders
Perfect Orders
Promotional Images
Holiday Pictures
Others
Fan Art