Fire Emblem Warriors: Three Hopes - The Loop
Play Sound
Wally is a male customer who made his first appearance in Papa Louie: When Pizzas Attack!.
Flipdeck Info
Hometown: Tastyville
Occupation: Retired
Loves: Anchovies
Hates: Computers
Wally is one of Papa Louie's original customers. He quietly lives in an apartment above Papa's Pizzeria. Wally's all time favorite topping is anchovies. If he could, Wally would order a double anchovy burger in Papa's Burgeria. For now, he will have to stick with pizzas to get his fishy fix.
Appearance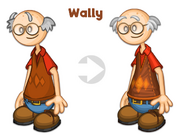 Wally is an elderly man with light skin and light gray hair. He has a large bald spot and bushy eyebrows. He wears a pair of brown eyeglasses, a red shirt under a dark brown vest with light brown diamonds, a black belt with a golden buckle, blue pants, and brown shoes with brown laces and soles.
Clean-Up
His bald spots are lighter and his hair is whiter. His vest and pants are more detailed.
Styles
Style B

He wears a blue fishing hat tied in a black lace and a small fish logo in the middle, orange shirt, khaki brown vest with pockets and black buttons, brown pants, and gray shoes with brown soles and blue laces.
Style H
He wears a white toga, a golden laurel crown, golden sash, and golden cuffs during Neptune's Feast.
St. Paddy's Day Outfit
He wears his Style B outfit, except that his hat, shirt, and shoelaces are green. His hat now has "7 7 7" printed on it.
OnionFest Outfit
He wears purple glasses with army green details over them, a purple shirt under an army green vest with an olive-green collar and stitches, bottom rim, and arrows pointing to his waist. He also wears purple pants with a black belt with a golden buckle, and black shoes with green laces and brown soles.
Zombie Outfit
He has zombie-green skin and his hair is a bit fluttery. He wears his Style A, except with tattered clothes, a bit darker shading, shattered lens in his glasses, and black moccasins with zombie-green laces and black soles.
Orders
8 Anchovies (all)
15 minutes (1/4 of meter)
8 Slices
Bottom Bun
Medium Patty
Mayo
Lettuce
Onion
Mayo
Top Bun
Soft Taco with Chicken
Mild Sauce
Onions
White Rice
Tomatoes
Mild Sauce
Medium Cup
Blueberries
Vanilla Syrup
Regular Blend
Whipped Cream
Strawberry Topping
Nuts
Cherry
Blueberry Waffle
Cinnamon
Blueberries
Blueberry Waffle
Cinnamon
Blueberries
Drink:
4 Teriyaki Shrimps (all)
4 Calypso Shrimps (all)
8 Celeries (all)
Kung Pao Dip
Kielbasa on a Chicago Bun
Relish
Pineapple Relish
Mayo
Drink and Popcorn:

Medium Diet Fizzo
Small Kettle Corn
Liner B
Blueberry Cake
Cupcake 1:

Dark Blue Frosting
Rock Candy
Shaved Coconut
Marshmallow

Cupcake 2:

Teal Frosting
Rock Candy
Shaved Coconut
Marshmallow
Holiday (Pirate Bash)
Liner B
Blueberry Cake
Cupcake 1:

Dark Blue Frosting
Rock Candy
Shaved Coconut
3 Gummy Krakens

Cupcake 2:

Teal Frosting
Blueberry Wave Drizzle
Shaved Coconut
Gummy Kraken, Marshmallow, Gummy Kraken
Medium Cup
Blueberries
Powsicle Syrup
Regular Blend
Whipped Cream
Strawberry Topping
Nuts
Cherry
Al Dente Ravioli
Creamy Alfredo Sauce
7 Shrimps
Cheesy Bread
Holiday (Neptune's Feast)
Al Dente Crab Mezzelune
Venetian Vongole
4 Shrimps
5 Anchovies
Cheesy Bread
Medium Cup
Blueberries
Powsicle Syrup
Regular Blend
Whipped Cream
Strawberry Topping
Sugarplum Topping
Nuts
Cherry
Regular Ring Donut with Blueberry Custard

Sky Blue Icing
Vanilla Drizzle

Blueberry Round Donut with Whipped Cream

Vanilla Icing
Crushed Peanuts

Regular French Cruller

Strawberry Icing
Sugarplum Drizzle
Cosmic Coconut
Holiday (Starlight Jubilee)
Regular Ring Donut with Blueberry Custard

Starlight Icing
Powsicle Drizzle

Blueberry Star Donut with Whipped Cream

Vanilla Icing
Crushed Peanuts

Regular French Cruller

Strawberry Icing
Sugarplum Drizzle
Cosmic Coconut
8 Anchovies (all)
Regular Bake
Square Cut
Sourdough Bread with Havarti Cheese
Light Grill
Corned Beef
Sauteed Onions
Corned Beef
Fries:

Waffle Fries
Ranch
Sour Cream
Holiday (Christmas)
Sourdough Bread with Havarti Cheese
Light Grill
Corned Beef
Sauteed Onions
Corned Beef
Cranberry Chutney
Fries:

Waffle Fries
Ranch
Sour Cream
Liner B
Blueberry Cake
Cupcake 1:

Dark Blue Frosting
Rock Candy
Shaved Coconut
Marshmallow

Cupcake 2:

Teal Frosting
Rock Candy
Shaved Coconut
Marshmallow
Holiday (Summer Luau)
Liner B
Blueberry Cake
Cupcake 1:

Dark Blue Frosting
Rock Candy
Shaved Coconut
Gummy Pineapple

Cupcake 2:

Teal Frosting
Honey Drizzle
Shaved Coconut
Paper Umbrella
Liner B
Blueberry Cake
Cupcake 1:

Dark Blue Frosting
Rock Candy
Shaved Coconut
Marshmallow

Cupcake 2:

Teal Frosting
Rock Candy
Shaved Coconut
Marshmallow
Holiday (Summer Luau)
Liner B
Seafoam Cake
Cupcake 1:

Dark Blue Frosting
Rock Candy
Shaved Coconut
Gummy Pineapple

Cupcake 2:

Teal Frosting
Lemonade Drizzle
Shaved Coconut
Paper Umbrella
Chocolate Chip Crust
Blueberry Filling
Blueberry Filling
Cheesecake Filling
Cheesecake Filling
Vented Crust
Whipped Cream (Outer Ring)
Crushed Peanuts (Outer Ring)
8 Blueberry Pie-Tarts (Inner Ring)
Holiday (Starlight Jubilee)
Chocolate Chip Crust
Blueberry Filling
Blueberry Filling
Cheesecake Filling
Cheesecake Filling
Vented Crust
Rocket Whip (Outer Ring)
Crushed Peanuts (Outer Ring)
8 White Chocolate Stars (Inner Ring)
Soft Taco with Chicken
Mild Sauce
Onions
White Rice
Tomatoes
Mild Sauce
Chips:

Traditional Chips
Nacho Cheese
Holiday (Easter)
Soft Taco with Battered Perch
Blackberry Remoulade
Onions
White Rice
Tomatoes
Mild Sauce
Chips:

Traditional Chips
Nacho Cheese
Momoiro Soy Paper with White Rice
Not Flipped
Saba
Teriyaki Sauce
Tobiko
Bubble Tea:

Blueberry Tea with Lychee Bubbles
Holiday (New Year)
Rainbow Soy Paper with White Rice
Not Flipped

Shrimp Tempura
Salmon
Rainbow Yokan

Saba
Teriyaki Sauce
Tobiko
Bubble Tea:

Blueberry Tea with Lychee Bubbles
Soft Taco with Chicken
Mild Sauce
Onions
White Rice
Tomatoes
Mild Sauce
Chips:

Chili Lime Tortillas
Nacho Cheese
Holiday (Easter)
Soft Taco with Battered Perch
Blackberry Remoulade
Onions
White Rice
Tomatoes
Mild Sauce
Chips:

Chili Lime Tortillas
Nacho Cheese
Blueberry Waffle
Cinnamon
Blueberries
Blueberry Waffle
Cinnamon
Blueberries
Drink:
Holiday (Summer Luau)
Blueberry Waffle
Toasted Coconut
Blueberries
Blueberry Waffle
Toasted Coconut
Blueberries
Drink:
Crispy Crust
Creamy Garlic Sauce with Provolone Cheese
8 Anchovies (all)
4 Smoked Salmon (all)
Regular Bake
Square Cut
Holiday (Valentine's Day)
Crispy Crust
Creamy Garlic Sauce with Provolone Cheese
8 Anchovies (all)
4 Ricotta Balls (all)
Regular Bake
Square Cut
Kielbasa on a Chicago Bun
Relish
Pineapple Relish
Mayo
Drink and Popcorn:

Medium Diet Fizzo
Small Kettle Corn
Holiday (Comet Con)
Kielbasa on a Chicago Bun
Relish
Space Ration ZX85
Mayo
Pulsar Pesto
Drink and Popcorn:

Medium Diet Fizzo
Small Kettle Corn
Kielbasa on a Chicago Bun
Relish
Pineapple Relish
Mayo
Drink and Popcorn:

Medium Diet Fizzo
Small Kettle Corn
Holiday (Grōōvstock)
Kielbasa on a Chicago Bun
Relish
Kale
Mayo
Karmic Korma Sauce
Drink and Popcorn:

Medium Diet Fizzo
Small Kettle Corn
Oatmeal Cookie with Blueberries
Traditional Cookie with Blueberries
Snickerdoodle Cookie with Blueberries
Strawberry Syrup
Rock Candy
Peanuts
Macaron, Cherry, Sugarplum
Holiday (Starlight Jubilee)
Oatmeal Cookie with Blueberries
Traditional Cookie with Blueberries
Snickerdoodle Cookie with Blueberries
Strawberry Syrup
Rock Candy
Peanuts
Macaron, Candy Rocket, Sugarplum
4 Calypso Shrimps (All)
2 Teriyaki Shrimps (Right)
2 Celeries (Left)
Kung Pao Dip
Holiday (BavariaFest)
4 Calypso Shrimps (All)
2 Doppelbock Shrimps (Right)
2 Celeries (Left)
Kung Pao Dip
Regular French Cruller

Blue Nimbus Icing
Cosmic Coconut
Regular Ring Donut with Blueberry Custard

Vanilla Icing
Sugarplum Drizzle
Crushed Peanuts
Blueberry Round Donut

Strawberry Icing
Vanilla Drizzle
Holiday (Starlight Jubilee)
Regular French Cruller

Blue Nimbus Icing
Blue Star Sprinkles
Regular Ring Donut with Blueberry Custard

Starlight Icing
Powsicle Drizzle
Crushed Peanuts
Blueberry Star Donut

Strawberry Icing
Vanilla Drizzle
Sourdough Bread with Havarti Cheese
Light Grill
Corned Beef
Sauteed Onions
Corned Beef
Ranch
Fries:

Waffle Fries
Ranch
Sour Cream
Holiday (Pirate Bash)
Sourdough Bread with Calico Jack Cheese
Light Grill
Anchovies
Sauteed Onions
Anchovies
Blazeberry Sauce
Fries:

Waffle Fries
Ranch
Sour Cream
Medium Cup
2 shots of City Roast

Aprajita Powder
Sugarplum Syrup

3 shots of Hot Blueberry Milk
Whipped Cream
Blue Nimbus Syrup
Toasted Coconut
Cannoli:

Pineapple Upside-Down Shell
Whipped Cream
Toasted Coconut
Holiday (Starlight Jubilee)
Medium Cup
2 shots of City Roast

Aprajita Powder
Sugarplum Syrup

3 shots of Hot Blueberry Milk
Powsicle Cream
Blue Nimbus Syrup
Toasted Coconut
Cannoli:

Starlight Shell
Powsicle Cream
Toasted Coconut
Classic Bun
Mayo
Pickles
Fish Filet with Beer Batter
Red Cabbage Slaw
Onion Straws
Mayo
Large Slush

Blue Raspberry Slush
Bubblegum Slush
Holiday (Easter)
Classic Bun
Blackberry Remoulade
Pickles
Fish Filet with Beer Batter
Red Cabbage Slaw
Mixed Microgreens
Mayo
Large Slush

Blue Raspberry Slush
Bubblegum Slush
Ranks required to unlock him
Unlockables
Stickers
| Sticker Number | Name | Achievement | Sticker Earned |
| --- | --- | --- | --- |
| 68 | Wallyberry | Add extra blueberries on top of Wally's pie | |
| 70 | Cookie Scout | Use Creameo Crust and Grape Jelly Cookies on Yippy's pie | |
| 41 | New Faces | Serve all of the new customers | |
| Sticker Number | Name | Achievement | Sticker Earned |
| --- | --- | --- | --- |
| 66 | Rowdy Rita | Serve Rowdy Rice Special to Rita | |
| 43 | Game Show Contestant | Earn a Prize in each of Foodini's Mini-Games | |
| 89 | Wasteful Worker | Throw away 5 fully-cooked tacos in one day | |
| Sticker Number | Name | Achievement | Sticker Earned |
| --- | --- | --- | --- |
| 50 | Recipe Master | Master a Special Recipe by earning 5 Special Stars | |
| 86 | Cookie Clickin' | Strike out in Mitch's Mess 3 by clicking 3 different cookies | |
| 89 | Friendy Fill-Up | When dining in, fill the customer's sushi with their friend's favorite fillings instead | |
| Sticker Number | Name | Achievement | Sticker Earned |
| --- | --- | --- | --- |
| 69 | Blueberry Blast | Add Blueberry Syrup to Wally's order | |
| 77 | Holiday Spirit | Serve 100 customers while wearing clothing that matches the season | |
| 60 | Big Pauly Bunyan | Serve a Blue Bunyan Special to Big Pauly | |
| Sticker Number | Name | Achievement | Sticker Earned |
| --- | --- | --- | --- |
| 69 | Seafood Special | Add Cajun Shrimp to Wally's order | |
| 9 | Lots of Luck | Unlock all Lucky Lucky Matsuri toppings | |
| 28 | Perfect! | Get a Perfect Score on 30 orders | |
| Sticker Number | Name | Achievement | Sticker Earned |
| --- | --- | --- | --- |
| 88 | Wasteful Worker | Throw away 5 full drinks in one day | |
| 89 | Charred Dogs | Completely overcook and burn 20 meats | |
| 43 | Game Show Contestant | Earn a Prize in each of Foodini's Mini-Games | |
| Sticker Number | Name | Achievement | Sticker Earned |
| --- | --- | --- | --- |
| 9 | Patriotic | Unlock all Starlight Jubilee toppings | |
| 84 | Get the Tables! | Fill your lobby with any 12 large tables | |
| 28 | Perfect! | Get a Perfect Score on 30 orders | |
| Sticker Number | Name | Achievement | Sticker Earned |
| --- | --- | --- | --- |
| 9 | Patriotic | Unlock all Starlight Jubilee toppings | |
| 85 | Get the Tables! | Fill your lobby with any 12 large tables | |
| 28 | Perfect! | Get a Perfect Score on 30 orders | |
| Sticker Number | Name | Achievement | Sticker Earned |
| --- | --- | --- | --- |
| 69 | Blueberry Blast | Add Blueberry Syrup to Wally's order | |
| 15 | Blossom Breakfast | Unlock all Cherry Blossom Festival toppings | |
| 60 | Big Pauly Bunyan | Serve a Blue Bunyan Special to Big Pauly | |
| Sticker Number | Name | Achievement | Sticker Earned |
| --- | --- | --- | --- |
| 45 | Rare Reward | Win a Rare Bonus Prize in a Mini-Game by earning a Star Medal | |
| 32 | One-Stop Shopping | Buy any 50 items from the Shop | |
| 84 | Bubble Gum Bonanza | Have 10 different kinds of bubble gum in the lobby at once | |
| Sticker Number | Name | Achievement | Sticker Earned |
| --- | --- | --- | --- |
| 75 | Nutty Nick | Add Pistachios and Crushed Peanuts to Nick's order | |
| 36 | New Coat of Paint | Buy any 4 Flooring or Wallpaper from the Shop | |
| 26 | Fryer Expert | Get a 100% Frying Score on 20 orders | |
| Sticker Number | Name | Achievement | Sticker Earned |
| --- | --- | --- | --- |
| 64 | Wally Western | Serve a Wild Western Special to Wally | |
| 55 | Sandwich Stuffer | Unlock all of the Standard Toppings | |
| 37 | Upgrade Master | Buy all of the Upgrades in the Shop | |
| Sticker Number | Name | Achievement | Sticker Earned |
| --- | --- | --- | --- |
| 68 | Wallyberry | Add extra blueberries on top of Wally's pie | |
| 78 | Santa's Helper | Serve 20 customers during Christmas wearing a Christmas Hat and Fur Parka | |
| 52 | Cookbook Mastery | Master 20 Special Recipes by earning 5 Stars on each | |
| Sticker Number | Name | Achievement | Sticker Earned |
| --- | --- | --- | --- |
| 23 | Restaurant Regulars | Earn 15 Gold Customer Awards | |
| 81 | Everyone's a Critic | Serve Jojo while wearing a Turtleneck and Beret | |
| 20 | Bronze Beginning | Earn 5 Bronze Customer Awards | |
| Sticker Number | Name | Achievement | Sticker Earned |
| --- | --- | --- | --- |
| 73 | Pepper Perri | Use Black Pepper and Green Peppers on Perri's order | |
| 1 | Summer Vacation | Reach Summer | |
| 46 | Special Collector | Earn 5 Special Recipes from customers | |
| Sticker Number | Name | Achievement | Sticker Earned |
| --- | --- | --- | --- |
| 15 | Jam Session | Unlock all Grōōvstock toppings | |
| 30 | Month's Pay | Receive your wages on four Pay Days | |
| 6 | Fall Flavors | Unlock all Thanksgiving toppings | |
| Sticker Number | Name | Achievement | Sticker Earned |
| --- | --- | --- | --- |
| 47 | Recipe Collection | Earn 15 Special Recipes from customers | |
| 86 | Extra Crispy | Leave the fryer full of cooking foods at the end of the day | |
| 89 | Mobile Meals | Serve any 10 meals from the Food Truck | |
Earn all three stickers in any of the above games to unlock this outfit: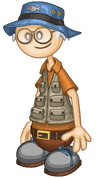 Papa's Next Chefs
Trivia
Order Tickets
Gallery
Prepared Orders
Perfect Orders
Promotional Images
Holiday Pictures
Others
Fan Art