Wally is one of Papa Louie's original customers. He quietly lives in an apartment above Papa's Pizzeria. Wally's all time favorite topping is anchovies. If he could, Wally would order a double anchovy burger in Papa's Burgeria. For now, he will have to stick with pizzas to get his fishy fix.
Orders
Papa's Pizzeria
8 Anchovies
15 Minutes
8 Pieces
Papa's Burgeria
Bottom Bun
Medium Patty
Mayonaise
Lettuce
Onion
Mayonaise
Top Bun
Papa's Taco Mia!
Soft
Chicken
Mild Sauce
Onions
White Rice
Tomatoes
Mild Sauce
Papa's Freezeria
Medium Vanilla w/ Blueberries (Regular)
Whipped Cream
Strawberry Syrup
Nuts
Cherry
Papa's Pancakeria
Meal
Waffle w/ Blueberry
Cinnamon
Blueberries
Waffle w/ Blueberry
Cinnamon
Blueberries
Drink
Papa's Wingeria
4 Teriyaki Shrimps
4 Calypso Shrimps
8 Celery
Kung Pao Dip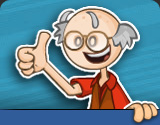 Community content is available under
CC-BY-SA
unless otherwise noted.