Raise a Floppa - The Loop
Play Sound
Zoe is a female customer who made her first appearance in Papa's Taco Mia!.
Flipdeck Info
Hometown: Tacodale
Loves: Tutti Frutti
Hates: Heights
Occupation: Musician
Zoe is a very talented traveling musician from Tacodale. She can be found playing her acoustic guitar in clubs, parks, and just about anywhere that mellow music is appreciated. This laid-back lady often daydreams of opening a coffee shop that would showcase the best of local art and live music along with the occasional poetry slam.
Appearance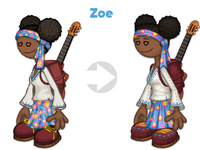 Zoe has black hair split into two side buns adorned by a blue headband with yellow and pink spots. She wears an off-white long-sleeved shirt with blue accents and a skirt of the same design as her headband, a dark maroon backpack where her guitar is strapped on, and maroon shoes with white laces and brown soles.
This outfit is later set as her Style B since Papa's Sushiria, and then set as her Style A again in Papa's Bakeria To Go!, Papa's Mocharia To Go! and Papa's Cluckeria To Go!.
Clean-Up
She now has thin eyebrows. Her hair and outfit are remodeled and now wears maroon moccasins with blue stitches.
Styles
Style A/B
She wears a blue shirt with maroon and white accents, a white skirt with yellow and pink spots, no headband, golden ropes around her ponytail, and a white backpack with a pink guitar strapped onto it.
Style H
Her outfit during Grōōvstock consists of a pale gold shirt with white stitches, red headband, red skirt with a golden paisley motif, a light blue backpack, and a light blue printed peace symbol on her face.
Style B (Papa Louie 2)
She wears her Style B/A, except a yellow headband and skirt with white inner spots surrounded by pink, and a blue shirt with white and black lining.
Style C (Papa Louie 2)
She wears her Style B/A, except a pink shirt with white and black lining, a yellow backpack, and white shoes with brown soles and yellow laces.
Orders
Hard Taco with Chicken
Lettuce
Loco Mystery Sauce
Cheese
Sour Cream
Medium Cup
Pineapple
Rainbow Sherbet Syrup
Chunky Blend
Whipped Cream
Blueberry Topping
Gummy Onion
Pancake
3 Bananas
Pancake
3 Bananas
Pancake
3 Bananas
Blueberry Syrup
Drink:
Bottom Bun
Medium Patty
Pepperjack Cheese
Medium Patty
Pepperjack Cheese
Onion
Tomato
Top Bun
4 Atomic Chicken Wings (all)
4 Calypso Boneless Wings (right)
4 Carrots (left)
2 Celeries (left)
Awesome Sauce Dip
Italian Sausage on a Regular Bun
Onions
Fajita Veggies
Marinara Sauce
Drink and Popcorn:

Medium Lemon Mist
Medium Buttered Popcorn
Bottom Bun
Medium Patty
Pepperjack Cheese
Medium Patty
Pepperjack Cheese
Jalapeños
Tomato
Top Bun
Liner D
Blueberry Cake
Cupcake 1:

Violet Frosting
Vanilla Drizzle
Rock Candy
Cherry

Cupcake 2:

White Frosting
Rock Candy
Cherry
Holiday (St. Paddy's Day)
Liner D
Blueberry Cake
Cupcake 1:

Violet Frosting
Rock Candy
Chocolate Coin, Cherry, Chocolate Coin

Cupcake 2:

White Frosting
Rock Candy
Cherry, Shamrock, Cherry
Medium Cup
Pineapple
Rainbow Sherbet Syrup
Chunky Blend
Whipped Cream
Blueberry Syrup
Hazelnut Swizzle, Gummy Onion
Regular Fettuccine
Creamy Alfredo Sauce
Italian Seasoning
5 Clams
4 Onions
Poppyseed Roll
Holiday (Valentine's Day)
Regular Valentini
Creamy Alfredo Sauce
Spiced Saffron
5 Clams
4 Onions
Poppyseed Roll
Medium Cup
Peaches
Tutti Frutti Syrup
Regular Blend
Maui Meringue
Key Lime Topping
Gummy Worm, Gummy Onion, Gummy Worm
Regular French Cruller with Blackberry Jelly
Chocolate Long John with Boston Cream

Cinnamon Sugar
Banana Drizzle
Creameo Bits

Regular Round Donut with Blueberry Custard

Strawberry Icing
Rock Candy
Holiday (New Year)
Regular Infinity Loop with Tutti Frutti Jelly
Chocolate Long John with Boston Cream

Midnight Powder
Creameo Drizzle
Countdown Crunch

Regular Round Donut with Tutti Frutti Jelly

Strawberry Icing
Flavor X Drizzle
4 Onions (right)
4 Red Peppers (left)
6 Chicken (left)
Regular Bake
6 Slices
Flatbread with Pepperjack Cheese
Regular Grill
Grilled Chicken
Jalapeños
Shredded Lettuce
Southwest Sauce
Fries:

Crinkle Cut Fries
Rosemary
Holiday (Maple Mornings)
Flatbread with Pepperjack Cheese
Regular Grill
Grilled Chicken
Maple Mini Sausages
Jalapeños
Shredded Lettuce
Southwest Sauce
Fries:

Crinkle Cut Fries
Rosemary
Liner D
Blueberry Cake
Cupcake 1:

Violet Frosting
Vanilla Drizzle
Rock Candy
Cherry

Cupcake 2:

White Frosting
Blue Moon Drizzle
Rock Candy
Frosted Flower
Holiday (St. Paddy's Day)
Liner D
Blueberry Cake
Cupcake 1:

Violet Frosting
Vanilla Drizzle
Rock Candy
Chocolate Coin
Cherry

Cupcake 2:

White Frosting
Blue Moon Drizzle
Rock Candy
Frosted Flower
Liner C
Blueberry Cake
Cupcake 1:

Pink Frosting
Strawberry Drizzle
Rock Candy
Strawberry Wafer, Cherry, Strawberry Wafer

Cupcake 2:

Violet Frosting
Blue Moon Drizzle
Rock Candy
Strawberry Wafer, Frosted Flower, Strawberry Wafer
Holiday (Cherry Blossom Festival)
Liner C
Botamochi Cake
Cupcake 1:

Pink Frosting
Strawberry Drizzle
Konpeito
Strawberry Wafer, Cherry, Strawberry Wafer

Cupcake 2:

Violet Frosting
Blue Moon Drizzle
Rock Candy
Pogo, Frosted Flower, Pogo
Vanilla Crispies Crust
Pineapple Filling
Pineapple Filling
Rhubarb Filling
Rhubarb Filling
Polka Dot Crust
Huckleberry Syrup (All Over)
8 Banana Slices (Inner Ring)
8 Grape Jelly Cookies (Outer Ring)
Holiday (Grōōvstock)
Vanilla Crispies Crust
Mission Fig Jam
Mission Fig Jam
Rhubarb Filling
Rhubarb Filling
Lightning Crust
Huckleberry Syrup (All Over)
8 Banana Slices (Inner Ring)
8 Grape Jelly Cookies (Outer Ring)
Hard Taco with Chicken
Lettuce
Loco Mystery Sauce
Cheese
Sour Cream
Chips:

Pepperjack Rounds
Refried Beans
Holiday (New Year)
Lava MunchMelt with Chicken
Atomic Sauce
Lettuce
Diced Habaneros
Cheese
Atomic Sauce
Chips:

Pepperjack Rounds
Refried Beans
Momoiro Soy Paper with White Rice
Not Flipped

Crab Stick
Carrot
Cucumber Slices

Bonito Flakes
Ginger Miso Sauce
Bubble Tea:

Blueberry Tea with Cotton Candy Bubbles
Holiday (New Year)
Rainbow Soy Paper with White Rice
Not Flipped

Crab Stick
Eggplant
Cucumber Slices

Bonito Flakes
Ginger Miso Sauce
Bubble Tea:

Tutti Frutti Tea with Cotton Candy Bubbles
Pancake
3 Bananas
Pancake
3 Bananas
Pancake
3 Bananas
Blueberry Syrup
Drink:
Holiday (Grōōvstock)
Pancake
3 Bananas
Pancake
3 Mission Figs
Pancake
3 Bananas
Salted Caramel Drizzle
Drink:

Small Chai Reverb Tea with Cream
Crispy Crust
Marinara Sauce with Grated Parmesan
6 Chickens (left)
4 Onions (right)
4 Red Peppers (left)
Regular Bake
6 Slices
Holiday (Thanksgiving)
Crispy Crust
Marinara Sauce with Grated Parmesan
6 Chickens (left)
4 Onions (right)
4 Roasted Turkeys (left)
Regular Bake
6 Slices
Italian Sausage on a Regular Bun
Onions
Fajita Veggies
Marinara Sauce
Southwest Sauce
Jalapeños
Drink and Popcorn:

Medium Lemon Mist
Medium Buttered Popcorn
Holiday (Starlight BBQ)
Italian Sausage on a Smoked Cheddar Bun
Onions
Fajita Veggies
Marinara Sauce
Lone Star Pit Sauce
Jalapeños
Drink and Popcorn:

Medium Lemon Mist
Medium Jubilee Popcorn
Italian Sausage on a Regular Bun
Onions
Fajita Veggies
Marinara Sauce
Southwest Sauce
Jalapenos
Drink and Popcorn:

Medium Lemon Mist
Medium Buttered Popcorn
Holiday (Grōōvstock)
Italian Sausage on a Campagrain Bun
Onions
Fajita Veggies
Kale
Karmic Korma Sauce
Jalapeños
Drink and Popcorn:

Medium Lemon Mist
Medium Artisanal Truffle Corn
Oatmeal Cookie with Raisins
Lemon Crinkle Cookie with Potato Chips
Snickerdoodle Cookie with Yum n' Ms
Whipped Cream
Strawberry Syrup
Rock Candy
Banana
Cherry, Blueberry Swizzle, Cherry
Holiday (New Year)
Oatmeal Cookie with Countdown Candies
Lemon Crinkle Cookie with Potato Chips
Snickerdoodle Cookie with Yum n' Ms
Whipped Cream
Flavor X Syrup
Rock Candy
Banana
Cherry, Rainbow Meringue, Cherry
Pancake
3 Bananas
Pancake
3 Bananas
Pancake
3 Bananas
Blueberry Syrup
Drink:
Holiday (Cherry Blossom Festival)
Pancake
3 Bananas
Pancake
3 Wasanbon Blossoms
Pancake
3 Bananas
Oiri
Drink:
6 Calypso Boneless Wings (All)
2 Atomic Chicken Wings (All)
2 Carrots (All)
2 Celeries (All)
Southwest Dip
Holiday (Lucky Lucky Matsuri)
6 Ginger Miso Boneless Wings (All)
2 Gochujang Chicken Wings (All)
2 Carrots (All)
2 Celeries (All)
Southwest Dip
Regular French Cruller

Red Rose Icing
Banana Drizzle

Chocolate Long John with Strawberry Jelly

Powdered Sugar
Caramel Drizzle
Creameo Bits

Regular Round Donut

Strawberry Icing
Rock Candy
Holiday (New Year)
Regular Infinity Loop

Red Rose Icing
Banana Drizzle

Chocolate Long John with Tutti Frutti Jelly

Midnight Powder
Creameo Drizzle
Countdown Crunch

Regular Round Donut

Strawberry Icing
Rock Candy
Flatbread with Pepperjack Cheese
Regular Grill
Grilled Chicken
Jalapeños
Shredded Lettuce
Southwest Sauce
Fries:

Crinkle Cut Fries
Rosemary
Holiday (Holi)
Naan Bread with Pepperjack Cheese
Regular Grill
Grilled Chicken
Jalapeños
Shredded Lettuce
Bellulli Chutney
Fries:

Crinkle Cut Fries
Bellulli Chutney
Rosemary
Regular Fettuccine
Creamy Alfredo Sauce
Italian Seasoning
5 Clams
4 Onions
Poppyseed Roll
Holiday (Mardi Gras)
Regular Jambalaya Rice
Creamy Alfredo Sauce
Creole Rub
5 Clams
4 Onions
Poppyseed Roll
Medium Cup
2 shots of Decaf Roast
3 shots of Hot Soy Milk
Cinnamon Dolce Syrup
Ground Nutmeg
Peach Cream
Cannoli:

Pizzelle Shell
Peach Cream
Cinnamon Sugar
Holiday (Grōōvstock)
Medium Cup
2 shots of Decaf Roast
3 shots of Hot Golden Milk
Ginger Haze Syrup
Ground Nutmeg
Peach Cream
Cannoli:

Far Out Shell
Peach Cream
Crimson and Clove
Kaiser Onion Roll
Jalapeños
Sticky Bourbon Sauce
Soft Shell Crab with Spicy Cajun Batter
Onion
Pepperjack Cheese
Pickled Red Onions
Large Slush

Pineapple Slush
Black Cherry Slush
Holiday (New Year)
Rainbow Rye Bun
Potato Chips
Sticky Bourbon Sauce
Soft Shell Crab with Spicy Cajun Batter
Onion
Pepperjack Cheese
Pickled Red Onions
Large Slush

Tutti Frutti Slush
Black Cherry Slush
Ranks required to unlock her
Unlockables
Stickers
| Sticker Number | Name | Achievement | Sticker Earned |
| --- | --- | --- | --- |
| 81 | Bubble Gum Bonanza | Have 10 different kinds of bubble gum in the lobby at once | |
| 35 | Updated Wardrobe | Buy any 8 Clothing items from the Shop | |
| 51 | Super Special | Master 10 Special Recipes by earning 5 Stars on each | |
| Sticker Number | Name | Achievement | Sticker Earned |
| --- | --- | --- | --- |
| 33 | Advertiser | Buy any 8 Posters from the Shop | |
| 50 | Recipe Master | Master a Special Recipe by earning 5 Special Stars | |
| 49 | Successful Specials | Earn 3 Special Stars when serving Today's Special | |
Earn all three stickers in any of the above games to unlock this outfit:
| Sticker Number | Name | Achievement | Sticker Earned |
| --- | --- | --- | --- |
| 19 | Preferential Treatment | Have Whiff's order ready when he arrives and serve immediately | |
| 33 | Advertiser | Buy any 8 Posters in the Shop | |
| 35 | Updated Wardrobe | Buy any 8 Clothing items from the Shop | |
| Sticker Number | Name | Achievement | Sticker Earned |
| --- | --- | --- | --- |
| 21 | Repeat Customers | Earn 15 Bronze Customer Awards | |
| 68 | Maple Mallow | Add Maple Syrup to Mayor Mallow's order | |
| 2 | Fall Harvest | Reach Autumn | |
| Sticker Number | Name | Achievement | Sticker Earned |
| --- | --- | --- | --- |
| 70 | Gorgonzoe | Add Gorgonzola Cheese to Zoe's order | |
| 30 | Month's Pay | Receive your wages on four Pay Days | |
| 6 | Holiday Slices | Unlock all Christmas toppings | |
| Sticker Number | Name | Achievement | Sticker Earned |
| --- | --- | --- | --- |
| 65 | Zoe Zwiebelwurst | Serve a Wild Zwiebelwurst Special to Zoe | |
| 29 | Award Winning Dogs | Get 5 Blue Ribbons from Jojo the Food Critic | |
| 77 | Holiday Spirit | Serve 100 customers while wearing clothing that matches the season | |
| Sticker Number | Name | Achievement | Sticker Earned |
| --- | --- | --- | --- |
| 15 | Happy New Year | Unlock all New Year toppings | |
| 66 | Rocky Rico | Serve a Rocky Roadster Special to Rico | |
| 3 | Fall Harvest | Reach Autumn | |
| Sticker Number | Name | Achievement | Sticker Earned |
| --- | --- | --- | --- |
| 15 | Happy New Year | Unlock all New Year toppings | |
| 67 | Rocky Rico | Serve a Rocky Roadster Special to Rico | |
| 3 | Fall Harvest | Reach Autumn | |
| Sticker Number | Name | Achievement | Sticker Earned |
| --- | --- | --- | --- |
| 16 | Desayuno de Mayo | Unlock all Cinco de Mayo toppings | |
| 22 | Silver Medal | Earn 10 Silver Customer Awards | |
| 73 | Shannana | Add Bananas to Shannon's order | |
| Sticker Number | Name | Achievement | Sticker Earned |
| --- | --- | --- | --- |
| 16 | Carnival Food | Unlock all Big Top Carnival toppings | |
| 90 | Special Delivery | Serve 50 delivery orders to customers | |
| 83 | Color Coordinated | Dress your chef and server in the exact same outfit but with different colors | |
| Sticker Number | Name | Achievement | Sticker Earned |
| --- | --- | --- | --- |
| 65 | Red Ripley | Serve a Red Harvester Special to Ripley | |
| 8 | Holiday Donuts | Unlock all Christmas toppings | |
| 24 | Order Expert | Get a 100% Waiting Score on 20 orders | |
| Sticker Number | Name | Achievement | Sticker Earned |
| --- | --- | --- | --- |
| 75 | Gorgonzoe | Use Gorgonzola Cheese on Zoe's sandwich | |
| 39 | Romano Family | Serve everyone in the Romano Family Quartet | |
| 77 | Holiday Spirit | Serve 100 customers while wearing clothing that matches the season | |
Earn all three stickers in any of the above games (from Papa's Sushiria until Papa's Cheeseria To Go!) to unlock this outfit: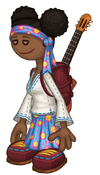 | Sticker Number | Name | Achievement | Sticker Earned |
| --- | --- | --- | --- |
| 4 | Winter Wonderland | Reach Winter | |
| 76 | Spooktacular | Serve 20 customers during Halloween wearing any Halloween clothing | |
| 56 | Pie Pourables | Unlock all of the Standard Pourable Toppings | |
Earn all three stickers in this game to unlock this outfit: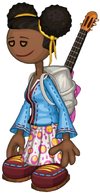 | Sticker Number | Name | Achievement | Sticker Earned |
| --- | --- | --- | --- |
| 39 | Romano Family | Serve everyone in the Romano Family Quartet | |
| 31 | Piggy Bank | Don't spend any money in the Shop for 7 days | |
| 19 | Preferential Treatment | Have Rollie's order ready when he arrives and serve immediately | |
| Sticker Number | Name | Achievement | Sticker Earned |
| --- | --- | --- | --- |
| 48 | Complete Cookbook | Earn 40 Special Recipes from customers | |
| 19 | Ready for Radlynn | Have Radlynn's order ready when she arrives and serve immediately | |
| 29 | Award Winning Restaurant | Get 5 Blue Ribbons from Jojo the Food Critic | |
Earn all three stickers in any of the above games (from Papa's Sushiria To Go! until Papa's Pastaria To Go!) to unlock this outfit: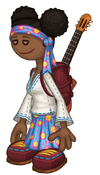 | Sticker Number | Name | Achievement | Sticker Earned |
| --- | --- | --- | --- |
| 4 | Fall Harvest | Reach Autumn | |
| 90 | Special Delivery | Serve 50 delivery orders to customers | |
| 82 | Holiday Outfit | Wear a shirt, belt, jacket, pants, hat, and shoes to match the current holiday | |
| Sticker Number | Name | Achievement | Sticker Earned |
| --- | --- | --- | --- |
| 70 | Crowning the King | Serve a Coronation Chicken Special to Kingsley | |
| 52 | Cookbook Mastery | Master 20 Special Recipes by earning 5 Stars on each | |
| 2 | Winter Wonderland | Reach Winter | |
Earn all three stickers in the any of above games (from Papa's Mocharia To Go! onwards) to unlock this outfit: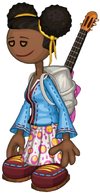 Papa's Next Chefs
OnionFest Crown Classic
| Rescued at | Needs | Special Skill | Weapon | Styles |
| --- | --- | --- | --- | --- |
| Level 8: BBQ Bog | Crawling | None | Guitar (Melee) | |
Trivia
Order Tickets
Gallery
Prepared Orders
Perfect Orders
Promotional Images
Others
Fan Art